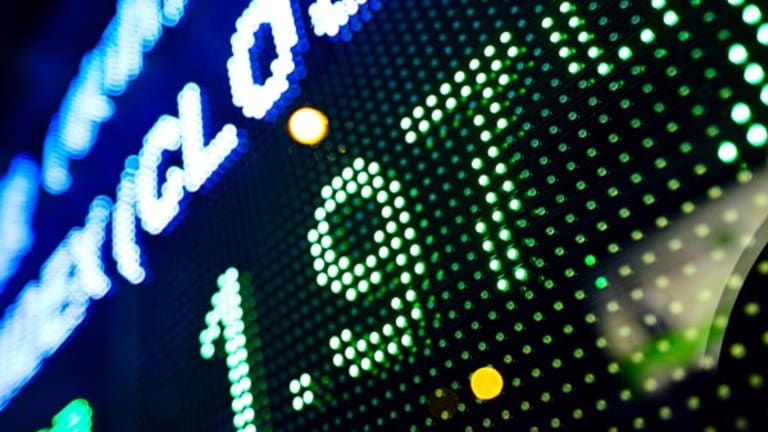 Wall Street Tumbles as Job Losses, Bad Mortgages Pile Up
Stocks in New York continue to trade with losses, as traders mull the latest grim employment and mortgage numbers.
Stocks in New York continue to trade with losses, as traders mull the latest grim employment and mortgage numbers.
Updated from 12:15 p.m. EST
U.S. stocks climbed off their lows but were still trading in the red Friday afternoon, after the Labor Department announced that the economy lost more than half a million jobs in November, an even more dire decline than had been anticipated.
The
Dow Jones Industrial Average
was down 105 points to 8272, and the
S&P 500
gave back 9.2 points to 836. The
Nasdaq
stumbled 9 points to 1437.
Before trading commenced, the government reported that the
unemployment rate
reached a 15-year high of 6.7% in November, up from 6.5% in October but slightly below the 6.8% analysts had expected. Nonfarm payrolls showed a loss of 533,000 jobs, a much greater decline than the drop of 335,000 forecast by economists.
The September and October job-loss figures were also worse than previously thought. The September number was revised to 403,000 from 284,000, and October job losses were up to 320,000, up from an initial reading of 240,000.
The average workweek declined slightly to 33.5 hours, and hourly earnings were up 0.4%, compared with a 0.3% increase in October.
"This is almost indescribably terrible," wrote Ian Shepherdson, chief U.S. economist for High Frequency Economics, in an email. He said that total job losses in the past six months have now reached 1.55 million, a figure that matches the entire recession of 2001.
On the other hand, Chris Johnson, CEO and chief investment strategist at Johnson Research, said that the market has already been pricing in a very weak unemployment number. "It's really hard to take the market by surprise." He said investors had largely already set themselves up for the dismal report, and he doesn't anticipate much more selling on this news.
Alan Gayle, senior investment strategist at RidgeWorth Financial, agreed. "Market expectations were not high ... regardless of what the official consensus was," he said. He pointed out that it's dangerous to compare today's 533,000 lost jobs with a similar absolute decline in the mid-1970s. Because the labor force has grown significantly in the past three decades today's reported losses are not as severe a shock, he said.
Traders were also training a keen eye on the automakers. CEOs from
General Motors
(GM) - Get Report
,
Ford
(F) - Get Report
and
Chrysler
are again slated to appear before lawmakers in hopes of striking a bailout deal. Sticking points on the package have included the source of funding, concessions the automakers should make and how much money they should get.
Separately,
GM
is reportedly planning to lay off an additional 2,000 workers at three factories as it continues to weather a brutal market.
The Wall Street Journal
also reported that Chrysler had retained Jones Day as counsel in preparation for a possible Chapter 11 bankruptcy filing.
At this point, said Gayle of RidgeWorth, it appears that the government is prepared to support the auto industry. However, "We have no idea what form that stimulus will take." He said that the impact on the companies' stocks is very hard to determine. "I think a lot of the smart money that wants to play this has been moving into the bonds of the automakers," he said.
The
housing market
offered additional reasons for investor caution as Friday's session wore on. The Mortgage Bankers Association reported that the
mortgage delinquency
rate for loans on one-to-four-unit residencies rose 58 basis points sequentially in the third quarter to 6.99%. Year over year, the rate had increased 1.4%, the MBA said.
In other company news,
The Wall Street Journal
said airplane manufacturer
Boeing
(BA) - Get Report
may face additional delays for its 787 jet.
Meanwhile,
Merrill Lynch
(MER)
shareholders voted Friday to approve a merger with
Bank of America
(BAC) - Get Report
.
Insurer
Hartford
(HIG) - Get Report
increased its 2008 earnings guidance to exceed Wall Street's consensus estimate.
As for
, Morgan Stanley cut its fourth-quarter earnings estimates for
Goldman Sachs
(GS) - Get Report
. Barclays also lowered its targets and estimates for chemical firm
DuPont
(DD) - Get Report
, chipmaker
Intel
(INTC) - Get Report
and pharmaceutical company
Merck
(MRK) - Get Report
.
Shifting to commodities, crude oil was shedding $2.35 to $41.32 a barrel. Gold was falling $17 to $748.50 an ounce.
Longer-dated U.S. Treasury securities were mixed. The 10-year was losing 8/32 to yield 2.57%, and the 30-year was up 24/32, yielding 3.01%.
Overseas, European exchanges such as the FTSE in London and the DAX in Frankfurt were trading lower. In Asia, Japan's Nikkei closed with losses, while Hong Kong's Hang Seng ended with gains.