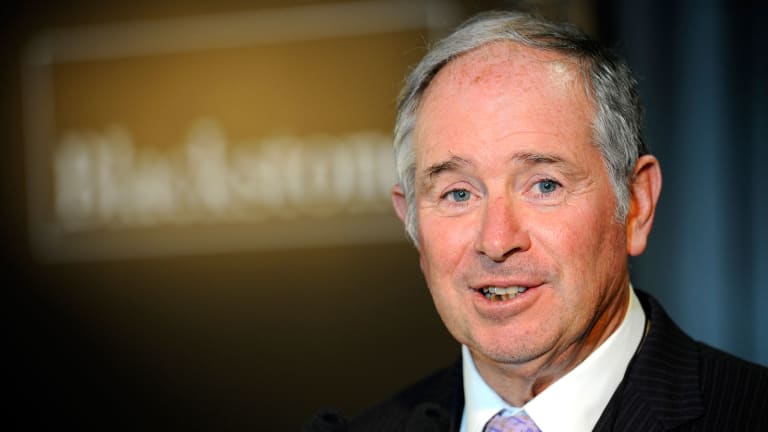 New Wall Street Tragicomedy 'Schwarzman's Billions' Features Blackstone CEO
The five biggest U.S. private-equity firms have raised almost $350 billion of 'dry powder' from pension funds, foreign governments and other institutional investors that must now be spent on everything from corporate acquisitions to business loans and real estate. The problem is, the assets have gotten too expensive.
In the 1985 film "Brewster's Millions," the late comedian and actor Richard Pryor plays a minor-league baseball pitcher who has to spend $30 million in 30 days to inherit a $300 million fortune.
The plot is somewhat akin to the dilemma now confronting big U.S. private-equity firms including Blackstone Group (BX) and Apollo Global Management (APO)  . But instead of millions, it's hundreds of billions.
Enjoying a wave of popularity following a streak of outsized returns during the past decade, the five biggest publicly traded U.S. private-equity firms have amassed a record $348.5 billion of capital commitments from pension funds, foreign governments and other institutional investors, based on an analysis by TheStreet.
That money is known in the industry as "dry powder," and the investors are now counting on the private-equity firms to spend it on everything from corporate acquisitions to business loans and real estate.
But some industry observers are starting to wonder if all that capital can profitably be deployed into new deals at a time when asset valuations are so elevated.
Even after a recent market selloff due to renewed fears of a prolonged U.S. trade war with China, the bellwether S&P 500 is still trading at 16.2 times its members' combined estimated earnings over the next 12 months. That's expensive compared with the 10-year average of 15.1 times. 
"Can they put it to work?" said Steve Kaplan, a University of Chicago finance professor who conducts research on the private equity industry. "We don't know."
The fast-evolving U.S. financial system has never seen this particular dilemma -- or, at least, never before on this scale. Partly due to tighter regulations put on banks following the 2008 financial crisis, the private-equity industry has mushroomed over the past decade, with the five biggest firms alone now overseeing some $1.37 trillion.     
PE firms like Blackstone profit by raising funds from investors and then using that money -- supplemented with loans from banks -- to buy stakes in companies. The eventual goal is to profit handsomely by cutting costs at the portfolio companies, taking out juicy dividends and later selling the investments at a higher price. The firms collect fees from the investors for managing the money, as well as performance-based fees when gains are had.
Executives at most of the firms acknowledge that they are, at least to a certain extent, hoping for a market downturn so they can snap up assets on the cheap for their freshly raised investment vehicles. Even so, the pile of dry powder may have now grown so enormous that the private-equity firms are effectively providing a phantom bid for corporate and financial assets -- thus keeping prices from ever dropping.
A market selloff could also hurt returns for private-equity funds raised during earlier eras. Under that scenario, the firms themselves would likely book lower revenue from performance-based fees. 
During a series of earnings conference calls over the past month, Blackstone and Apollo executives faced thorny questions from Wall Street analysts on plans for their dry powder -- and whether it could actually get spent. Rivals Carlyle Group (CG) , KKR & Co. (KKR) and Ares Management (ARES)  saw similar skepticism.
And Blackstone founder and CEO Stephen Schwarzman, who owns a roughly $9 billion stake in the New York-based firm, told Fox Business Network in an April 30 interview that his dealmakers have been missing out on deals partly because markets have been so volatile this year, making it nearly impossible to ink a transaction before pricing shifts.
Since the start of 2017, Blackstone has raised about $250 billion for new investment funds, according to press releases and filings. But during that period, its fund managers have deployed just $108 billion on new deals. The gap helped to swell Blackstone's own dry powder to roughly $133 billion as of March 31.
"It takes us several months to actually analyze and do a deal," Schwarzman said, according to a transcript. "And what's happening now is that the deal that looks absolutely fine when we started it. You know, the price keeps escalating with the stock market. I think that that makes it more difficult today obviously than it was a few months ago."
Awkwardly, the dynamic puts Blackstone and its rivals in the position of rooting for a market downturn, which could unnerve the broader investing public, sapping household wealth and eroding business confidence. 
"You have high levels of dry powder, and these guys are finding it harder to find attractive investment opportunities in this market backdrop," Michael Cyprys, a Morgan Stanley analyst who covers the money-management industry, said in a phone interview. "A lot of them are hoping for cracks to occur so they can put this dry powder to work at an accelerated pace and make outsize returns." 
A Blackstone spokesman declined to comment. 
Blackstone's dry powder alone is roughly equivalent to the $132 billion of excess liquidity held for potential acquisitions by the insurance-to-railroads conglomerate Berkshire Hathaway (BRK.A)  , led by billionaire founder and CEO Warren Buffett. 
Buffett, in his annual letter to shareholders on Feb. 23, went so far as to complain that the Omaha-based company's "immediate prospects" for making attractive acquisitions are "not good" because prices are "sky-high for businesses possessing decent prospects." 
Under the terms of their arrangements with investors, private-equity firms typically have several years to deploy their dry powder. But with a pile this big, they can't afford to wait long -- especially since they still have ambitious fundraising goals for this year and next; Blackstone alone aims to raise another $100 billion from investors in 2019, for new funds.  
Apollo founder and CEO Leon Black, also a billionaire, told Wall Street analysts on a conference call earlier in May that his "teams are quite busy" analyzing potential deals, but it's a "tricky environment." New York-based Apollo had $45.8 billion of dry powder as of March 31. 
"I'd hate to really try to pinpoint exactly how fast deployment is in any quarter or even in the next 12 months," Black said, according to a FactSet transcript. "It's inherently, like, unpredictable."
Almost like a good comedy.