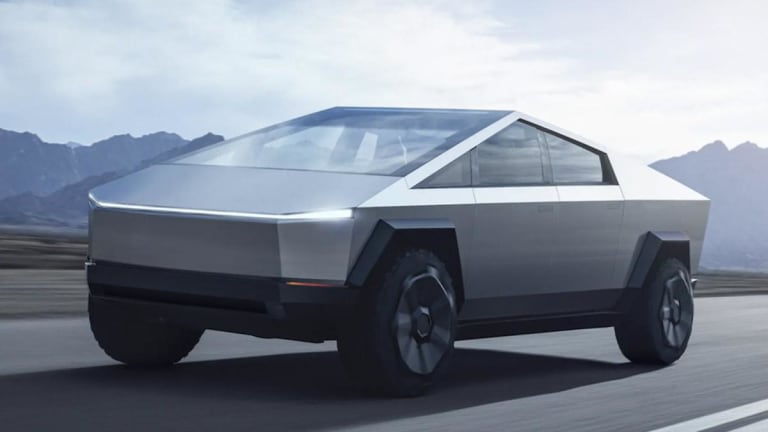 Wall Street Is Tepid on Tesla's New 'Cybertruck': It's 'Kind of Aggressive'
Wall Street isn't convinced that the market for Tesla's futuristic new pick-up truck is large.
There were plenty of questions about the viability of Tesla's (TSLA) - Get Reportnew electric pick-up truck before it was officially unveiled on Thursday night, and CEO Elon Musk's presentation did little to answer them. 
Tesla shares were down 6.26% to $332.68 a share on Friday morning. 
Before the announcement, Tesla analysts were wondering what the design would look like and if it would appeal to consumers. The base truck is priced at a relatively low $39,000, and its design is extremely unique. But analysts are not convinced Tesla can take much market share with the truck, or even if it can mass produce it. 
"To think that the people of America are going to go into the electric pick-up truck market, it's kind of aggressive," Gordon Johnson, analyst at and founder of GLJ Research, told TheStreet in a phone interview. Adding to the concern for Tesla, Johnson said, "people want to know that their pick-up trucks are going to be able to drive a certain amount of distance, tow a certain number of tons," adding that he's unsure the Cybertruck can deliver on those features.
Notably, after a Tesla representative threw a metal ball at the vehicle's supposedly bulletproof windows, the windows broke. "The glass thing is not good," Johnson said. 
Johnson also questioned whether Tesla has invested enough to ramp up the production of a completely new vehicle. "Will they announce billions of dollars of cap-ex? They haven't announced that," Johnson said.
Here's what other analysts said. 
Deutsche Bank, Hold, Price Target $290
"Nice truck, but lots of open questions. What are the real battery ranges under working conditions, with a payload or while towing? A greatly reduced range would require commercial customers to opt for the higher trims, which could be significantly more expensive than their equivalent traditional pickups. Third, will commercial buyers trust Tesla's build quality? While the materials used appear robust, there could be questions about the truck's durability when used under work conditions, especially in light of its seemingly unibody construction. And the shattering of the truck's unbreakable glass windows during the live demonstration was not a good start. We wonder what the margin profile of Cybertruck could be, with a starting price only marginally higher than Model Y. We also wonder about the magnitude of cap-ex that will be required to produce it, how Tesla plans to finance it, and whether it's a good use of capital."
- Emmanuel Rosner
RBC Capital Markets, Underperform, Price Target $220
"Impact: See a limited market for Tesla's Cybertruck. The prices are a little lower than we thought, not out of the ball-park range of traditional pickups (avg. full-size pickup is ~$50k) and likely more attractive pricing vs. coming electric pickups (Rivian R1T expected to start at $69k, we believe Ford/GM e-pickups will be high-end vehicles).  We don't believe that Tesla is going after the heart of the market and the work/utility crowd here. Rather, with its unabashed looks, we believe the truck will initially appeal to the influencer crowd (celebrities and pop culture) and the 'look at me' crowd.  While we don't doubt that Tesla will try to get the product to market, a large part of this event appears to be hype."
- Joseph Spak
Wedbush Securities, Neutral, Price Target $270
"Investors will question if this is a mass market pickup going after Ford and GM with ~3 million pickup trucks sold annually in the US, or a more niche 'wow factor' model that will be more limited in demand/production scale and scope. The starting price of $39,900 was a bit of a shocker as the Street was looking for a $50,000 to $55,000 price tag as Musk has previously hinted/stated that his Cybertruck will be more affordable than its main competitor Rivian, who's R1T electric pickup starts at a price of $69,000. Gaining market share with stalwarts such as Ford and GM entrenched in this landscape will be a difficult task for Fremont." 
- Dan Ives