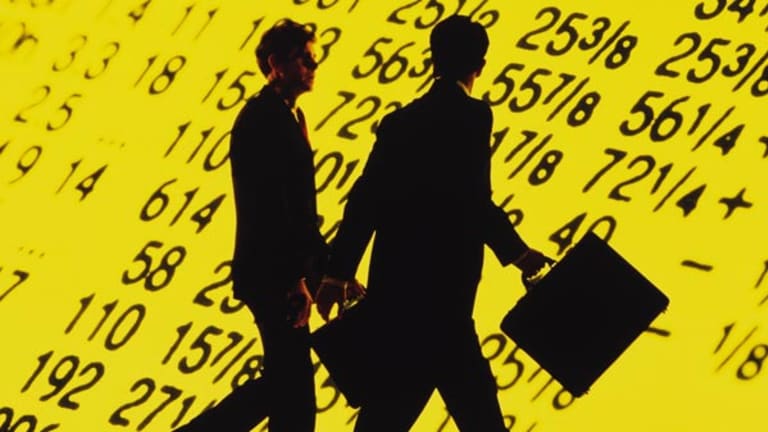 Wall Street Settlement Boosts Stocks
The Dow ends 1.8% higher, while the Nasdaq gains 0.7%. Also, Trent Lott yields his leadership post.
Updated from 4:05 p.m. EST
Blue-chips jumped Friday, with financials providing leadership, as investors drew encouragement from a settlement of the Wall Street conflict-of-interest scandal and comments from
Chairman Alan Greenspan.
The
Dow Jones Industrial Average closed up 147 points, or 1.8%, to 8512, while the
Nasdaq gained 10 points, or 0.7%, to 1363. The
S&P 500 added 12 points, or 1.3%, to 895.
"There's a lot of different twists in the wind today, with the S&P rebalancing and a quadruple witching," said Bob Basel, director of listed trading at Salomon Smith Barney. One positive catalyst is the fact that brokerage houses are now pinned to a definitive fine number, enabling investors to put the conflict-of-interest controversy behind them, Basel noted.
Wall Street brokerages will pay $900 million in fines to settle charges that they intentionally misled investors in order to secure sweeter investment-banking deals. Citigroup will pay the biggest chunk of change, tendering $300 million in fines. Credit Suisse First Boston will pay a $150 million fine and Merrill Lynch will pay $100 million. A number of other major firms will pay $50 million apiece. Shares of Citigroup, Merrill, Goldman Sachs and Morgan Stanley were all higher following the announcement. Another tenet of the deal is that the practice of doling out IPOs to preferred customers, or spinning, will be strictly prohibited, ensuring that retail investors get a fair shake.
Friday marks the simultaneous expiration of index futures and options contracts as well as individual stock futures and options, known as quadruple-witching.
"For the guys that play these type of days, it just turned out better to buy," Basel said.
In major political news Friday, Sen. Trent Lott said he is stepping down as the Republican majority leader in the Senate, following a whirlwind of controversy about remarks he made that were perceived to be racially divisive. Senator Bill Frist of Tennessee is being touted as the odds-on favorite to replace Lott.
Meanwhile, Greenspan said Thursday night that the U.S. economy has been working its way through a "soft patch" since the November easing of interest rates, but that he remains optimistic on the economy's ability to recover. "The labor market has remained subdued, as businesses apparently have been reluctant to add to payrolls," he said in a speech to the Economic Club of New York. "The manufacturing sector remains especially damped, and nonresidential construction has trended lower."
He added, "Oil prices have recently risen and, not least, the economies of most of our major trading partners have shown little vigor. Still, low interest rates and rapid advances in productivity have been providing considerable support to economic activity. Fortunately, the ability of our economy to weather the many shocks inflicted on it since the spring of 2000 attests to our market system's remarkable resilience."
Underpinning the market's positive tone Friday was the government's final third-quarter GDP report, which showed the economy grew at a 4% clip in the summer period, consistent with the preliminary forecast issued in November. The report revealed notable strength in consumer spending, particular in big-ticket items such as automobiles.
Still, war fears were not too far from investors' minds. On Thursday, the U.S. said Iraq had committed a "material breach" of a U.N. resolution by failing to fully disclose its efforts to produce weapons of mass destruction.
Among sectors, financial, retail, transportation, networking, wireless, footwear, airlines, biotech, consumer products and tobacco were all exhibiting strength. Meanwhile, healthcare stocks were under pressure following a government raid on the offices of
Tenet Healthcare
(THC) - Get Free Report
, which has been heavily scrutinized in recent months for its Medicare reimbursement practices. The stock closed down $1.69, or 9.9%, at $15.35 lately.
Overall, market breadth was positive. Advancers outpaced decliners 2 to 1 on the New York Stock Exchange, where 1.78 billion shares traded. On the Nasdaq, winners beat losers 9 to 7 on volume of 1.7 billion shares.
Athletic shoe maker
Nike
(NKE) - Get Free Report
was in the spotlight after it posted higher second-quarter earnings on Thursday, boosted by more stringent inventories and strong sales overseas. The company posted a net profit of $152 million, or 57 cents a share, beating analysts' expectations by a penny. The company also said it will no longer utilize sneaker-store chain
Foot Locker
(Z) - Get Free Report
as its primary U.S. distributor.
The announcement confirms what Foot Locker said in its 10-Q filing earlier this month, that purchases of certain Nike footwear and other products could be reduced by about $300 million to $400 million. According to guidance provided on its third-quarter earnings call on Nov. 21, Foot Locker said its business with Nike would be down in the first four or five months of 2003, but the company will remain a significant supplier in 2003. Foot Locker's shares tumbled 10.2% to $10.48 on the news. Nike traded up 8.6% to $45.10.
Halliburton
(HAL) - Get Free Report
, the oil services company formerly run by Vice President Dick Cheney, was under pressure after the
Securities and Exchange Commission
launched a formal investigation into its accounting and disclosure practices for cost overruns on various jobs. The move comes after Halliburton agreed to settle all pending and future asbestos claims against it by funding a trust with cash, stock and notes worth more than $4 billion. The shares slipped 42 cents, 2.2%, to $19.08.
Separately,
Photon Dynamics
undefined
, a maker of semiconductor testing equipment, got hammered, losing 17.6% to $22.30, after it lowered its first-quarter outlook to reflect weak spending on capital equipment.
Another big decliner was construction and transportation company
URS Corp.
(URS)
, which plummeted 27.2% to $14.29 after posting a steep 67% drop in quarterly earnings, as more dwindling state budgets have delayed public works projects and softened demand.
Consulting firm
Accenture
(ACN) - Get Free Report
raised its first-quarter earnings forecast but warned that second-quarter profit would be lower than expected as the company struggles to cope with slack demand among its corporate clients. The stock fell 2.2% to $17.15 on the news.
Elsewhere, business software developer
Cognos
undefined
projected 10% revenue growth for 2004 sending its shares up 3.2% at $22.80.
U.S. Treasury issues were lower, with the 10-year note down 3/32, yielding 3.95%. The 30-year bond was down 1/32, to yield 4.89%
Overseas markets were higher across the board, with London's FTSE 100 gaining 1.3% at 3889 and Germany's Xetra DAX up 1.9% at 3016. Japan's Nikkei 225 rose 0.2% to 8406, while the Hang Seng closed up 0.7% to 9629.
On Thursday, stocks ended lower as a weak report on the job market and renewed geopolitical concerns overshadowed a raised outlook from
Oracle
(ORCL) - Get Free Report
and solid earnings from brokerages. The Dow closed down 83 points, or 1%, at 8364. The Nasdaq lost 7 points, or 0.5%, to 1354, and the S&P 500 slipped 7 points, or 0.8%, to 884.