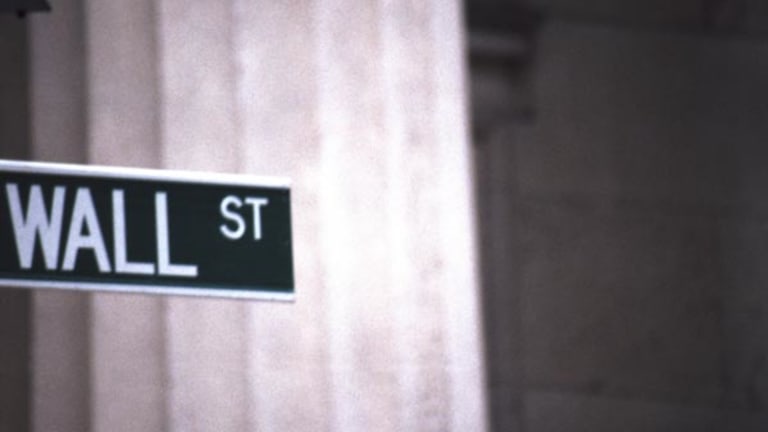 Wall Street Sells Off Despite Bailout Approval
The major indices end a mostly positive day with losses after the House at last approves the Treasury's bailout package for the financial sector.
Updated from 4:11 p.m. EDT
Stocks on Wall Street sold off into Friday's close following a vote by the House of Representatives to approve the Treasury Department's $700 billion
.
The three major indices finished near their session lows. The
Dow Jones Industrial Average
, previously up as much as much as 313 points, ended down 157.15 points, or 1.5%, at 10,325.70, and the
S&P 500
gave back 15.04 points, or 1.4%, at 1099.24. The
Nasdaq
lost 29.33 points, or 1.5%, to 1947.37.
Friday's performance marked a discouraging end to an ugly week. In five days of trading, the Dow lost 7.3%, the S&P 500 stumbled 9.4%, and the Nasdaq plummeted 14%.
The financial-assistance bill, which creates a Troubled Asset Relief Program, or TARP, to take toxic assets off banks' balance sheets, passed the House 263 to 171.
"The importance of the rescue plan is that, over time, borrowers and lenders as well as financial markets and individual investors should gradually start shifting their outlook from what could go wrong to what could go right," wrote Michael Sheldon, chief market strategist at RDM Financial Group, in an email. Recent economic data shows the U.S. is in a recession, and the housing market remains troubled, he wrote. However, Sheldon sees the passage of the bill as mitigating further downside risks for the economy and financial markets going forward.
"Anyone who thinks that this is going to be a silver bullet is going to be sorely disappointed," said Doug Roberts, chief investment strategist at ChannelCapitalResearch.com. He said the problems in credit markets and the economy have to work themselves out over a long period of time. Because of the global nature of the liquidity crisis, Roberts said, a solution will require a global coordinated effort among central banks. He said the bailout package is "not the seminal event that I think people are talking about. It's the first in a series of steps."
As investors awaited legislative aid in the morning,
Wachovia
(WB) - Get Report
announced it has agreed to be sold to
Wells Fargo
(WFC) - Get Report
in a $15.1 billion deal that
says will not require assistance from the Federal Deposit Insurance Corp. or any other government agency. The deal appears to negate another deal brokered by the FDIC Monday under which
Citigroup
(C) - Get Report
agreed to acquire all of the banking subsidiaries of Wachovia. Citi is threatening legal action to stop the Wells Fargo deal and keep its own merger deal with Wachovia in place.
"Now you see a deal that's being done without being forced," said Richard Sparks, senior equities analyst at Schaeffer's Investment Research. He said that it's a positive for the market to see a bank merger based on valuation rather than the impulse on the part of the government to save a failing company.
Wells Fargo finished the day down 1.7% at $34.56, Citi dropped 18% to $18.35, and Wachovia skyrocketed 59% to $6.21.
Not all news from the financial sector was as rosy. Swiss bank
(UBS) - Get Report
said it would cut 2,000 jobs as part of its reorganization efforts. Shares lost 0.8% to $19.95.
Insurance firm
(AIG) - Get Report
said it would sell several of its business segments in an effort to pay back an $85 billion loan from the government. The stock dropped 3.5% to $3.86.
The Wall Street Journal
reported that
Washington Mutual CEO Alan Fishman
won't stay on at
JPMorgan Chase
(JPM) - Get Report
, which acquired WaMu after it failed on Sept. 25. JPMorgan shares dropped 7.9% to $45.90.
In other board shakeups, mortgage packager
Fannie Mae
( FNM) announced that former
will not be keeping his seat on Fannie's board.
Meanwhile, several media reports suggested that Japanese firm
Mitsubishi UFJ
(MTU)
may
merge its investment banking unit with Morgan Stanley
(MS) - Get Report
operations in Japan. Mitsubishis shares gained 1.8% at $8.45, and Morgan Stanley jumped 3.1% to $23.92.
Elsewhere, private equity firm
(BX) - Get Report
bought a $600 million stake in
China National BlueStar
, according to a report by
Bloomberg
. Blackstone climbed 5.1% to $15.34.
In the technology arena,
Hewlett-Packard
(HPQ) - Get Report
may, according to a report in the
Journal
, be gearing up to release a
. Shares slumped 0.6% to $43.
As for economic data, the Department of Labor reported that the September unemployment rate remained at 6.1%, the same rate as in August and nonfarm payrolls decreased by 159,000, the largest drop since March 2003 and twice the decline feared by economists. The average work week declined to 33.6 hours from 33.7 in August.
Although economists' estimates imply that the employment number would hurt sentiment, Sparks of Schaeffer's said that judging by behavior in futures markets, the market's expectations may have been lower than those of economists. "Maybe it was one of those things where the unspoken fear was much greater than where the consensus number was," he said.
The dismal employment numbers were spurring speculation that the Fed would soon cut its target interest rate. Futures markets were pricing in 100% odds of a rate cut before the Fed's next meeting on Oct. 29.
Although the Fed probably would prefer not to lower rates, it may have to, said Doug Roberts of ChannelCaptialResearch.com. "I think we're talking at least 25, maybe 50 basis points." He said that increased weakness in European markets is contributing to strength in the dollar, which gives the Fed more room to loosen monetary policy.
The Institute for Supply Management's services index came in at 50.2, slightly ahead of economists' projections for a read of 50.
In commodities, crude oil lost 9 cents to settle at $93.88. Gold was gave back $11.10 to $833.20.
Longer-dated U.S. Treasury securities were falling in price. The 10-year was losing 32/32 to yield 3.75%, and the 30-year was down 1-10/32, yielding 4.23%. The dollar was higher vs. the yen but weakening against the euro and pound.
Across the seas, European exchanges, such as London's FTSE and Frankfurt's DAX, were largely trading higher. Asian indices, like the Nikkei in Japan and Hong Kong's Hang Seng, meanwhile, closed with losses.