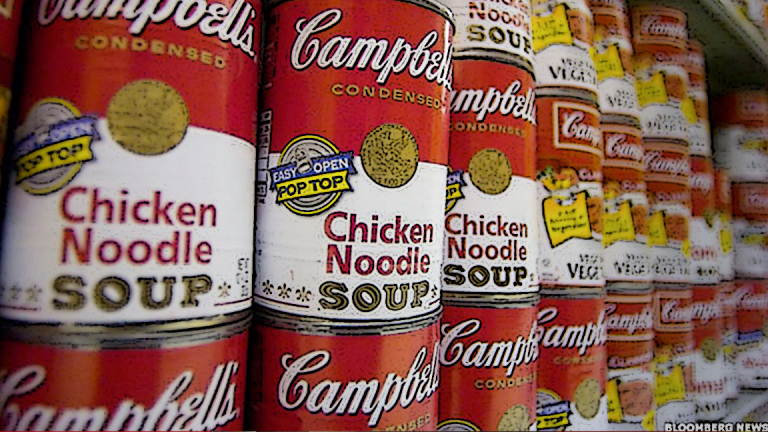 Wall Street Sees Glaring Holes in Campbell Soup's Big Restructuring Plan
What's not so great about this plan by Campbell Soup to turn itself around and appease an activist investor.
Campbell Soup's  (CPB) - Get Report  new restructuring plan looks like alphabet soup. 
Under siege from activist Dan Loeb, the embattled canned soup and packaged food company said Thursday it plans to sell two businesses, Campbell International and Campbell Fresh. The proceeds will be used to pay down debt and deleverage the balance sheet, and refocus on its North America business.
"The Board concluded that, at this time, the best path forward to drive shareholder value is to focus the company on two core businesses in the North American market with a proven consumer packaged goods business model," CEO  Keith McLoughlin said in a press release. 
The company also revised upward its cost savings plan to roughly $945 million through 2022. The cost savings plan was projected to total $500 million in February 2015, and management has steadily upped that number to date according to a source close to the matter. 
Shares fell 2.1% Thursday, bringing the year to date fall to almost 17%. 
But some on Wall Street are now asking questions that are seemingly unanswered at this point.
"We look forward to understanding how the company plans to achieve long term organic top and bottom line growth without its presumably faster-growing global snacks business," RBC Capital Markets analyst David Palmer wrote in a note out to clients Thursday morning.
The company's global snacks business saw sales surge 87% in the fourth-quarter amid acquisitions. That growth is likely to slow sharply in any divestiture of the international business.  
Credit Suisse analyst Robert Moscow wonders if the asset sales will be as lucrative as management says.
In the case the company rakes in less cash than planned, of course, the deleveraging plan won't be quite as productive. "Our view is that the proceeds might end up lower than expected, given that the strategic review essentially forces a sale," Moskow wrote in an note out to clients Thursday morning. "This gives the buyer more negotiating power."
And if those two concerns aren't enough, S&P Global Ratings just downgraded Campbell's credit rating to a 'BBB-' from a 'BBB' because the planned asset sales makes Campbells a less diversified business. "Following the proposed divestitures,
Campbell will be a less diversified company with increased reliance on its soup and beverage businesses to fund growth in its snack segment," S&P's report out Thursday morning wrote.