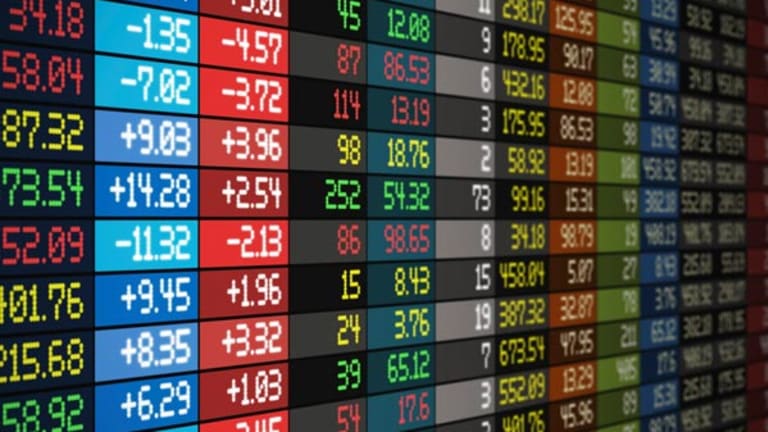 Wall Street's Winning Streak Ends as Terrorism, Crude Press Stocks
Wall Street snaps a five-week winning streak, pulling stocks back into negative territory for the year.
Wall Street snapped a five-week winning streak following hawkish Federal Reserve comments, renewed concerns about a crude-oil supply glut and global security worries following a terrorist attack in Belgium.
For the week, the S&P 500 fell 1%, the Dow Jones Industrial Average dropped 0.6%, and the Nasdaq fell 0.6%. The losses were enough to pull stocks back into negative territory for the year. Stocks had previously secured a five-week streak, their best since October. 
Trading was quieter due to the shortened holiday week. Markets will be closed on Good Friday, reopening as usual on the Monday after Easter. Banks will remain open on Friday.
Markets contracted as the death toll in two explosions at a Brussels airport Tuesday and a third at a key metro station rose to 34, while several hundred people were injured. ISIS subsequently claimed responsibility for the bombings, which followed the arrest of the only suspect believed to have survived attacks in Paris in November.
Analysts noted Tuesday that the effects of a terrorist attack on markets usually dissipate quickly. "Using a list of terrorist activity since 1979, our calculations show that in the median case, the effect from terrorist activity fades within 10 days," said Bill Stone, investment strategist at PNC. "The impact of terror attacks on the market has always faded over time."
A hawkish tone in Fed chatter this week kept traders on their toes. The chance of an April rate hike rose on Thursday after comments from St. Louis Federal Reserve President James Bullard.
"The next rate increase may not be far off provided that the economy evolves as expected," said Bullard in prepared remarks Thursday morning.
The comments back up Bullard's remarks on Wednesday that the central bank should consider another hike at its April meeting as the economic forecasts appear unchanged and inflation and unemployment march toward their targets. The chances of an April rate hike climbed to 14% from 7% following Bullard's comments, according to CME's FedWatch futures.
Separately, San Francisco Fed President John Williams said the economy is "looking great" and that an April or June hike isn't out of the question. The central bank raised rates for the first time in nearly a decade in December.
"All else equal, assuming everything else is basically the same and the data flow continues the way I hope and expect, then April or June would definitely be potential times to have an increase in interest rates," Williams told Market News International earlier in the week. Williams is not a voting member of the Fed this year.
The central bank now expects two rate hikes this year, down from December's forecast of as many as four, according to the most recent Fed meeting in mid-March. The Fed also cut its forecasts for next year's hikes by 50 basis points.
Crude oil pulled back from recent highs as worries mounted over a massive supply glut. On the domestic front, weekly data showed the number of active U.S. oil rigs fell, though that was countered with a steep increase in domestic crude oil inventories over the past week. Domestic crude oil inventories increased by 9.4 million barrels a week ago, far higher than an estimated increase of 2.7 million barrels.
Oil recently hit its highest level of the year on hopes of a production freeze among major oil-producing countries, though negotiations are on pause until an April meeting.
"The oil market remains well supplied, with U.S. domestic stocks continuing to grow," said Robert Haworth, senior investment strategist at U.S. Bank Wealth Management. "However, production is slowing for now and we should see market rebalancing take place this summer, with solid seasonal demand, continued contraction in U.S. production and some agreement within the OPEC to limit production growth."
West Texas Intermediate crude ended the week 4.1% lower, and is now down 1.5% for the year. Oil prices touched 13-year lows earlier in 2016 amid record production levels and signs of weaker demand. 
Deals news dominated headlines this week, with both VirginAmerica (VA) and Yum! Brands (YUM)  in the spotlight. Virgin is reportedly seeking potential buyers who could purchase some or all of the company. Yum! Is reportedly contemplating unloading a stake as large as 20% in its Chinese operation, the first step in plans to eventually spin off the entire business. The company, which owns KFC and Taco Bell, could sell a stake as large as 20% for about $10 billion.
Hot takeover target Starwood Hotels (HOT) agreed to a raised bid from Marriott (MAR) on Monday. The new offer values Starwood at $13.6 billion, above an offer from Chinese company Angbang Insurance for about $13.2 billion.
IHS (IHS) announced plans to merge with Markit (MRKT) in an all-stock deal worth more than $13 billion. IHS will own around 57% of the company, while Markit will hold the remainder. The combined company will be named IHS Markit and will be located in Markit's headquarters in London. The deal is expected to close in the second half of the year.
Sherwin-Williams (SHW)  agreed Monday to acquire Valspar (VAL) in a deal worth $9.3 billion. The price of $113 per Valspar share represented a 52% premium to its Friday close.
It was a jam-packed week on the economic calendar with critical reads on the housing and manufacturing sectors. U.S. durable goods orders fell 2.8% in February, a slightly slower pace than an estimated 3% drop. A decline in civilian aircraft orders was one of the biggest drags, while excessive inventory also pressured the headline number. Core durable orders, excluding transportation, fell 1.8%.
U.S. manufacturing remained subdued as excess inventories stymied production and a stronger greenback hurt international demand. A flash reading of Markit PMI climbed to 51.4 in March, coming off of a 28-month low in February, though remaining at depressed levels.
New home sales bounced in February, recovering slightly from seasonal weakness suffered over a late winter. Sales of newly built, single-family homes rose 2% to 512,000 in February, according to the Commerce Department. Worryingly, most of the gains were concentrated in the West with increases of nearly 39% in the region. Elsewhere, sales declines ranged from 4% to 24%.
Existing home sales in February tumbled 7.1%, a three-month low and a symptom of high prices and lower inventory. Sales in the U.S. fell to a seasonally adjusted rate of 5.08 million, according to the National Association of Realtors. Economists had expected a reading of 5.3 million.