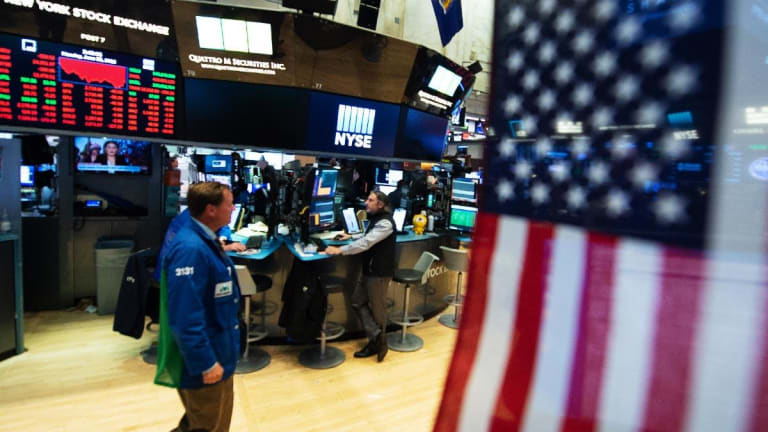 Wall Street Rides High as U.S.-Mexico Trade Deal Boosts Global Markets
U.S. equity futures pointed to a third consecutive record-setting session on Wall Street, as investors reacted to news of a possible NAFTA overhaul that could lead to the end of trade disputes between the U.S., China and the European Union.
The Tuesday Market Minute
Global stocks edge higher as investors react to the potential overhaul of the North American Free Trade Agreement following last night's potential U.S.-Mexico trade deal
European stocks open firmly to the upside, with auto stocks leading the advance, even as investors raise questions over the fate of a deal that doesn't include Canada.
U.S. dollar index extends decline, now down more than 2% from mid-August peak, as investors return to risk markets amid easing trade tensions.
U.S. equity futures suggest S&P 500 could test 2,900 barrier Tuesday as futures point to another record-setting session on Wall Street. 
Market Snapshot
Global stocks edged higher Tuesday, while U.S. equity futures pointed to a third consecutive record-setting session on Wall Street, as investors reacted to news of a possible NAFTA overhaul that could lead to the end of trade disputes between the U.S., China and the European Union.
President Donald Trump announced a new agreement on trade with Mexico yesterday in Washington, during a conference call with President Enrique Pena Nieto, that will both replace the current NAFTA pact -- which covers an annual $1 trillion in trade -- and leave Canada, the U.S.'s second-largest trading partner, without a bespoke deal.
The fact that Mexico appeared ready to comply with several White House demands, including wage limits and "country of origin rules" in the auto sector, has investors hoping that Trump can work similar deals with Brussels and Beijing, a move that would ease the current trade tensions and kick-start economic growth into the final months of the year.
However, a lack of detail in last night's agreement, along with the fact it requires Congressional approval within a 90-day window, as well as concerns that Trump's tough stance with Canada could define his approach to trade talks with China, kept equity market gains in check during the Asia session, with the MSCI Asia ex-Japan index rising 0.26% and Japan's Nikkei 225 edging only 0.06% higher from yesterday's 10-week high to close at 22,813.47 points.
"There is, right now, no visible interest from the US administration in pursuing talks with China over trade, and there will likely not be either unless China proposes some far-reaching changes to issues such as intellectual property protection and forced technology transfer," said ING's chief economist Robert Carnell. "So as far as China and Asia are concerned, this new Mexico deal solves nothing. Indeed, it strengthens the US position to play hard-ball with China. This doesn't look good for the region."
That said, the MSCI All Country index hit a six-month high after rising 0.15% on the session, while European stocks traded at the highest level in two weeks, with auto stocks leading the charge following a surge for U.S. carmakers last night on Wall Street. The region-wide Stoxx 600 was marked 0.1% higher by mid-day in Frankfurt, while Germany's DAX performance index was seen 0.15% to the upside.
Italy's benchmark borrowing costs hit a four-and-a-half year high Tuesday as investors continued to trim government bond holdings amid concern that the country's populist administration is on a collision course with EU officials in Brussels that echoes the worst of the region's 2012 debt crisis, while Italy's FTSE MIB stock index fell 1.03% to extend its decline since the new government was first established in late May to around 16%.
Early indications from U.S. equity futures suggest another record-setting day on Wall Street, with the S&P 500 I:GSPC  pushing to breach 2,900 points for the first time ever, with a 4 point gain, while the Dow Jones Industrial Average I:DJI is called 53 points to the upside. The tech-focused Nasdaq I:IXIC , which topped the 8,000 point mark for the first time last night, is called 17.6 points higher at the opening bell.
Away from equities, the U.S. dollar index, which benchmarks the greenback against a baskets of six global currencies, was marked modestly lower at 94.73, but has fallen a full 2% since hitting a 13-month high earlier this month, a move that should boost the value of U.S. stocks that generate a large portion of their sales overseas.
Benchmark 10-year U.S. Treasury bond yields were also slightly higher at 2.85%, although the move was as much in anticipation of the $104 billion in new bond sales this week as it was a reflection of the "risk on" trade that has dominated markets for the past three sessions.
Global oil prices were also softer at the start of the trading session in Europe, with investors trimming recent gains on the back of reports that OPEC production is starting to accelerate as part of the cartel's June pact to re-balance global markets, even as the International Energy Agency cautioned on potential supply disruptions from Venezuela owing to that country's ongoing economic crisis.
Brent crude contracts for November delivery were seen 5 cents lower from their Monday close in New York and changing hands at $76.45 per barrel while WTI contracts for October delivery were marked 14 cents lower at $68.73 per barrel.