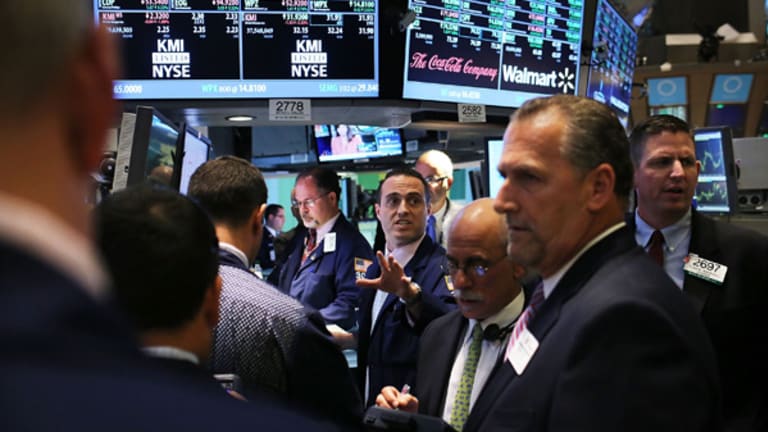 Wall Street Rally Continues as Citi Gets a Bailout
Stocks in New York continue to climb as investors absorb a U.S. government plan to rescue ailing financial giant Citigroup.
Updated from 9:41 a.m. EST
U.S. stocks were soaring Monday, following an announcement that
Citigroup
(C) - Get Citigroup Inc. Report
had secured government aid that would help prevent a breakup of the enormous and troubled bank.
The
Dow Jones Industrial Average
was climbing 286 points to 8333, and the
S&P 500
was adding 30 points to 830. The
Nasdaq
gained 54 points at 1438.
On Friday, stocks fluctuated sharply throughout the day before staging a late rally that coincided with reports that President-elect Barack Obama would select New York
Federal Reserve
chief
Tim Geithner
to run the Treasury Department. Reports also indicated Monday that former Treasury Secretary Lawrence Summers would head the National Economic Council.
Over the weekend, the Treasury, the Fed and the Federal Deposit Insurance Corp. announced they would move to
prop up Citigroup
in part by investing $20 billion of the $700 billion Troubled Asset Relief Program in Citi shares. The large stake follows an earlier $25 billion TARP investment from the government. The agencies also said they will guarantee against up to $306 billion in potential loan losses by the bank.
Shares of Citi had dropped 60% in the past week on concerns about its ability to survive the credit crunch intact and on Friday, Citi executives reportedly denied speculation that the bank would sell all or part of itself to raise capital. On Monday, the stock rebounded early, gaining more than 50% on the bailout news.
Government aid for Citi is reassuring in that it shows that the government is willing to help vital institutions stay afloat as the credit crisis continues, said Richard Sparks, senior equity analyst at Schaeffer's Investment Research. However, the need for intervention underscores challenges faced by other large institutions, he said.
Investors were also heartened by the incoming administration's efforts to bolster the faltering economy. The transition team of President-elect Barack Obama said on Sunday it is working on an
economic-stimulus plan
to help avert the worst of an emerging downturn. Details of the plan include possibly allowing President Bush's tax plan to remain in place and legislation that would add or replace 2.5 million American jobs.
Sparks of Schaeffer's said that the Obama team's quick moves to put a team in place and quickly develop a plan of action helps remove some uncertainty related to the presidential transition, but "The biggest uncertainty is how widespread, and how hard-hitting, will the aftermath of the crisis be."
Financial institutions continued to feel shocks related to the credit crisis. News of the Obama plan came after three banks, including
Downey Financial
(DSL) - Get DoubleLine Income Solutions Fund of Beneficial Interests Report
, failed on Friday.
Pessimism about the future of other U.S. companies persisted, as
at Citigroup cut their price target for the S&P 500 to 850, and cut their 2009 target for the index to 1200.
The market's recent upward movements are to be expected, given a broader downtrend, said Sparks. "I don't know if I would at this point call
the recent rally anything important or even significant.
The troubled automakers continued to make headlines, as
Bloomberg
reported that
(GM) - Get General Motors Company Report
, which along with
Ford
(F) - Get Ford Motor Company Report
took large hits last week as they failed to secure a bailout from Congress, is trying to reduce its debt and delay a large payment to a union health fund. The report indicated that such a move is an effort to meet conditions that the company retool its business if it hopes to get government money.
On Saturday, a report by
The Wall Street Journal
, citing people familiar with the matter, said that GM's board was now open to a possible bankruptcy filing. The board's reported position puts it in opposition to CEO Rick Wagoner, who has repeatedly stressed that he was not considering bankruptcy protection.
As to corporate earnings,
Campbell Soup
(CPB) - Get Campbell Soup Company Report
saw increasing fiscal first-quarter earnings per share but said a stronger dollar would hurt international sales.
Xerox
(XRX) - Get Xerox Holdings Corporation Report
also affirmed that it has sufficient capital and offered profit guidance that was in line with analysts' expectations.
In the merger arena,
Johnson & Johnson
(JNJ) - Get Johnson & Johnson Report
announced it would buy
Omrix Biopharma
(OMRI)
for $438 million, or $25 a share, in cash.
Among other deals,
Alpharma
(ALO) - Get Alio Gold Inc. Report
agreed to be bought by
King Pharmaceuticals
(KG)
for $1.6 billion in cash.
Looking at the day's economic data,
October existing-home sales
from the National Association of Realtors came in at an annual rate of 4.98 million, down from 5.14 million in September and slightly below economists' forecasts.
Ian Shepherdson, chief U.S. economist for High Frequency economics, wrote in an email that the National Association of Retailers believes about 45% of home transactions are foreclosure-related. "The private market is still very weak indeed, and the next few months represent a severe test in the wake of the plunge in stocks and consumer confidence," he said.
As to commodities, crude oil was climbing $1.53 to $51.46 a barrel. Gold was gaining $32 to $823.80 an ounce.
Longer-dated U.S. Treasury securities were falling in price. The 10-year was down 26/32, yielding 3.29%, and the 30-year was off 1-6/32 to yield 3.75%. The dollar was weakening against the euro and pound but rising vs. the yen.
Abroad, European exchanges including the FTSE in London and the DAX in Frankfurt were marking gains. In
, Japan's Nikkei was closed for a holiday. Hong Kong's Hang Seng index finished with losses.