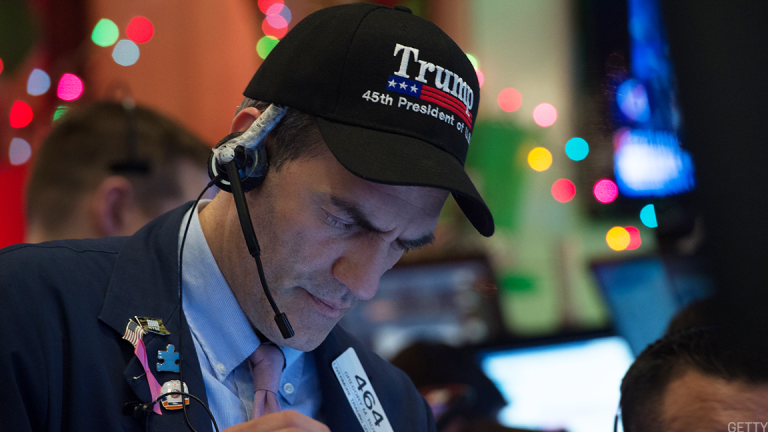 Wall Street Poised for New Records, Bitcoin Futures Volumes Plunge, Oil Surges
U.S. stocks could test new record highs again Tuesday as investors eye a surge in global oil prices and prep for the Fed's last policy meeting of the year.
Wall Street futures extended gains Tuesday, Dec. 12, while European stocks traded into the green as the Federal Reserve kicks off its two-day policy meeting in Washington amid a backdrop of robust global growth and tepid inflation, a mix that has helped boost markets around the world to a series of record highs.
Futures contracts tied to the Dow Jones Industrial Average rose 0.2%, trading above the Dow's record close on Monday, Dec. 11, while those linked to the broader S&P 500 gained 0.08%. Nasdaq futures slipped 0.03%.
Stocks held firm after producer prices rose 0.4% in November, according to the Bureau of Labor Statistics. Core prices, which strip out food, energy and trade, also rose 0.4%. The data reinforces the belief the Fed will raise rates for the third time this year on Wednesday, Dec. 13.
The gains on Wall Street followed a modestly bullish session in Europe, where the Stoxx Europe 600 benchmark added 0.37% and benchmarks around the region bumped as investors track both the euro, which remained under the 1.18 mark against a firmer U.S. dollar, and a surge in global oil prices.
Britain's FTSE 100 also booked solid gains, rising 0.3% despite a stronger pound sterling, which jumped after a faster-than-expected reading for U.K. inflation of 3.1% last month, the highest since March 2012.
Oil stocks, including BP PLC  (BP) - Get BP Plc Report , which gained 1.3%, and Royal Dutch Shell PLC  (RDS.A) , which gained 1.1%, were upside leaders after Brent crude hit a July 2015 high of $65.63 per barrel following the shutdown of the Forties North Sea Oil pipeline.
The Forties Pipeline System, which is owned and operate by Ineos, suffered a hairline crack last week and was fully shut down overnight, the company said, halting the delivery of around 450,000 barrels of oil and gas each day to the northern coast of Scotland. The shutdown will impact that largest input into the so-called dated Brent crude mix that is used to settle around half of the world's crude contracts.
Brent oil prices for February delivery were 1% higher at $65.34, after hitting a two-and-half year high in overnight Asia trading. The moves took Brent prices, which are used as the global benchmark, about $7 higher than those for February delivery of West Texas Intermediate crude, which were at $58.44, about 0.8% higher than its Monday closing price in New York.
Overnight in Asia, stocks retreated from their near 10-year peak as investors prepped for the start of the two-day Fed policy meeting and kept in-the-money positions protected into the final trading sessions of the year. The region-wide MSCI Asia ex-Japan index was marked 0.07% lower into the end of the trading day while Japan's Nikkei 225 gave back 0.32% from Monday's 25-year peak to close at 22,866.17.
Bitcoin futures were noticeably lighter in volume on the CBOE, with only 421 contracts changing hands -- compared to around 2,700 over the same time frame Monday --  as prices for January settlement slipped from a high of $18,600 to $18,350 in the wake of a stern warning on cryptocurrency risks last night from the U.S. Securities and Exchange Commission. Spot bitcoin prices were marked at $16,600 on the bitstamp exchange.
More of What's Trending on TheStreet: