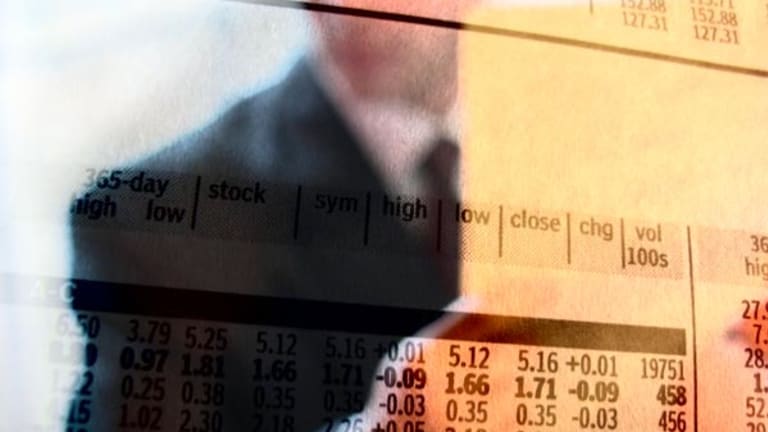 Wall Street Holds to Gains
Following President-Elect Obama's news conference, stocks continue to hold gains despite the loss of 240,000 jobs last month and dire news out of the auto sector.
Updated from 1:38 p.m. EST
U.S. stocks were staying positive Friday afternoon as traders shrugged off the worst monthly unemployment reading in more than a decade and assessed troubling earnings statements from the automotive sector.
The
Dow Jones Industrial Average
was up 128 points at 8824, and the
S&P 500
added 12 points to 916. The
Nasdaq
jumped 14 points to 1622.
Economic data releases continued to point to a dismal downturn. The Bureau of Labor Statistics reported that October nonfarm payrolls declined by 240,000, worse than analysts' projections of 200,000. The September job-loss figure was revised to 284,000 from 159,000. The
unemployment rate
came in at 6.5%, its highest reading since 1994 and above economists' estimates of 6.3%.
"We knew it was coming," said Neil Hennessy, fund manager at Hennessy Funds. "When your stock is down 50-60%, why not clean your company out? Clean everything off the books, simply because you might as well go into 2009 and 2010 lean.
"Everything gets blown out of proportion for short-term consideration," said Hennessy. He said that U.S. employees are highly resilient. "They're not going to stay unemployed. ... If you take what we've already gone through, which is the auto, housing and finance -- those three sectors got absolutely annihilated -- and we're still here."
"The fourth quarter is shaping up to be one of the weakest in decades," wrote Chris Low, chief economist at FTN Financial, in an email. "The Fed will almost certainly cut rates to less than 1%, but there's not much more they can do there." He said the numbers bolster the argument for fiscal stimulus and that the Treasury may once again intervene in the financial system.
The Census Bureau's wholesale inventories report for September showed a decline of 0.1%, down from a 0.6% increase in August but below the consensus forecast of a 0.3% uptick. The National Association of Realtors' pending home sales index declined 4.6%, a heftier loss than the 3.4% anticipated by analysts.
President-elect Barack Obama held an afternoon news conference to discuss the state of the economy. He called for development of a fiscal stimulus plan, an extension of jobless benefits to the unemployed and additional help for the automakers, whose quarterly earnings statements showed an industry in disrepair.
(F) - Get Ford Motor Company Report
said Friday it lost $129 million for the third quarter and burned $7.7 million in cash and said it would cut additional jobs.
General Motors
(GM) - Get General Motors Company Report
shares stopped trading ahead of the company's earnings release. GM then announced a loss that was much heavier than anticipated and reported $6.9 billion in negative cash flow for the quarter. It warned that capital levels would fall short of levels necessary to sustain operations unless economic conditions improve substantially and said that it had set aside merger plans to focus on boosting its liquidity.
Paul Nolte, director of investments at Hinsdale Associates, said that GM's loss wasn't much of a surprise. With auto sales at current levels, he said, "We'll probably lose one of the big three within the next year. ... We could lose two."
Nolte said that GM isn't getting killed so much by its auto business as by its financing arm. "They've gotten well away from the basic business and they've been caught in an economy that's turned away from both sides."
"The biggest thing that pops out at you is the cash burn," said Art Hogan, chief market analyst at Jefferies. "I think we're really at the 11th hour here." He said GM may only have until next summer to reinvent itself and avoid bankruptcy.
Staying with autos,
Bloomberg
reported that GM, Ford and Chrysler are looking to get $50 billion in loans from the government to cover health care spending and general liquidity. Such aid would come on top of $25 billion loan passed by Congress in September.
Back in earnings news, entertainment giant
Disney
(DIS) - Get The Walt Disney Company Report
reported decreased earnings, in part because of a charge related to debt owed by bankrupt brokerage
Lehman Brothers
. Fellow entertainment firm
Discovery Communications
(DISCA) - Get Warner Bros Discovery Inc Com Ser A Report
beat Wall Street estimates on both the top and bottom lines, and offered in-line guidance for its fiscal 2008 revenue.
Construction management firm
Fluor
(FLR) - Get Fluor Corporation Report
reported a large rise in third-quarter income.
Meanwhile, communication equipment manufacturer
Qualcomm
(QCOM) - Get QUALCOMM Incorporated Report
announced falling profit and lowered its forward outlook.
Telecom firm
(S) - Get SentinelOne Inc. Class A Report
swung to a third-quarter loss but announced it renegotiated terms of a credit facility and cut its debt levels.
Beyond earnings,
(MSFT) - Get Microsoft Corporation Report
CEO Steve Ballmer said that his company doesn't intend to work out a merger deal with
Yahoo!
(YHOO)
, according to a report by
Bloomberg
.
Elsewhere on the merger front,
(PC)
and
Sanyo Electric
announced they were discussing a potential deal.
Looking at the financials,
The Wall Street Journal
reported that troubled insurance giant
AIG
(AIG) - Get American International Group Inc. Report
was working with federal officials to potentially alter the terms of an $85 billion loan the government gave to AIG.
In
, JPMorgan cut 2009 earnings estimates on
Goldman Sachs
(GS) - Get Goldman Sachs Group Inc. (The) Report
and
Morgan Stanley
(MS) - Get Morgan Stanley Report
. The reduction in the Goldman estimates was tied to private-equity losses.
In commodities, crude oil gained 27 cents to close at $61.04 a barrel. Gold added $2 to settle at $734.20 an ounce.
Longer-dated U.S. Treasury securities were falling in price. The 10-year note was down 24/32, yielding 3.78%, and the 30-year was lower by 1-2/32 to yield 4.26%. The dollar was higher vs. the yen and pound, but softening against the euro.
Credit markets continued their loosening streak. Three-month dollar Libor dropped 10 basis points to 2.29%, a four-year low, indicating that interest-rate cuts from central banks around the world were having an impact. Overnight Libor remained level at 0.33%.
Abroad, European indices were gaining ground, as the FTSE in London and the Dax in Frankfurt traded higher. Asian exchanges were mixed, as Japan's Nikkei ended down and Hong Kong's Hang Seng closed with gains.