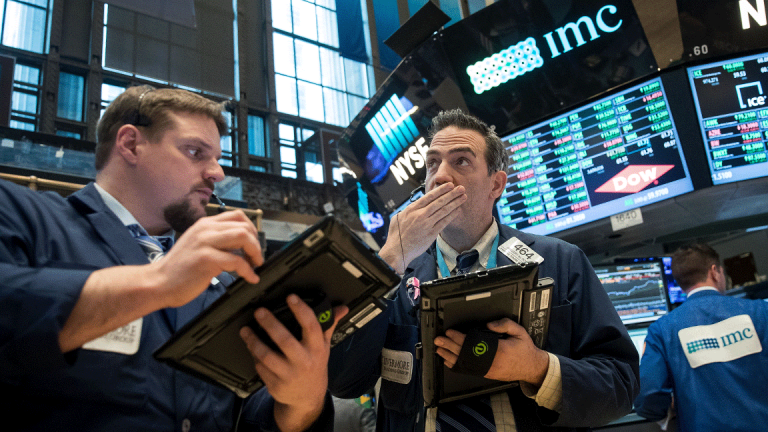 Wall Street Futures Slide, Europe Slumps, Bonds Rally as Markets Look To Fed
U.S. stocks are expected to open weaker Wednesday as tech sector weakness and a mini bond market rally keep a lid on gains heading into the final trading weeks of a record year.
U.S. stocks are expected to open weaker Wednesday as tech sector weakness and a mini bond market rally keep a lid on gains heading into the final trading weeks of a record year.
Wall Street futures traded firmly in the red Wednesday amid heaving selling in Europe and the biggest fall for Japanese stocks in nine months, as investors continued to rotate out of tech stocks and took cover in government bond markets ahead of next week's Federal Federal Reserve meeting in Washington.
U.S. stocks are likely to see another pullback when trading kicks off later today, with the futures tied to the Dow Jones Industrial Average marked 42 points, or 0.17% lower in early European trading and those linked to the broader S&P 500 trading 3.75 points lower.
Stocks in Europe were also firmly on the back foot in the opening hour of trading, with banks leading declines for benchmarks in Germany, were the DAX was marked 0.83% lower and slipped under the 13,000 barrier, and Britain's FTSE 100 fell 0.2%. The Stoxx Europe 600 banks index was marked 1.66% lower in early trading amid declines for Deutsche Bank (DB) - Get Report (-1.4%), Credit Suisse Group  (CS) - Get Report (-1.4%), HSBC (HSBC) - Get Report plc (-0.63%) and Barclays Plc  (BCS) - Get Report (-0.33%).
Tech stocks were also trading weaker, continuing a trend which has unsettled markets for the past two weeks, with STMicroelectronics NV (STM) - Get Report marked 2.86% lower at €18.20 and Apple Inc. (AAPL) - Get Report supplier Dialog Semiconductor Plc  (DLGNF) traded 3.12% lower at €24.22 each after Morgan Stanley (MS) - Get Report cut the stock's outlook to "equal-weight". Infineon AG (IFNNY) , Europe's biggest chipmaker, slumped 1.3% to €22.50, the lowest since mid-October.
Overnight in Asia, a weaker U.S. dollar lifted the value of regional currencies and kept a lid of gains for export-related stocks while investors found themselves caught in the downdraft of yesterday's selling on Wall Street, which was fuelled in part by renewed weakness in the technology sector.
The dollar index, which benchmarks the greenback against a basket of six global currencies, was marked 0.21% lower at 93.18, in part because of a big move in U.S. Treasury bond yields that has investors worried about the path of rate hikes from the Fed next year.
Two year note yields rose to a nine-year high of 1.82% overnight, but benchmark 10-year yields were largely unchanged at 2.34%, putting the difference between the two values at just 53 basis points, leading investors to worry if so-called "curve inversion", where short term rates rise higher than longer-term ones, a condition that sometimes forecasts recession. German 10-year bond yields traded below 0.3% for the first time since September, extending a rally that has clipped 19 basis points from the proxy for risk-free borrowing costs in Europe since late October. 
Collectively, the moves trimmed 0.23% from the MSCI Asia ex-Japan index, the region's broadest measure of share prices, and helped push the Nikkei 225 in Japan to a 1.97% slump -- the biggest since March -- that closed the benchmark at 22,177.04 points.
Global oil prices were also heavy in overnight trading, held down by data from the American Petroleum Institute Tuesday which showed a 5.5 million barrel decline in domestic crude stocks in the week ending Dec. 1 but a 9.3 million build in gasoline inventories, suggesting sluggish domestic demand heading into the holiday driving season.
Brent crude futures for February delivery were marked 0.6% lower at $62.49 per barrel while WTI contracts for the same month, the new benchmark contract, were seen 0.8% lower at $57.17 per barrel.
More of What's Trending on TheStreet: