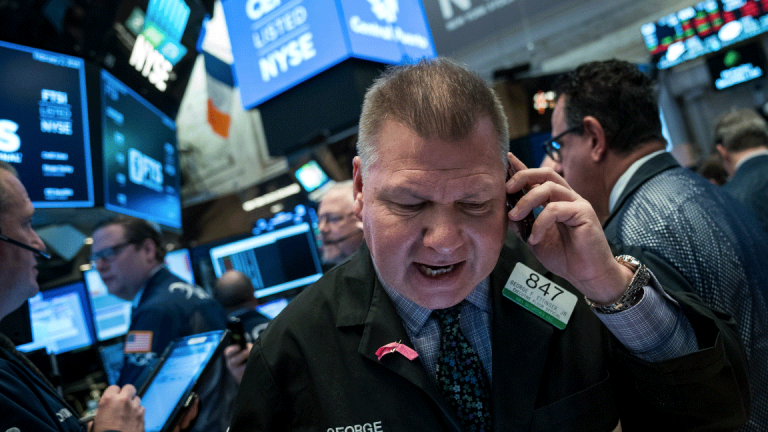 Wall Street Futures Lurch Lower, Europe Deeply in the Red as Volatility Spikes
U.S. equity futures lurch lower Tuesday as investors watch markets unravel amid damaging trades in specialized risk products and deeper concern about faster inflation amid robust worldwide economic growth.
Wall Street futures lurched lower again Tuesday, while European stocks suffered steep declines, as global investors attempted to take control of a global market selloff accelerated by sophisticated products tied to the market's benchmark gauge of near-term risk.
Futures tied to the Dow have swung more than 600 points during European trading and are now marked 380 points to the downside from last night's close, which saw the benchmark tumble 1,175.21 points -- or 4.6% -- with accelerated selling into the end of the trading day that saw U.S. stocks fall the most in six years. That implies a loss of more than 700 points at the start of trading today. Contracts tied to the broader S&P 500 were seen 28.5 points to the downside taking the benchmark 72 points lower at the opening bell.
Wall Street's key benchmark for near-term volatility is expected to spike higher, following its biggest surge on record, as investors rush from one of the market's most crowded trades in the global equity selloff. The Chicago Board of Trade's Volatility Index, better-known by its ticker symbol, VIX.X, surged 115.6% Monday to end the session at 37.32, the highest closing level since China's currency devaluation in 2015. Global trading suggests the VIX will open around 33% higher at the start of trading today more than 50 points.
European stocks were still nursing heavy losses in the opening hours of trading, although the declines were stabilizing even as the DAX performance index in Germany fell more than 2.2% and Britain's FTSE 100 gave back 2%. The Stoxx 600 benchmark, the region's broadest measure of share prices, was marked 1.9% lower at 375.99 points.
Overnight in Asia, Japan's Nikkei 225 ended the session 4.73% in the red while the region's broadest measure of share prices, the MSCI Asia ex-Japan index, was seen 3.42% lower as it lurched towards the close thanks in part to a 5.2% plunge for the Hang Seng index in Hong Kong and a 3.38% side for China's benchmark Shanghai Composite.
Some investors are suggesting that the overnight losses in Asia, and Europe's pending declines, are linked in part to specialised products that are designed to mimic -- and sometimes reverse -- moves in the CBOE's benchmark volatility index, known as the VIX.
One of these products, an exchange-traded note known as the Credit Suisse AG - VelocityShares Daily Inverse VIX Short Term ETN, was marked 85% to the downside in premarket trading, a move that would suggest and enormous spike in the VIX -- which is fresh off its biggest single-day advance in history -- at the start of trading Tuesday. That would, in turn, trigger option protection purchasing and accelerate selling for U.S. stocks.
"One of the key debates on Tuesday will be whether Monday's spike in volatility cleared the deck of volatile short-options positions, or is likely to lead to further buying of volatility to cover the significant explicit and implicit short volatility positions across investor types," said Goldman Sachs in a note to clients Tuesday.
Credit Suisse AG (CS) - Get Free Report shares opened sharply lower, falling more than 4.41% to the bottom of the Swiss market, as investors question whether losses linked to a specialized market risk product may impact the lender's balance sheet.
Bond yields, the original trigger to last week's selling that were amplified by faster-than-expected readings for average hourly wage growth in the January employment report, tumbled overnight as well as investors pulled cash from equities and into the safety of U.S. government debt.
Benchmark 10-year Treasury notes were seen at 2.72% after hitting a four year high of 2.885% during early Monday trading.
That said, if the year-to-date move move in bond yields is simply a delayed reaction to improvements in the U.S. economy's growth prospects (10-year Treasuries have gained 46 basis points since Jan. 1) and fuelled by a healthy concern for moderately faster inflation, the recent equity market declines could prove temporary.
While it's true that the VIX is trading at the highest levels since 2015 and had it's biggest one-day gain on record Monday, it's worth noting that the underlying strength of corporate earnings remains impressive.
Bottom-line gains for S&P 500 companies are expected to rise by 13.7% when the current fourth quarter earnings season comes to a close, according to Thomson Lipper data, and more 80% of companies reporting so far have beaten Street expectations.