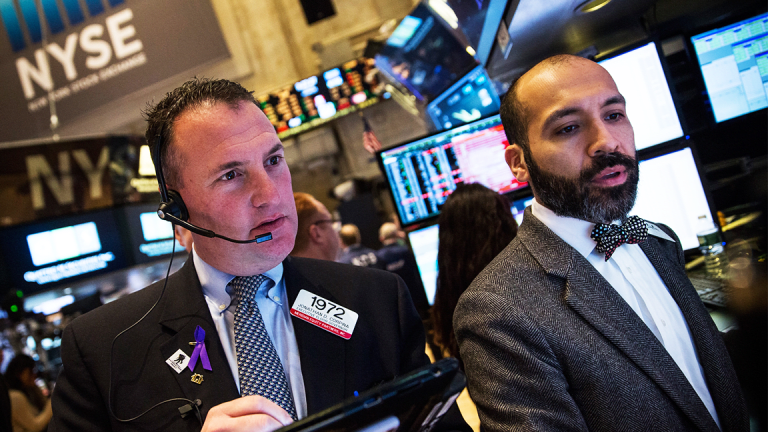 Wall Street Futures Edge Higher, Europe Books Gains as Global Markets Rebound
U.S. stocks are likely to book modest gains Thursday as investors continue to tweak global portfolios into the final trading sessions of the year and prep for Friday's critical non-farm payrolls report.
Wall Street futures are holding onto modest gains Thursday, while European stocks nudged higher amid a resurgent U.S. dollar as investors continue to tweak portfolios over the final full trading days of the year.
U.S. stocks are looking to extend some of yesterday's tech-led rebound into the Thursday session, with futures tied to the Dow Jones Industrial Average trading 17 points, or 0.07% by mid-morning in London, although that bid has faded a bit since the overnight session in Asia. Futures linked to the broader S&P 500 are marked 4.5 points, or 0.17% to the good.
Britain's FTSE 100 gained 0.3% in the opening hours of trading, led in part by an early leap for Sky Plc (SKYAY) shares, which rose past the £10 mark for the first time since late May after Britain's media watchdog delayed a decision on the proposed takeover by 21 Century Fox (FOX) - Get Fox Corporation Class B Report of the 61% stake in Sky it doesn't already own until January, triggering a special payout to investors.
In Europe, the Stoxx 600 index, the broadest measure of regional share prices, was marked 0.23% higher in the opening 90 minutes of trading as the DAX performance index in Germany gained 0.44% to scale back over the 13,000 mark and France's CAC-0 added 0.4% as investors took advantage of modestly weaker euro, which slipped below the 1.18 mark against a resurgent greenback.
The dollar index, a benchmark of the greenback's strength against a basket of six global currencies, was marked at a near two-week high of 93.64 in overnight trading, although it was difficult to isolate drivers for the move as asset prices around the world appeared trade independently - as is often the case in the final sessions of the year as investors put the final touches on their portfolios prior to the holiday season lull.
Nonetheless, the dollar's upward momentum kept a lid on regional currencies in Asia and helped stocks rise modestly from their 2-month lows, with the MSCI Asia ex-Japan index trading 0.12% higher by the end of trading and the Nikkei 225 in Japan taking back most of Wednesday's losses -- which were the biggest in nine months -- with a 1.45% advance that took the benchmark to 22,498.03 points.
Commodity prices have been notably active over the past week, with copper sinking to a four month lower before rebounding around 0.4% in the Asia session and global oil prices tumbling more than 3% yesterday to a two-month low after data showed U.S. production rates rose to an all-time high of 9.71 million barrels per day in the week ending Dec. 1
Brent futures contracts for February delivery, the global benchmark for prices, rebounded 0.6% from Wednesday's closing levels to $61.59 while WTI contracts for February added 0.5% to $56.21, although gains were held down by both the surging U.S. production rates published by the Energy Information Administration Wednesday and figures that showed gasoline stocks rose a much larger-than-expected 6.8 million barrels in the week ending Dec. 1.