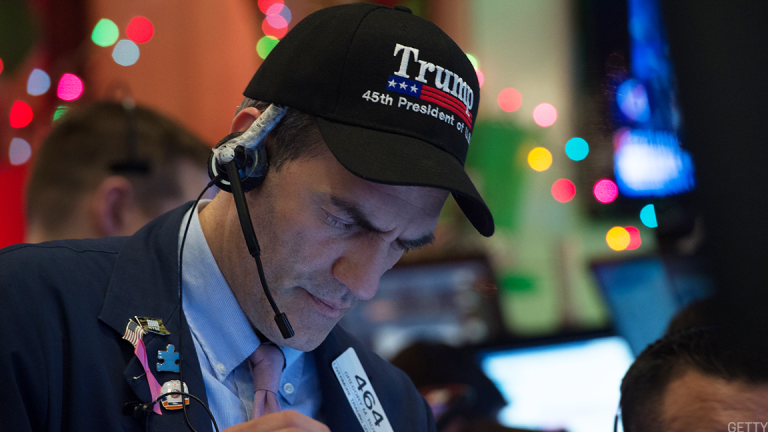 Wall Street Futures Edge Higher as Commodity Rally Drives Global Stocks
U.S. stocks are set for modest gains Wednesday after falling for four of the past five sessions as investors books profits from an extraordinary global rally.
Wall Street is likely to open mixed Wednesday, with investors focused on both a sharp rally in global commodities and the ongoing impact of recent U.S. tax cuts as markets head towards the close of one of the most extraordinary rallies in a generation.
Early indications from U.S. equity futures suggest a modestly stronger open for domestic stocks, with contracts tied to the S&P 500 were seen 2.5 points, or 0.06% higher from their Tuesday close while those tied to the Dow Jones Industrial Average were marked 11 points, or 0.07% higher to the upside.
Investors are looking at a light economic calendar of events over the day's session, with pending homes sales data for the month of November and key reading of U.S. consumer confidence both due at 10:00 am eastern.
Apple Inc. (AAPL) - Get Apple Inc. (AAPL) Report looks set to rebound modestly from one of its worst trading day of the year Wednesday even as investors continue to question the depth of demand for its flagship iPhone X amid reports of slashed sales forecasts.
European chipmakers in the company's supply chain were marked notably lower in early trading, although much of the reaction was delayed owing to market closures around the region on Tuesday. Dialog Semiconductor AG (DLGNF) , slumped 3.26% to €24.6 each while STMicroelectronics (SSNLF) was seen 2% lower in Wednesday trading, while ASM International NV (ASMVY) fell 1.2% by mid-day in Amsterdam.
The Stoxx Europe 600 Technology sector subindex was marked 0.9% lower at 440.71 points.
The moves followed a sharp 2.54% slump in Apple shares on Wall Street Tuesday, its biggest single-day decline since August, that was pegged to a report from Taiwan's Economic Daily newspaper suggesting the tech giant was ready to slash its iPhone X sales forecasts to 30 million from 50 million over the three months ending in December.
Apple shares were marked 0.13% higher in pre-market trading, indicating an opening price of $170.80 each and have gained 47.3% so far this year.
In Europe, the Stoxx Europe 600 index, the region's broadest measure of share prices, was marked 0.08% lower in the opening hours of trading, although benchmarks in Britain and Germany edged modestly higher thanks to rising energy and mining stocks on the FTSE 100 and stronger automakers on the DAX performance index.
Global stocks have been notably influenced by a strong rally in commodity prices, however, in overnight Asia trading, with both copper and oil prices testing multi-year highs following stronger-than-expected import data this week from China that suggested a robust start to 2018 growth. Copper prices gained for the ninth consecutive session to a three-and-a-half year high of $7,201 per tonne.
Oil prices have also been boosted by an outage in Libya that is taking around 90,000 barrels of crude from the market following an attack by militants on the Es Sider sea terminal on Tuesday, also prices eased overnight thanks to the ongoing return to full capacity of the Forties System pipeline in the North Sea.
Brent crude futures for February delivery were marked around 1.1% lower at $66.18 while WTI contacts for the same month were seen 0.8% lower at $59.49 after topping $60 a barrel for the first time since mid-2015 in Tuesday trading.
Asia markets, however, were only modestly stronger in overnight trading, with the region-wide MSCI Asia ex-Japan index edging 0.07% higher into the close while the Nikkei 225 added 0.08% to end the session at 22,911.21 points.