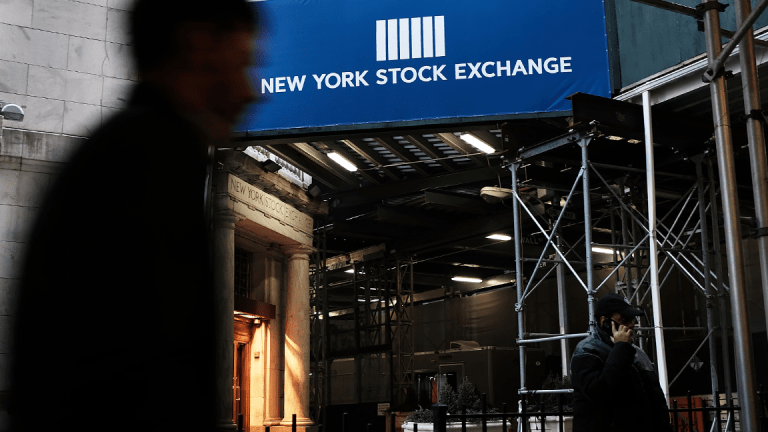 Wall Street Futures, Dollar Dip as Senate Tax Bill Stalls; Europe Stocks Weaken
Investors hit pause of the global equity rally after Senate lawmakers delayed a vote on tax reform amid concern from deficit hawks.
European stocks opened sharply lower Friday, while U.S. equity futures suggested a pullback from record highs, as investors hit pause on the global market rally amid a delay in the Senate's tax reform bill over concerns for its impact on the deficit.
Benchmarks around the European region are kicked off the first trading session of the month with a notably cautious tone, owing in part to stronger regional currencies, which rose overnight as the dollar bore the brunt of investor reaction to a late-hour delay in voting procedures by Senate lawmakers.
The moves lifted the euro to a four-day high of 1.1932 and pressured opening levels for the DAX performance index in Germany, which fell 0.7% in the opening hour of trading. Britain's FTSE 100 was marked 0.2% lower after the pound pared gains from a two-month high against the greenback to trade at 1.3506.
Early indications from Wall Street futures suggest similar caution at the start of trading, with contracts tied to the Dow Jones Industrial Average marked 14 points, or 0.06%, lower from the record close of 24,272.35 points reached by the benchmark last night. Futures linked to the broader S&P 500 were marked 6.5 points lower, or 0.25%, at the start of European trading.
News that Senate Republicans delayed further votes on their version of a tax bill until Friday morning after running into a procedural roadblock, pressured Asia shares, although investors largely took the reports in stride thank in part to the fact that Republican leaders had persuaded Sen. John McCain of Arizona to support the legislation, boosting expectations of passage.
The move came after a Senate rule-making office turned down a so-called trigger mechanism that would have raised taxes if the bill's revenue goals were missed, Bloomberg reported. Three Republican senators, whose votes are crucial for passage of the bill had insisted on the trigger.
The MSCI Asia ex-Japan index, the region's broadest measure of share prices, was marked 0.12% lower into the end of the session while investors in Japan shrugged off a stronger yen and bid the Nikkei 225 0.41% higher to close at 22,,819.05 points.
The dollar index, which tracks the greenback against a basket of six global currencies, was marked 0.14% lower at 92.92 even as benchmark 10-year bond yields were essentially unchanged at 2.41%, suggesting cautious optimism that the Senate's version of the tax reform bill will ultimately find support.
Global oil markets extended gains overnight after OPEC members, along with Russia, agreed Thursday to extend their pact to limit collective production for a further nine months, taking their pledge to rebalance global markets through to the end of 2018.
Brent crude future contracts for February delivery, the global benchmark for prices, were marked 0.4% higher at $62.98 while WTI contracts for January were seen 0.4% higher at $57.63.
More of What's Trending on TheStreet: