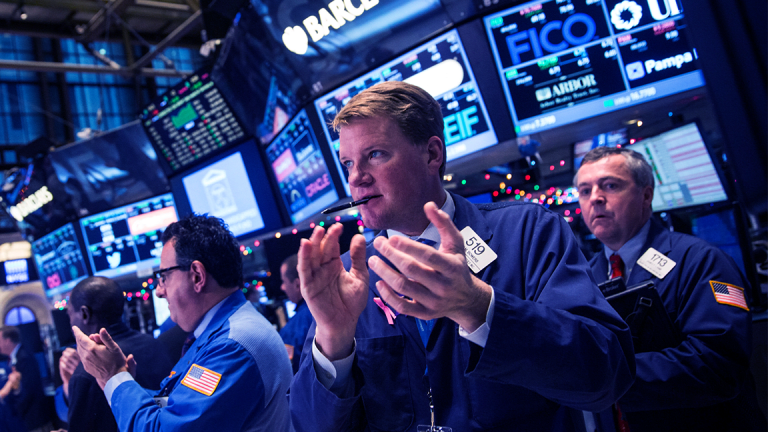 Wall Street Futures Bump Higher on China GDP, Potential Apple Tax Law Boost
Stronger-than-expected China GDP data, as well as a robust U.S. corporate earnings season, has added $1.3 trillion to global portfolios this year in the best start for global stocks since 1988.
Wall Street futures edged higher Thursday, following a record-setting session for stocks in Asia and solid gains in Europe, as investors extend a January rally that has added $1.3 trillion to portfolios around the world amid the best start to any year in nearly three decades.
U.S. equity futures suggest a positive start to trading today following last night's record levels that saw the Dow Jones Industrial Average close above 26,000 points and the broader S&P 500 close over 2,800 points for the first time in history. Contracts tied to the Dow were marked 12 points, or 0.05% higher, in European trading while those linked to the S&P 500 were seen 1.25 points to the upside.
Stocks may also get an extra boost from Apple Inc.'s (AAPL) - Get Report move to pump around $350 billion into the U.S. economy over the next five years marks not only the biggest domestic corporate investment program in history but may also provide further price support for record-high stocks as companies use the recently-passed tax overhaul to repatriate trillions in overseas cash.
Action Alerts Plus holding Apple unveiled plans to pay a tax bill of around $38 billion on an undefined portion of its $252.2 billion overseas cash pile Wednesday while announcing plans to spend $30 billion on both existing company sites and a new campus that will be "powered entirely by green energy". The Cupertino, California-based company also said it would increase its headcount by around 20,000 and said its overall contribution to the U.S. economy will top $350 billion over the next five years.
Another busy slate of U.S. corporate earnings is also on the cards Thursday, with quarterly figures from Morgan Stanley (MS) - Get Report , Key Corp (KEY) - Get Report , American Express Corp. (AMX) - Get Report , and IBM (IBM) - Get Report , Bank of New York Mellon (BNY) - Get Report , and BB&T Corporation (BBT) - Get Report
In Europe, the Stoxx 600 index, the broadest measure of regional shares prices, was marked 0.1% higher at 398.85 points by mid-day in Frankfurt as investors took advantage of a pullback in the euro to add to equity positions. The single currency slipped around 0.5% to 1.2239 this week, from its three year high against the dollar, amid comments from European Central Bank policy makers that suggest it may complicate the Bank's effort to quicken Eurozone inflation.
Currency levels were also impacting stocks in Britain, where the FTSE 100 fell 0.33% as it was held back by the pound's recent gains, which are keeping it at a mid-2016 high of 1.3877 in early London trading.
More of What's Trending on TheStreet:
Overnight in Asia, a stronger-than-expected reading for both fourth quarter and full-year GDP data from China helped stocks in the region extend gains to a record high, lifting the benchmark MSCI Asia ex-Japan index 0.4% higher at one point on the session before investors pared the gains to around 0.21% into the close of trading. Japan's Nikkei 225 was also testing fresh 26-year highs during the trading day before slipping 0.4% to close at 23,763.37 points.
China's economy grew by a faster-than-expected rate of 6.8% in the final three months of last year, according to official data published Thursday, even as authorities pledged to crackdown on debt-fuelled growth and excessive pollution in the world's second largest economy.
China's full-year 2017 growth rate was pegged at 6.9%, according to the National Bureau of Statistics topping the government's own 6.5% forecast and firmly ahead of 2016's final reading of 6.2%, which was the slowest in at least 25 years.
Collectively, Wall Street's record close and the fresh all-time highs in Asia have lifted global stocks by some 4.3% so far this year, the best January start since 1988 according to Bloomberg data.
The U.S. dollar also active overnight, rising some 0.21% to 90.72 against six global currencies, although investors were more likely influenced by the euro's decline, given its weight in the dollar index basket and the over-arching concern of a government shutdown later this week.
Global oil prices eased from three-year highs overnight, paring gains from its recent 14% rally since early December after data from the American Petroleum Institute showed that domestic crude stocks fell 5.1 million barrels in the week ending Jan. 12.
Brent crude contracts for March delivery, the global benchmark for prices, were marked 7 cents lower at $69.31 per barrel while WTI futures for the same month were seen 3 cents lower at $63.94 per barrel.