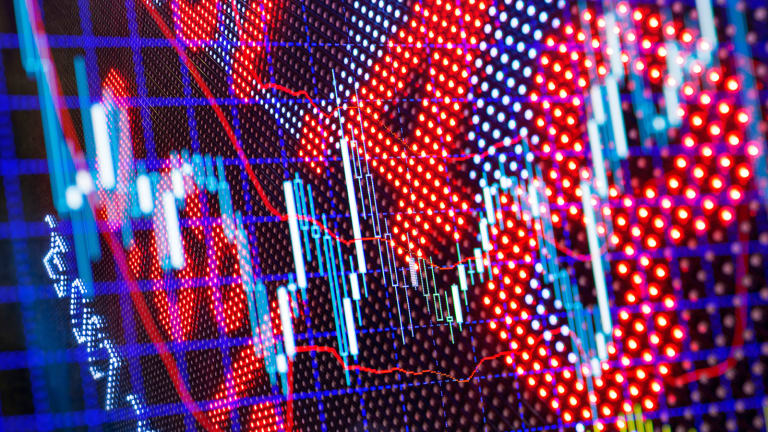 Wall Street Fear Gauge Spikes Again, Taking VIX Past 50-Point Mark
The VIX index is trading higher in pre-market Tuesday, after its biggest one-day gain on record, as investors brace for deeper day-to-day stock market volatility.
Wall Street's key benchmark for near-term volatility spiked to the highest level nine years Tuesday, following its biggest surge on record, as investors rush from one of the market's most crowded trades in the global equity sell-off.
The Chicago Board of Trade's Volatility Index, better-known by its ticker symbol, VIX.X, surged more than 33% to trade past the 50-point mark for the first time since 2009, following a 115.6% climb on Monday that took the gauge 37.32, the highest closing level since China's currency devaluation in 2015. Those moves have hammered one of the market's most crowded trades -- the so-called "short vol" play -- in which investors had been betting against a sudden rise in market volatility amid the unprecedented gains in global equity benchmarks around the world. 
"One of the key debates on Tuesday will be whether Monday's spike in volatility cleared the deck of volatile short-options positions, or is likely to lead to further buying of volatility to cover the significant explicit and implicit short volatility positions across investor types," Goldman Sachs (GS) - Get Goldman Sachs Group, Inc. Report wrote in a note to clients.
Bank of America Merrill Lynch's monthly fund managers' survey, which polls asset mangers in control of more than half a trillion on wealth, has consistently listed the "short vol" trade as one of the market's most crowded. In its January survey, BAML said it overtook long positions in so-called FAANG tech stocks and bitcoins as the most one-sided.
Goldman notes that the VIX's current levels suggest intraday volatility of around 2% for the S&P 500, which fell 4.1% Monday to end the session at 2,648.94 points. Friday's 2.12% decline was the first move in that range for more than two years. 
Others, including TheStreet's founder, Jim Cramer, have noted that Monday's extreme move in the VIX is linked to complicated products that are designed to mirror the risk benchmark's moves. 
One such product, an exchange traded note known as the Credit Suisse AG - VelocityShares Daily Inverse VIX Short Term ETN, was marked nearly 85% lower in pre-market trading Tuesday before trading was halted by regulators.
The note is designed to mimic, in reverse, moves in futures contracts tied to VIX futures and its declines have raised concerns about a so-called termination event if the losses persist throughout today's session in order to prevent the note from having a negative value, although Credit Suisse said it would have "no material impact" to the bank in a statement to the media Tuesday.