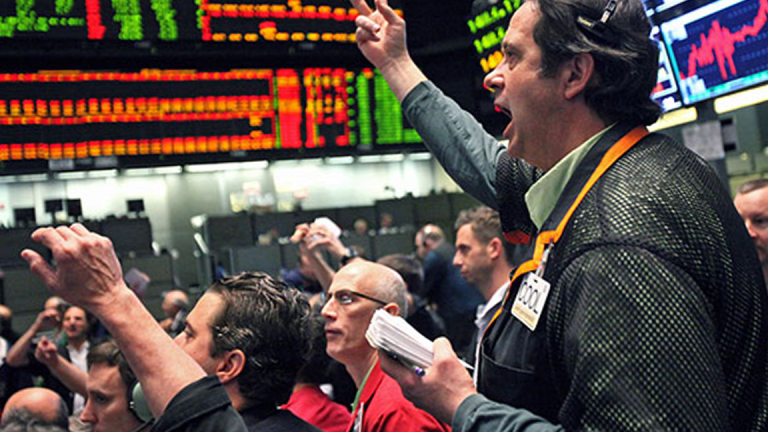 Wall Street Fear Gauge at 5-Month High, Margin Debt at Record as Markets Tremble
Two key metrics of a market correction are starting to rumble as investors question the timing of the market's long-awaited correction.
U.S. stocks are braced for the biggest two-day decline since August this week as one of the market's key measures of investor concern hits the highest levels in more than five months 
The Chicago Board of Trade's Volatility Index, better-known by its ticker symbol, I:VIX , rose 11.3% in early trading Tuesday to touch the highest level since August 17 amid the triple-digit pullback for the Dow Jones Industrial Average and a rapid slump in government bonds that lifted 10-year U.S. Treasury yields to 2.72%, a level not seen since April 2014.
"This combination of higher bond yields and the VIX increase are catalysts for a further correction in the days to come," said Hussein Sayed, chief market strategist at FXTM in London. "So keep a close eye on these two indicators."
Often simply referred to as the "fear index," the VIX measures the volatility on equity options linked to the S&P 500, the broadest measure of U.S. share prices, and provides a single figure -- Tuesday's intra-day high was 15.41 points -- that investors can use to gauge the market's anticipation of big moves (in any direction) over the next 30 days.
The VIX surged 20% to a session high of 14.08 Monday as weakness in Action Alerts Plus holding Apple Inc. (AAPL) - Get Apple Inc. (AAPL) Report shares spilled over to both the Dow and the broader S&P 500, setting of a rush of investors to purchase protection -- in the form or put options -- against further market declines. 
The VIX has risen some 53% since touching a record low in early October, rising in concert with another traditional Wall Street "cheat code" on market movements -- the New York Stocks Exchange's calculation of margin debt.
That tally, published each month on the exchange operator's website, hit a record high of $580.945 billion at the end of November and has risen 13% since January of last year, suggesting retail investors are borrowing more money from brokerage firms than ever before in order to buy stocks.
A move into the $600 billion mark, alongside further increases in the VIX and a sustained rise in Treasury bond yields, could combine to trigger a broader equity market correction in a market that has had its longest streak without a 5% pullback since 1929.
The Dow Jones Industrial Average was looking at its second consecutive triple-digit decline, according to futures prices, with contracts tied to the benchmark priced 184 points lower from Monday's closing levels. S&P 500 futures also slumped in early European trading and were marked 12.75 points, or 0.45%, to the downside after the largest single-day loss for U.S. stocks in at least five months yesterday on Wall Street.
More of What's Trending on TheStreet: