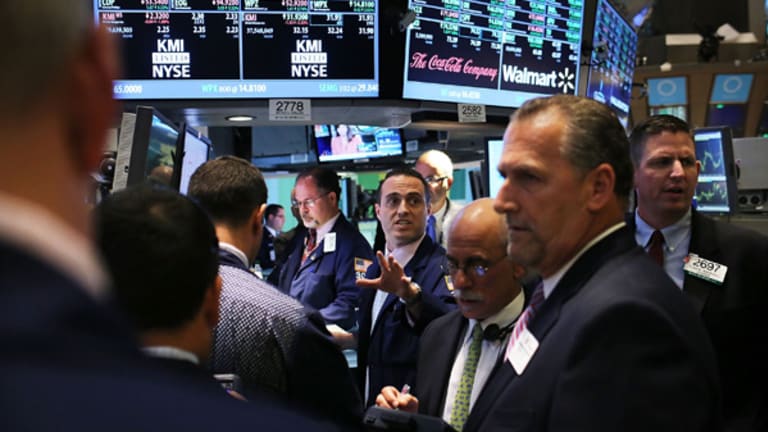 Wall Street Deflates 3% on Jobs Data, Profit Warnings
U.S. stocks took a steep tumble as ADP jobs data, news of more layoffs and profit warnings weighed on investor sentiment. Oil, gold and Treasury prices also sank. Frank Curzio breaks it down in The Real Story (above).
Updated from 4:13 p.m. EST
Stocks in New York took a sharp blow Wednesday, as earnings warnings, job cuts and another ethics scandal rattled investor confidence on Wall Street. Equities didn't suffer alone, however, as oil, gold and Treasury prices also were sent reeling.
The
Dow Jones Industrial Average
tumbled 245.4 points, or 2.7%, to 8769.7, and the
S&P 500
fell 28.05 points, or 3%, to 906.65. The
Nasdaq
sank 53.32 points, or 3.2%, to 1599.06.
Tech stocks, which had led the gainers on Tuesday's advance, were at the forefront, alongside financials, of Wednesday's retraction.
Microsoft
(MSFT) - Get Report
and
Intel
(INTC) - Get Report
fell 6% apiece to $19.51 and $14.44, respectively.
But leading the decliners on the Dow,
(AA) - Get Report
fell 10% to $10.89 on news it plans to slash more than 15,000 full-time and contractor positions and further cut output to better handle the economic downturn. Those layoffs will go atop a heap of headcount reductions symptomatic of the ailing economy.
A report issued by ADP Employment Service on Wednesday forecast that private-sector employment fell by 693,000 in December, suggesting the nonfarm payroll numbers, to be released Friday, will have declined much more severely than expected.
ADP has significantly underestimated the monthly job losses in recent months, in comparison to data from the Bureau of Labor Statistics, but ADP said it has made methodological improvements to its calculations.
Inheriting the economic storm, President-elect Barack Obama delivered his first press conference of the new year, nominating Nancy Killefer to a new position, chief performance officer. Killefer, a director of a management consulting firm and former assistant secretary of the Treasury under President Clinton, will be responsible for setting performance standards, maintaining accountability and streamlining processes to ensure efficient use of taxpayer dollars.
Obama said the estimated $775 billion economic stimulus plan, which will call for dramatic investments and save or create 3 million jobs, is necessary to lay a solid foundation for future growth. Still, reiterating comments from a day prior, the president elect said he expects to inherit a
, pledging to scour the budget, line by line, as he works to achieve accountability.
Speaking of accountability, Bernard Madoff and Rod Blagojevich won't be the only scandals to unravel into 2009. The chairman of India's
Satyam Computer
(SAY)
said Wednesday that the company had inflated profits for several years, but could no longer hide a $1 billion hole after a prospective deal fell apart. Satyam's American depositary shares fell about 90% to 85 cents Wednesday.
Major holders in Satyam include Aberdeen Asset Management, with a 9.2% stake as of Oct. 10, and Fidelity Investment, which held more than 4%, according to
MarketWatch
.
Meanwhile, a gaggle of warnings helped to discourage the market early Wednesday as companies positioned investor expectations for upcoming earnings reports.
Intel
said it expects to miss its previous guidance with fourth-quarter revenue 23% below last year because of weak demand and inventory reductions.
Also, media giant
(TWX)
said Wednesday that it expects to report a net loss for 2008, after prior expectations for a gain. The company said legal and lease-restructuring charges, in addition to the challenging economic environment were to blame. Shares fell 6.3% at $10.29.
Meanwhile,
(GM) - Get Report
, which has been granted a $13.5 billion bridge loan, has said it has sufficient capital to cover the worst-case scenario it described last month and won't need more if the economy stabilizes, according to a
Bloomberg
report. The aid, in addition to the government's infusion of $5 billion into its financing arm GMAC, "meets our liquidity needs under the scenarios outlined in our December plan to Congress," a GM spokesman told
Bloomberg
.
GM added 4.8% to $4.13, while competitor
Ford
(F) - Get Report
lost 2.5% to $2.69.
Looking abroad, all Russian
gas deliveries
to Europe through Ukraine have stopped, both countries have confirmed. Gazprom, Russia's gas monopoly, had already sharply limited supplies through Ukraine, which channels 80% of Russian gas to Europe. The tensions ignited when Russia's Gazprom said it was overdue a $600 million payment from Naftogaz, and the two countries failed to agree on a gas price for 2009.
By early Wednesday, Bulgaria, Greece, Macedonia, Romania, Croatia, Serbia and Turkey had all reported a halt in gas shipments, while France, Germany, Austria, Poland and Hungary had reported substantial drops in supplies from Russia, according to the
Associated Press
.
"The Russia-Ukraine natural gas dispute has left tens of thousands of people in Europe without heat as governments scrambled to find alternative energy sources," according to the report.
Rising oil prices in the past week have been in part attributed to the conflict, as well as Israel's offensive in Gaza. But oil fell $5.95 to settle at $42.63 a barrel Wednesday, after the U.S. Energy Information Administration said that crude oil stockpiles rose by 6.7 million barrels for the week ended Jan. 2, vs. a forecast for a 900,000-barrel increase.
After chasing headlines and pushing oil to more than $50 a barrel, traders realized that the supply/demand situation is not turning around, says Darin Newsom, DTN senior analyst. In truth, it's unlikely that restricted supply related to the conflict would already affect stockpiles, but this market reacts in a knee-jerk fashion to bearish numbers, he says.
"It's a bearish market, and until we start to see spreads change it's going to be very difficult to turn it around," says Newsom. "We have to continue to remind people that neither a $6 decrease nor a $15 increase in oil prices are as meaningful as they used to be."
Gold gave up $24.30 to settle at $841.70 an ounce.
Moving on to Treasuries, the 10-year note was giving up 10/32 to yield 2.5%, and the 30-year note was down 28/32, yielding 3%. The dollar was recently stronger against the pound, and weaker against the euro and yen.
Overseas, the FTSE in London and the DAX in Frankfurt took losses Wednesday. Stocks in Asia were mixed -- with Japan's Nikkei ending higher while Hong Kong's Hang Seng lost ground.
Copyright 2009 Associated Press. All rights reserved. This material may not be published, broadcast, rewritten or redistributed. AP contributed to this report.