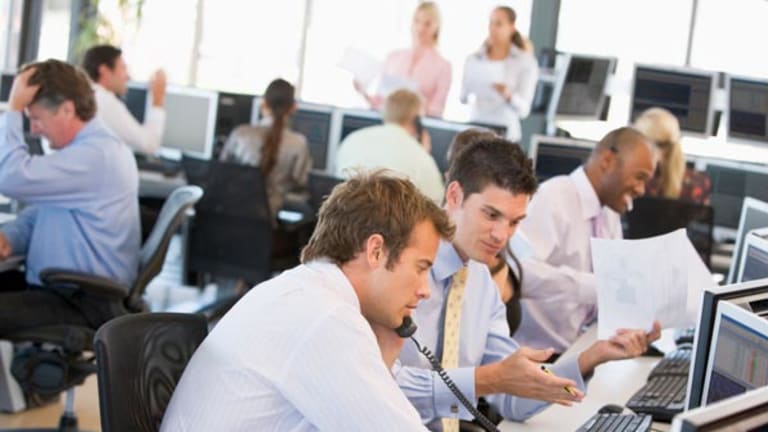 Wall Street Continues Wild Swings
The major indices are lately tacking on gains, but volatility is the standard today after upbeat news from the tech sector is weighed against troubles in the financial and auto sectors.
Updated from 10:41 a.m. EST
Stocks on Wall Street were swinging wildly Tuesday, after traders received encouraging news from several big technology companies but troubles among the financials and automakers dampened enthusiasm elsewhere.
The
Dow Jones Industrial Average
was lately up 159 points at 8432, and the
S&P 500
was adding 8 points at 861. The
Nasdaq
was climbing 8 points at 1490.
Two pieces of news were helping lift technology shares. Computer hardware and software maker
Hewlett-Packard
was partly responsible, after the company said its fourth-quarter profit would exceed analysts' expectations. Shares of H-P, part of the Dow, were rising.
Charles Rotblut, senior market analyst at Zacks Investment Research, said that H-P's earnings beat "actually was a very big surprise." He said that eight analysts had cut their quarterly forecasts in the past month, including five in the last week.
However, "It does seem like it's a bit of an outlier, given everything else we're seeing going on," said Rotblut. "Based on the economic trends we're seeing, I really don't have a very optimistic view for the technology sector in the short term."
Another boost came from
Yahoo!
(YHOO)
, which said CEO Jerry Yang is set to step down from his position as soon as the Internet firm can find a replacement. Yang's tenure was recently marked by a refusal to sell his company to
Microsoft
(MSFT) - Get Microsoft Corporation Report
. Yahoo! shares were likewise rising.
Financial firms continued to look weak as the new session arrived. Asset manager
(BLK) - Get BlackRock Inc. Report
joined the set of companies to announce layoffs by announcing its first round of job cuts in its 20-year history, according to a report by
Bloomberg
.
Meanwhile,
at Deutsche Bank cut their price target on
Citigroup
(C) - Get Citigroup Inc. Report
to $9, which on Monday announced plans to lay off 52,000 workers.
As the financials slim down in an effort to stem damage from the credit crisis,
Federal Reserve
Chairman Ben Bernanke, Federal Deposit Insurance Corp. head Sheila Bair and Treasury Secretary Henry Paulson were testifying before Congress to discuss their $700 billion
Troubled Asset Relief Program
, which was designed to bolster liquidity for banks with stressed balance sheets.
Secretary Paulson said at the event that he does not plan to initiate new programs beyond the TARP to prop up ailing banks. He also said he does not believe that the financial-relief package will wholly fix the economic problems that have emerged as a result of the credit crunch and cautioned against using the package's funds to soothe problems outside the financial sector.
Paulson's refusal to endorse additional relief for the financial system is confusing, said Michael Pento, senior market strategist at Delta Global advisors. "Now that the Democrats are in power, it seems like the Republicans are trying to be backing away from fixing the economy. Perhaps in some insidious way they would like the economy to be weak and blame it on the Democrats -- and I'm a Republican," he said.
Setting Paulson's motivations aside, Pento said that it is reasonable for the Treasury Secretary to say that the TARP is not a panacea. He said that the government has been devaluing the dollar in an effort to keep asset prices higher. The major averages are caught in a trading range, weighed down by negative economic news but propped up by the government's monetization efforts, which act as an inflationary force. "Overall we're just going to be treading water," he said. "It's a trader's market."
Rotblut of Zacks didn't fully agree, saying Paulson deserves some praise for being creative in the face of a crisis. "Considering there's going to be a transition in the administration I do think he's trying to allow for some flexibility," he said. "Despite all the criticism, I think it's important that we have some action. In a crisis situation, action's always better than non-action."
Rotblut said that any solution to turmoil in the financial markets would be an educated guess at best, and declines in Libor rates and improvement in the Treasury-Eurodollar spread indicate that lending markets have been calmed somewhat by recent government initiatives.
The automakers, also lately on the ropes, were once again on investors' radar, as
Mazda Motor
said
Ford
(F) - Get Ford Motor Company Report
was reducing its stake in the Japanese company to 13% from 33%. Ford, along with
General Motors
(GM) - Get General Motors Company Report
and
Chrysler
, are facing mounting cash-flow problems on declining vehicle sales, credit crunch -related financing troubles and substantial legacy costs.
Looking at the day's
, hardware store operator
(HD) - Get Home Depot Inc. (The) Report
announced earnings that fell 31% year over year on declining revenue, but the results were enough to edge past analysts' estimates.
Fashion retailer
Saks
(SKS)
swung to a third-quarter loss.
In merger news,
Alpha Natural
(ANR)
and
Cliffs Natural Resources
(CLF) - Get Cleveland-Cliffs Inc. Report
announced they had agreed to drop previous plans for a merger valued at about $10 billion.
Shifting to economic data, the Bureau of Labor Statistics reported that producer prices fell by a record 2.8% in October. Economists were expecting a decline of 1.8%. The core rate
PPI
increased by 0.4%, above expectations for a 0.1% uptick.
As for commodities, crude oil was adding 55 cents to $55.50 a barrel. Gold was down $1.10 at $740.90 an ounce.
Longer-dated U.S. Treasury securities were rising in price. The 10-year note was adding 14/32 to yield 3.6%. The 30-year was up 18/32, yielding 4.16%. The dollar was gaining on the euro and yen but weaker vs. the pound.
Overseas, European exchanges such as the FTSE in London and the DAX in Frankfurt were mainly trading higher. In Asia, Japan's Nikkei and Hong Kong's Hang Seng closed with losses.