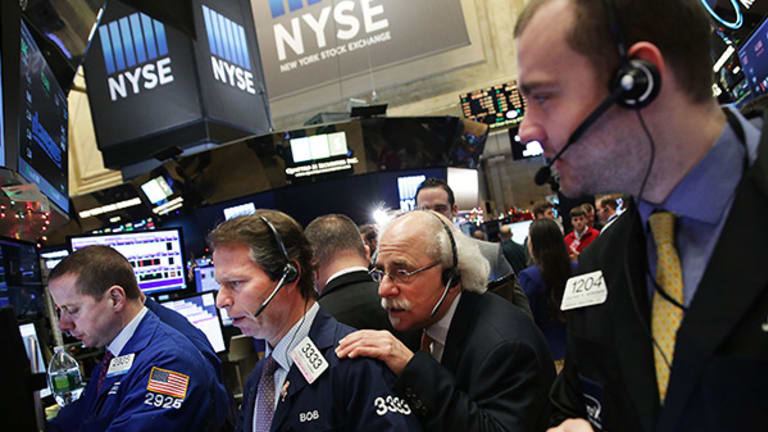 Wall Street Closes Second Quarter on a High
A post-Brexit recovery rally lasted for a third straight day, a confident note on which to end the month -- and the second quarter.
A post-Brexit recovery rally lasted for a third straight day, a confident note on which to end the month -- and the second quarter.
Wall Street's post-Brexit recovery rally lasted for a third straight day, a confident note on which to end the month -- and the second quarter. 
The S&P 500 gained 1.4% on Thursday, the Dow Jones Industrial Average climbed 1.3%, and the Nasdaq rose 1.3%.
For the entire three-month period from April to June, the S&P 500 posted gains of nearly 2%. A major quarterly rally in crude oil prices helped to boosted equities. The commodity ended the quarter with gains of 26%, its best quarterly performance since 2009, thanks to disruptions to global oil production, particularly in Canada, Nigeria and Venezuela.
The U.K. likely will require further easing in monetary policy to support its economy in the wake of the Brexit news, Bank of England Gov. Mark Carney said Thursday. Carney noted that the U.K. is suffering from "economic post-traumatic stress disorder" after the results of the Brexit referendum came in on Friday.
A three-day rally on Wall Street has been partially fueled by increased hopes of monetary stimulus from the world's central banks. The chances for a rate hike from the Federal Reserve this year dramatically fell after the Brexit decision.
The S&P 500 bounced back into positive territory for 2016 on Wednesday after seeing red in a major selloff earlier in the week. The benchmark index has recovered more than half of the losses suffered Friday and Monday. Global markets had sold off on the shock of the United Kingdom's vote to exit the European Union last week.
Such a steep descent over just two sessions presented traders with opportunities to pick up heavily oversold equities, particularly given increased chances of monetary stimulus from global central banks. The protracted time for an exit from the EU -- likely at least two years -- also gave investors a reason to buy back in in the near term.
Economic activity in the Chicago area topped estimates in June with improvements seen in both production and new orders. Chicago PMI returned to expansion territory, climbing to 56.8 in June and marking its best level since January 2015. Analysts expected the measure to tick up to 50.5.
The number of new claims for unemployment benefits in the U.S. increased by 10,000 to 268,000 in the past week, according to the Department of Labor. The four-week claims average, a less-volatile measure, was unchanged at 266,750.
Hershey (HSY) - Get Report unanimously rejected a takeover offer from Mondelez International (MDLZ) - Get Report and showed no interest in any further discussion. Mondelez reportedly offered Hershey $107 a share, a 10% premium to its Wednesday close.
The Federal Reserve said 31 out of 33 bank capital-return plans had been approved. Among them, Morgan Stanley (MS) - Get Report authorized a $3.5 billion stock buyback plan and hiked its quarterly dividend to 20 cents a share from 15 cents, Capital One (COF) - Get Report said it expects $2.5 billion in stock buybacks by the second quarter of 2017, and U.S. Bancorp (USB) - Get Report announced a $2.6 billion repurchase program.
Though Morgan Stanley's capital-return plans were approved, the Fed still criticized weaknesses in the way it identified risks tied to dividend and share buyback decisions. Morgan Stanley will have to resubmit documents to the Fed by the end of the year outlining how they have rectified the issues.
LionsGate (LGF) agreed to purchase Starz (STRZA) for $4.4 billion. The long-rumored pairing brings together two companies in which billionaire executive John C. Malone has stakes. LionsGate offered $18 in cash and 0.6784 of its shares for each Starz Series A share, representing a 14% premium to Starz's Wednesday close.