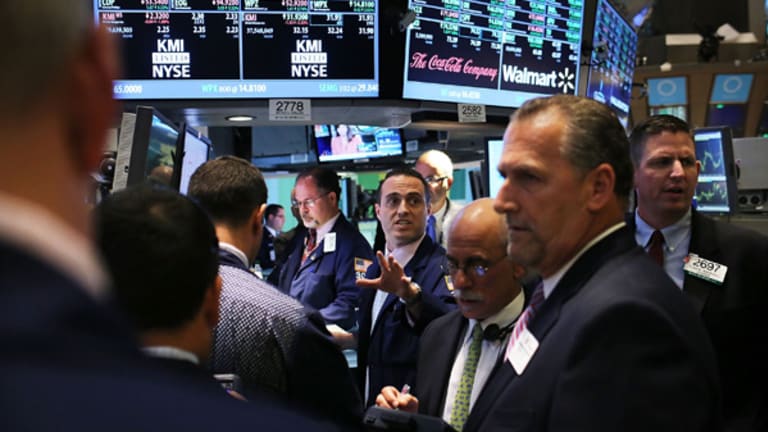 Wall Street Can't Shake Losses
The major indices close Monday in shallow negative territory despite an afternoon push higher. Frank Curzio reviews the action in The Real Story video (above).
Updated from 4:11 p.m. EST
Stocks in New York showed little verve Monday in the kickoff to the first full trading week of 2009.
The
Dow Jones Industrial Average
ended down 81.80 points, or 0.9%, at 8952.89, and the
S&P 500
edged lower by 4.35 points, or 0.5%, to 927.45. The
Nasdaq
was off 4.18, or 0.3%, at 1628.03.
After an inspired performance last week, albeit on light volume, stocks in New York had an apathetic trading day Monday as updates on U.S. auto sales, Apple CEO Steve Jobs, the president elect's stimulus program, and scam artist Bernard Madoff played on the market.
"The market is taking a breather" says Peter Cardillo, chief market economist at Avalon Partners. This is a heavy week of economic data, with Friday's unemployment data weighing the most, he says, and the market is positioning itself with a cautious attitude.
"Most of the numbers to come out this week are going to be quite ugly -- we shouldn't expect anything but bad news, and the market has priced that in," says Cardillo.
Kicking things off Monday, traders received highly anticipated data from U.S. automakers
Chrysler
,
Ford
(F) - Get Report
and
General Motors
(GM) - Get Report
that evidence the dire state of automakers.
Ford's December sales totaled 134,114 -- down 32% from a year prior, vs. an expectation for a 35% decline. Chrysler's sales fell 53% to 89,813 vehicles. GM said its U.S. December sales fell 31% year over year, not nearly as bad as the Street expectation for a 41% decline. Ford's total 2008 sales declined by 20% vs. a year prior, while GM's plunged 23%.
Ford shares climbed 4.9% to $2.58 GM shares, which added 1.6% to $3.71 Monday, had
led
the Dow's climbers on Friday after the U.S. government handed over the first $4 billion of a promised $13.4 billion in funding form the Troubled Asset Relief Program (TARP) and pledged to inject $5 billion into its auto and mortgage financing arm last week.
Stocks on Wall Street started the new year on a positive note Friday, posting solid gains in the first trading session of 2009. At the same time equities rallied, longer-dated U.S. Treasury securities fell hard. They continued downward on Monday as the 10-year note gave up 1/32 to yield 2.5%, and the 30-year plunged 5 3/32 to yield 3%.
Intending to "support the mortgage and housing markets and foster improved conditions in financial markets more generally," the
Federal Reserve Bank of New York
said Monday that it has begun buying fixed-rate mortgage backed securities guaranteed by
Fannie Mae
(FNM)
,
Freddie Mac
(FRE)
and
Ginnie Mae
in a program first announced in late November.
The New York Fed said summary data on its purchases would be available on its Web site beginning on Thursday and updated weekly.
On a much larger scale, advisers of President-elect Barack Obama said the new administration's $775 billion stimulus plan would likely include
tax cuts
of $500 to $1,000 for middle-class individuals and couples, and that tax cuts for workers and businesses could total $300 billion, according to a report in the
New York Times
.
Elsewhere in Washington, the House Financial Services Committee held a hearing Monday questioning how the
Securities and Exchange Commission
failed to detect an alleged $50 billion investment fraud by
Bernard Madoff
.
Meanwhile,
Apple
(AAPL) - Get Report
CEO
wrote a letter to the "Apple Community" saying that a hormone imbalance has been robbing him of the proteins his body needs to be healthy.
Technology buffs and investors are watching this week as Apple is expected to unveil new products at Macworld in San Francisco. Prior news that Jobs would not deliver the Macworld keynote "set off another flurry of rumors about my health, with some even publishing stories of me on my deathbed," Jobs wrote in his letter. Apple shares tacked on 4.2% to $94.58 Monday.
In corporate news, Sanford Bernstein
Verizon
(VZ) - Get Report
and
AT&T
(T) - Get Report
to market perform and cut their price targets by $5 and $8, respectively.
"We believe the telco stocks have come too far, too fast," wrote Bernstein Research analyst Craig Moffett. With fourth-quarter outperformance, the sector has traded as a defensive/staple, but the analyst says the sector should be viewed as cyclical. "To be sure, their businesses are more recession-resistant than most. But they will not emerge unscathed."
Bernstein analysts say the primary risk is to wireless -- they've cut their 2009 subscriber growth forecasts by roughly 1 million net additions for each Verizon and AT&T. "With Wireless now approaching saturation, and with incremental subscribers hard pressed by the recession, subscriber growth can be expected to slow sharply, in our view," they write. Verizon gave up 6.2% to $32.48; AT&T tripped 3.4% to $28.43.
In economic data, the Census Bureau said construction spending declined 0.6% in November from a month prior, vs. an expected 1.4% decrease. During the first 11 months of this year, construction spending amounted to $998.4 billion, 5.3% below the same period in 2007, according to the report.
Private construction fell 1.5% in November, with residential construction falling 4.2% but nonresidential construction revving up by 1.1%. Public construction increased by 1.4% with educational and highway construction both rising 1.3%.
Leading the global headlines over the weekend, Israel launched an offensive on the Gaza strip Saturday in response to continued rocket attacks by Hamas after a six-month ceasefire expired in December. Israeli forces had cut the Gaza Strip in half, circling Gaza city, by late Sunday.
The offensive in Gaza and a dispute between Ukraine and Russia over gas imports have kept tensions high over oil prices, although analysts are split over how much the conflict is affecting markets, according to the
Associated Press
. Rather it was evidence that
OPEC cutbacks
were taking hold supporting oil prices, with crude also getting support from new unrest in oil-rich Nigeria, according to the report.
Oil added $2.47 to settle at $48.81 a barrel, while gold gave up $21.70 to settle at $857.80 an ounce.
The dollar was weaker against the euro and stronger against the pound and yen.
Overseas, the FTSE in London and the DAX in Frankfurt were both edging higher Monday, while Japan's Nikkei Hong Kong's Hang Seng ended with gains.
Copyright 2008 Associated Press. All rights reserved. This material may not be published, broadcast, rewritten or redistributed. AP contributed to this report.