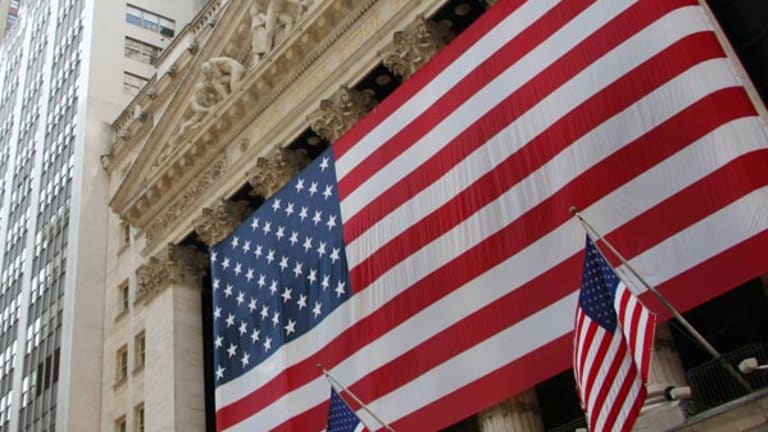 Wall Street Buys Retailers on High Hopes for Holiday Shopping Season
Investors feel the generous holiday spirit early as several retailers post better-than-expected third-quarter earnings reports.
NEW YORK (TheStreet) -- Traders on Thursday shook off earlier grim news out of China and Europe and piled money into retail and energy names.
Several retailers posted better-than-expected third-quarter earnings reports. Among the top performers, Best Buy (BBY) spiked 6.9% after beating earnings estimates, while lifestyle retailer Williams-Sonoma (WSM) , a rare consistently good performer in retail, surged nearly 8.4% after reporting an increase in comparable-store sales across all brands in its recent quarter.
The SPDR S&P Retail ETF (XRT) surged 1.6% to $92.50, pushing the fund to 5% growth for the year.
Energy stocks such as Royal Dutch Shell (RDS.A) and Chevron (CVX) also powered higher as crude oil enjoyed a brief rally after spending much of the week in the doldrums. West Texas Intermediate crude spiked 1.3%, lifting the price of oil above $75 a barrel once more.
Still, oil prices aren't expected to quickly rebound to the summer's highs of $107 a barrel. "I don't see anything in terms of supply or demand that's going to push the prices of oil upwards," said Hennion & Walsh chief investment officer Kevin Mahn in a call, predicting prices to remain in the $70s for the short term.
"That's good for U.S. consumers, especially as we head into holiday season. It allows them to have a little bit more of disposable income in their pockets which will hopefully lead them to spend more in the stores," he added. "Since 70% of our GDP comes from consumer spending, in the short term that should bode well for the stock market."
Given 96% of S&P 500 companies have reported and markets settle into the quieter Thanksgiving period, holiday shopping season projections will be more in focus for Wall Street.
"A generally constructive holiday spending season is an important approaching catalyst that could help lift both earnings and equities to still higher levels," said U.S. Bank's chief equity strategist Terry Sandven in a note.
Modest gains were enough for new closing highs for the S&P 500, up 0.2%, and the Dow Jones Industrial Average, up 0.17%. The Nasdaq spiked 0.56% on strength of retailers Dollar Tree (DLTR) , Bed, Bath & Beyond (BBBY)  and Kirkland's (KIRK) .
Bolstering sentiment for retailers, the consumer price inflation stayed low in October as gasoline prices fell more than 3%. The Consumer Price Index was unchanged compared to a forecast 0.1% fall. "Core" CPI, which excludes volatile items such as energy and food, came in as expected at 0.2% compared to 0.1% a month earlier.
The latest reading could give the Federal Reserve pause as it mulls the return to normal monetary and interest rate policy. Over the past 12 months, prices have risen 1.7%, still below the Fed's annual 2% target rate.
"Fed officials are increasingly concerned inflation will remain below the Fed's longer-term target of 2% for years, with some Committee members fearful it could be even longer than that before reaching and maintaining stable prices at the desired level," Sterne Agee chief economist Linsdey Piegza wrote in a note. "This morning's benign inflation report does little to alleviate those fears."
Fed speculation and a retail rally was enough for markets to shake off earlier grim news from overseas. Chinese factory activity effectively stalled in November with its manufacturing PMI down to a six-month low. Eurozone PMI showed widespread weakness across the region with the reading hitting a 16-month low. The eurozone has suffered deflation concerns and unemployment woes and recent weaker-than-expected data gives investors reason to fear the region could fall into recession.
"The single currency area is struggling to eke out any growth, with the PMI indicating that GDP is likely to have risen by just 0.1-0.2% in the fourth quarter," Markit's chief economist Chris Williamson said in the survey release.
Japan, which slipped into its own recession in its third quarter, also posted slightly slower manufacturing activity in November, down 0.3 points to 52.1. However, output rose to its highest in eight months, giving some hope for resilience in the Japanese economy.
-- Written by Keris Alison Lahiff in New York.