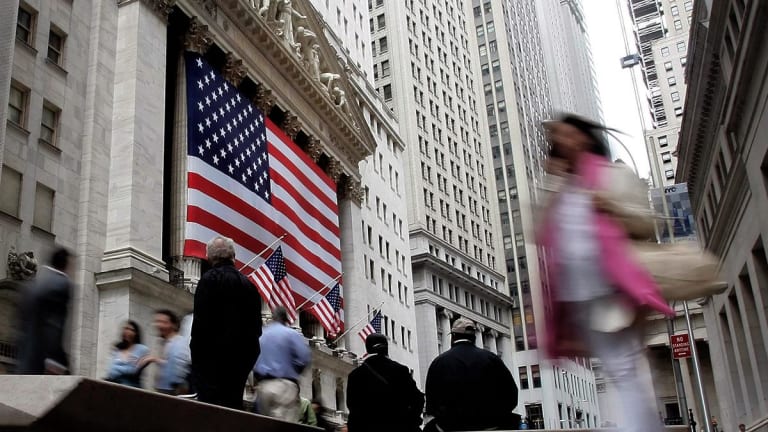 Wall Street Bonuses Fall an Estimated 17% but Few Bankers Are Hurting
According to the New York State Comptroller's office, the average bonus paid to securities-industry employees in New York City declined by 17% to $153,700. But Wall Street bankers and traders still make roughly five times more, on average, than workers in other industries.
At last - some pity for Wall Street bankers and traders. Well, sort of. 
The average bonus for New York City securities-industry workers declined by 17% last year to an estimated $153,700, the state comptroller's office said Tuesday in a press release. Because Wall Street is such a lucrative industry for the state, bonus payments play a key role in annual tax revenue and budget considerations.
The decline came even as pretax profits for New York Stock Exchange member firms climbed by 11%. While big banks like JPMorgan Chase  (JPM) - Get JP Morgan Chase & Co. Report , Citigroup  (C) - Get Citigroup Inc. Report , Bank of America   (BAC) - Get Bank of America Corporation Report , Goldman Sachs (GS) - Get Goldman Sachs Group Inc. (The) Report and Morgan Stanley (MS) - Get Morgan Stanley Report benefited from the buoyant markets and economy of the first nine months of 2018, the final quarter of the year brought a steep selloff as recession fears mounted. 
One factor driving the decrease in the annual payouts was a 14% cut in the overall bonus pool to $27.5 billion. But that may have resulted less from austerity than from a one-time distortion related to President Donald Trump's tax cuts; incentives in the legislation encouraged some Wall Street firms to move up the timing of bonus payments that otherwise would have been made in early 2018.
"The acceleration of payments into 2017 could have contributed to the decline in 2018," said the comptroller, Thomas DiNapoli. 
Another factor was an increase in Wall Street employment, which climbed by 4,700 to 181,300 jobs, the highest in a decade.
"The pool was shared among a larger number of employees," DiNapoli said.
Of course, it's worth noting, as the comptroller's office did, that Wall Street workers still earn multiples of what most other workers get.
When salaries and bonuses are combined, securities-industry employees on average got $422,500 in 2017, the latest available data. That was more than five times the $77,100 average for the rest of the private sector.   
How Much Money Will I Need to Retire?
Want to learn about retirement planning from some of the nation's top experts? Join TheStreet's Robert "Mr. Retirement" Powell live in New York on April 6 for our Retirement Strategies Symposium. For a limited time, tickets are available for $99 for this full-day event. Check out the agenda, learn about the speakers and sign up here.