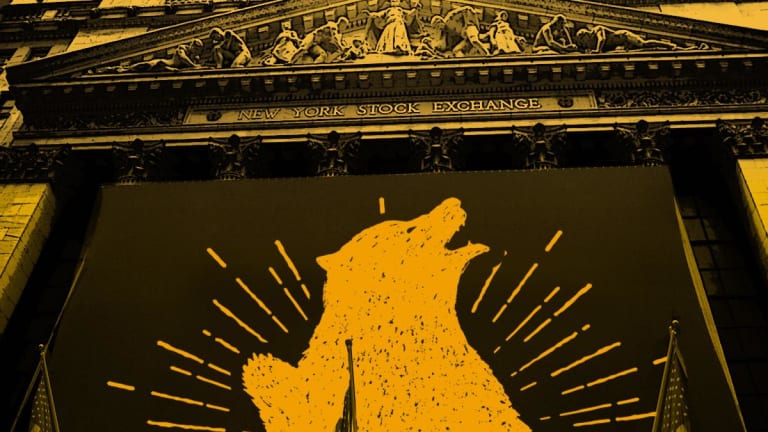 Wall Street Blame Game Obscures Weak Market
President Trump blames the Fed. Democrats blame Trump. Investors blame tech stocks. Scientists blame climate change. Elon Musk blames everybody.
President Trump blames the Fed. Democrats blame Trump. Investors blame tech stocks. Scientists blame climate change. Elon Musk blames everybody.
And a nation turns its lonely eyes to ... "Bart O'Kavanaugh." Has it only been a week?
What's clear is this year's October scare has been a long time coming. Even a casual follower of the markets has witnessed for months that the new records were driven by a handful of tech stocks -- Amazon.com (AMZN) - Get Amazon.com, Inc. Report , Apple (AAPL) - Get Apple Inc. (AAPL) Report , Netflix (NFLX) - Get Netflix, Inc. (NFLX) Report , Alphabet (GOOGL) - Get Alphabet Inc. Class A Report . The FANG stocks and their like. A little bit of healthcare. Financials and consumer stocks were not part of the party. A narrowing market must tip, eventually.
So, it's little surprise that the brutal selloff was led by the Nasdaq. Or that it came in October, a month notorious for volatility. Earnings season begins Friday and even though S&P 500 earnings are expected to come in about 20% better, it's likely this time investors will more closely focus on guidance, which is already starting out shaky.
Trump immediately seized on the Fed and Chairman Jerome Powell as his scapegoat du jour. "I think the Fed has gone crazy," he said. "It's a correction we've been waiting for for a long time."
Really? I haven't seen any tweets to that effect from POTUS as we race toward the midterms.
Of course, Trump was the first to announce in 1987 that he had sold his entire equity position before the October market crash. Revisionist history is always the best kind. For more context, David Wessel, a former colleague at Dow Jones now at the Brookings Institution, tweeted out this morning a Trump criticism of the Fed from 2011: "The Fed's reckless policies of low interest and flooding the market with dollars needs to be stopped or we will face record inflation," the tweet said seven years ago. So there's that.
Higher interest rates can't be ignored, though until yesterday they were. The dramatic jump in the 10-year Treasury yield to 3.25% earlier this week from just above 3% underscored concerns that when rates rise they sometimes tend to spike, which scares folks. Despite Trump's criticism, Powell will keep pushing to gradually raise rates, if only to maintain the perception of the Fed's independence, which is paramount to global investor confidence in U.S. economic policy. For Powell to be bullied into a turnaround on rates would cause a much bigger crisis.
Our Real Money columnists Jim Cramer and Doug Kass this morning both cited technical breakdowns in the selloff yesterday that triggered declines caused by automated, passive index strategies and overwhelmed any sort of buying.
Jim Cramer: This Selloff Is Driven By Naked Fear
Doug Kass: While a Number of Factors Led to the Market Meltdown...
Like the infamous "Flash Crash" and the powerful declines we witnessed earlier this year, this is a feature of our new automated stock market that isn't going away. Kass even referenced the portfolio insurance programs at the heart of 1987 October crash, the forerunners to today's algo trading.
As Thursday's trading demonstrated, this is unlikely to be an event of only a few days. Expect more volatility in coming weeks, with midterm uncertainty playing a growing, if unhelpful, role in the chaos. Investors will watch closely and active traders will make the necessary tweaks to hedge losses and seize short-term opportunities.
This feels like more of another needed correction than the start of a new crisis. There are always signs for those paying attention. The ominous climate change warning earlier this week was rendered all the more threatening by Hurricane Michael's destruction of the Florida panhandle, hitting a state where climate change denial is practiced at the highest levels.
October is the market's month for storms. Anyone who can remember back 30 years or reads market history doesn't need a report to be reminded. But it is also a month where new bull runs have historically begun. Where volatility strikes, and then plays itself out. Where even the biggest scares are nothing but annoying memories once the next leg up begins.
Indeed, with the S&P 500 down for a sixth straight session, and more than half of its component stocks in correction territory, we've already experienced a painful set of declines, even if we did only wake up to the shock of it on Wednesday afternoon. Those record highs just a week ago insulated us from the start of the downturn, but now we're paying attention.
Of course, it can get worse. Then it will get better. Playing the blame game doesn't help. It's October. 'Nuff said.
Make Money on Closed-End Mutual Funds. TheStreet's Robert Powell recently hosted an all-star panel of experts who explained everything you need to know on closed-end mutual funds, an often-overlooked investment class. Click here to register and watch for free.
Apple, Amazon and Alphabet are holdings in Jim Cramer's Action Alerts PLUS member club. Want to be alerted before Jim Cramer buys or sells these stocks? Learn more now.