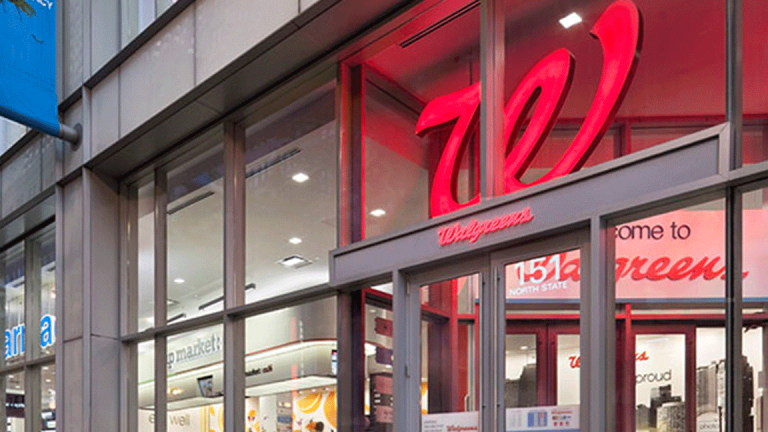 Walgreens Slides on Downgrade From Goldman Sachs
Walgreens gets a downgrade to 'sell' from Goldman Sachs.
Walgreens Boots Alliance Inc. (WBA) - Get Report shares were sliding Friday after Goldman Sachs downgraded shares of the pharmacy chain to "sell" from "neutral."
The stock fell 3.8% to $79.19 on Friday. 
"We downgrade WBA to Sell as challenges in its retail pharmacy business have intensified, forcing the company to search for other avenues of growth," Goldman Sachs analysts wrote in a note.
The challenges Walgreens faces are part of a broader negative picture for pharmacies, according to Goldman. "We model limited 'core' growth for the large-cap names as topline and margin pressures are likely to persist into next year and drug pricing remains a regulatory/industry focus," the note said. 
On the revenue side of the equation, price increases in the industry have been bleak. There have been about half the number of price increases in the third quarter of 2018 as there were in 2017, and the increases themselves have been at a lower rate, Goldman said. 
Goldman's analysts think Walgreens is one of the core examples of the trend in the business. The bank's price target on Walgreens is $68, about 15% below the stock's current level. 
The analysts said Walgreens' EBIT (earnings before interest and tax) margins don't have any real shot at moving up soon, after having contracted anywhere between 3% and 8% in the fourth quarter of 2018. "We struggle to see what changes this trend and see risk to the underlying margin improvement." New partnerships Walgreens has been tapping into likely won't add meaningful upside either, the analysts said.
"As WBA looks for new uses for its retail footprint, we think the economic benefits of the 6 partnerships/JV's it is testing are unlikely to deliver meaningful upside, at least in the near term," the note said. 
And as for the resources Walgreens will need to resume growth, its leveraged balance sheet also isn't a huge help.
"We think WBA's balance sheet could be a limiting factor in making a more meaningful strategic pivot," Goldman said. Walgreens has a net debt to EBITDAR (earnings before interest and tax depreciation, amortization and rent costs) ratio of 3.1. Industry peers have a ratio 2.2. This means for every dollar of EBITDAR Walgreens made in the past 12 months to date, it has $3.10 of net debt.
Walgreens has risen more than 9% this year.