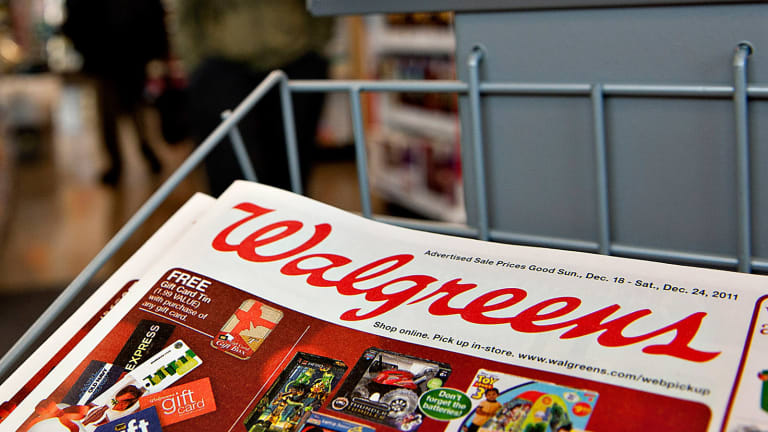 Walgreens Shines as Markets Struggle; AT&T-Time Warner Trial Presses On -ICYMI
Another midday sell-off in the Dow as Nasdaq and S&P closed lower. Walgreens, Apple, Time Warner and AT&T all in the news on Wednesday, March 28.
Another day, which was heading higher until about noon Eastern Time and then slid into the close. The tech-heavy Nasdaq was down almost a percent as data security fears and fallout from the Facebook (FB) - Get Meta Platforms Inc. Report debacle still weighed on the industry. The S&P closed down alongside the other major indexes.
(Editor's note: Dow and S&P futures traded lower Wednesday as of 10:30 pm ET. the Nasdaq pointed higher)
Not all retail is dead, Walgreens (WBA) - Get Walgreens Boots Alliance Inc. Report proved Wednesday, as the pharmacy chain fiercely beat Wall Street projections in its second-quarter earnings results Wednesday, reporting earnings per share of $1.73 versus the anticipated $1.55, according to Factset. The quarter ended on Feb. 28. Comparable sales in stores rose 2.4% in the U.S., thanks to higher prescription volume and its alliance with Prime Therapeutics, a pharmacy benefit manager. The company is still working to integrate the nearly 2,000 Rite Aid stores it bought for $4.4 billion, which could provide an even bigger boost to earnings down the road as the company takes costs out and smooths out the transition of Rite Aid to Walgreens branding.
The antitrust trial of the century continued on Wednesday as Turner Broadcasting chairman and CEO John Martin took the stand in the AT&T-Time Warner (T) - Get AT&T Inc. Report (TWX) merger trial. Martin on Wednesday denied the government's argument that the company will drive up the price of its programming if AT&T acquires Time Warner. The Department of Justice has argued that Turner likely will threaten to withhold content from rivals to AT&T's DirecTV pay-TV network, with a goal of ultimately charging more, and sued to block the merger. Looks like we've finally gotten down to brass tacks in the trial after a pretty big miscue on Day One of testimonies.
Sexy doesn't always pay off, and sometimes boring companies can provide the best return-or at least some stability during the kind of volatile trading we've seen recently. These companies typically don't produce flashy headlines but can often provide steady dividends. Enter the real estate investment trust, or REIT, an entity that owns real estate and must pay out a certain amount of earnings to shareholders through dividends to avoid double taxation. Real Money's Jonathan Heller looks at three REITs (Farmland Partners (FPI) - Get Farmland Partners Inc. Report , Getty Realty (GTY) - Get Getty Realty Corporation Report , and CoreCivic (CXW) - Get CoreCivic Inc. Report ) and talks about how they provided some stability to his portfolio during the recent bouts of volatility. Heller explains if these are the REITs to add to your portfolio or if it's time to take a look at some other boring investments that many are ignoring.
This is an excerpt from "In Case You Missed It," a daily newsletter brought to you by TheStreet. Sign up here.
Photo of the Day: Apple Looks to Upgrade Classroom With Low-Cost iPad 
The days of jotting down notes in class on a pad and paper, reading from physical text books and worksheets are slowly dying and Apple
(AAPL) - Get Apple Inc. Report
is looking to play a part in the way education materials are distributed with the release of a revamped low-cost iPad. But this low-cost iPad may ultimately matter less in education than in a broader consumer tablet market where growth hasn't been easy to come by. The refresh might also say a thing or two about Apple's confidence that high-end tablet buyers will remain loyal to its iPad Pro line thanks to upcoming product launches.