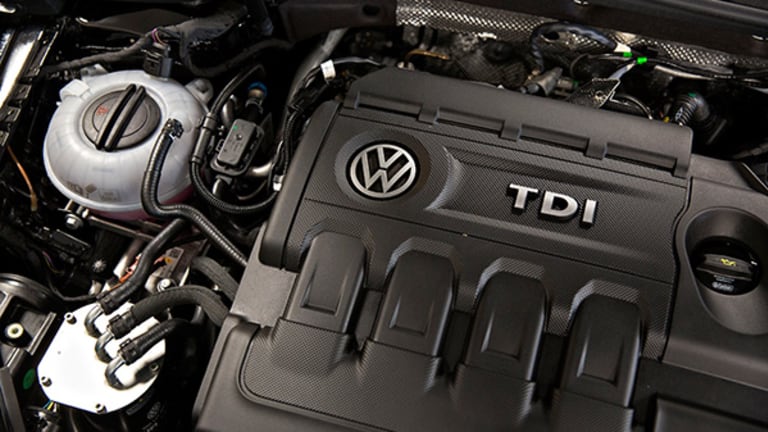 VW Shares Slump After Carmaker Sets Aside $3 Billion for Diesel Engine Buyback
VW will set aside $3 billion to cover a diesel engine buyback program in the U.S.
Volkswagen AG (VLKAY) shares fell sharply Friday after the world's biggest carmaker said it would take a $3 billion hit on its third quarter earnings linked to its plans to buyback diesel engine cars from U.S. customers sold during its emissions scandal.
VW said it will take a €2.5 billion ($3 billion) to its third quarter earnings, which it will publish on Oct. 27, to pay for the program, which it said was part of a settlement with authorities in North America and is "proving to be far more technically complex and time consuming" that first estimated.
VW shares fell as much as 3.3% in the opening half hour of trading following the ad-hoc release before paring the decline to around 1.7% to change hands at €136.30 each near the bottom of the DAX performance index by mid-day in Frankfurt.
VW cautioned in late July that, while first half earnings were largely in-line with expectations, it nonetheless saw "challenging" conditions ahead owing to intense competition and its ongoing issues with authorities over diesel emissions.
The world's biggest carmaker said operating profit for the three months ending in June came in at €4.549 billion, in-line with the FactSet consensus but up 3.2% from the same period last year. Group deliveries rose 2% to 2.66 million, the company said, while total sales revenue rose 4.7% to €59.66 billion, modestly shy of the €59.85 billion forecast
"The Volkswagen Group expects that deliveries to customers will moderately exceed the prior-year volume amid persistently challenging market conditions," the company said. "We anticipate particular challenges resulting from the economic situation, intense competition in the market, exchange rate volatility and the diesel issue."
Don't miss these top stories on TheStreet:
Mom Was a Harley Rider ('70's), I Ride Today ('17), Will my Girls Ride Tomorrow?