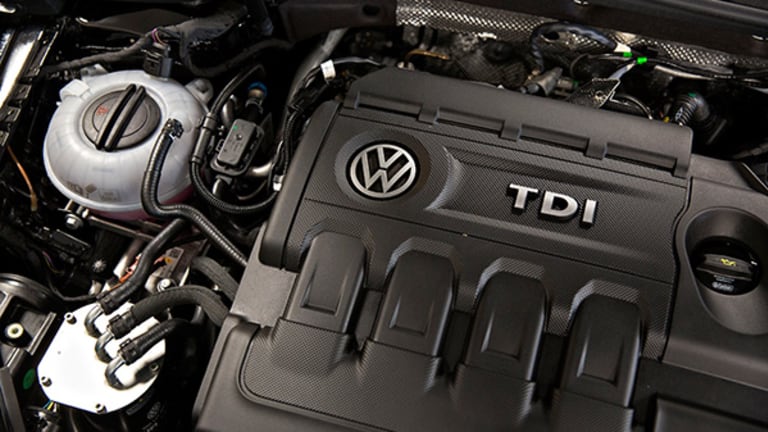 Volkswagen Tests One-Year High After $1 Billion U.S. Emissions Settlement
VW shares extend their three-month gain past 10% as the company shells out $17.5 billion in a settlement for its global emissions-cheating scandal.
Volkswagen (VLKAY) shares approached a one-year high in Frankfurt Wednesday after the world's biggest automaker agreed a $1 billion settlement with U.S. regulators over its emissions-cheating scandal. 
In an agreement announced in a U.S. Federal Court in San Francisco Tuesday, VW executives agreed to pay around $1 billion to repair or repurchase around 80,000 Audi, VW and Porsche cars sold in the United States that were fitted with a "defeat device" that would allow them to beat pollution measuring tests. The latest settlement takes the total paid by VW in connection with the 18-month scandal to just under $18 billion. 
"The agreement announced by the Court today between Volkswagen and U.S. environmental regulators is another important step forward in our efforts to make things right for our customers, and we support the efforts of the Court to bring about a fair and reasonable resolution of remaining 3.0L TDI V6 claims as quickly as possible," said VW America CEO Hinrich Woebcken. "We are committed to earning back the trust of all our stakeholders and thank our customers and dealers in the United States for their patience as the process moves forward."
VW shares added 1.01% by 10:30 GMT to change hands at €142.36 each, extending the three-month gain past 10.11% and touching the highest level since Dec. 28 2015. However, the price still sits some 13% shy of the €162 level it trade at prior to the revelation of the emissions-cheating schemes in September 2015.