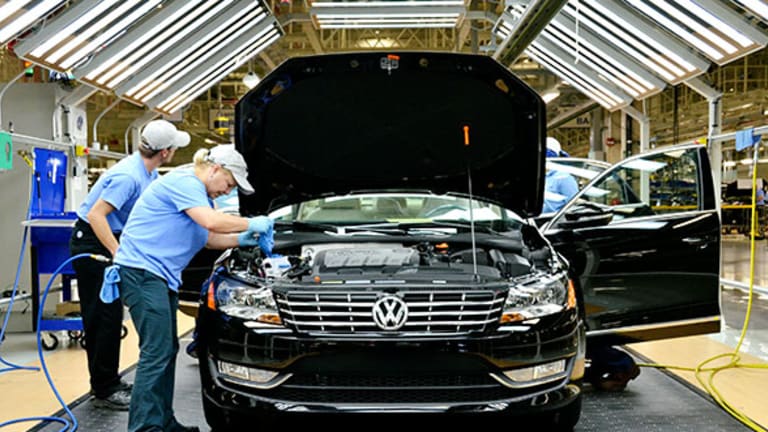 Volkswagen to Pay $10.2 Billion to Settle Emission Claims
Volkswagen must pay $10.2 billion to settle claims that it rigged its diesel car emissions, CNBC's Phil LeBeau reported today.
NEW YORK (TheStreet) -- Volkswagen (VLKAY) must pay $10.2 billion to settle hundreds of thousands of rigged emission claims, Phil LeBeau reported on CNBC's "Fast Money Halftime Report" today.
"Volkswagen has agreed in principle to pay $10.2 billion to settle 482,000 claims that are with owners of VW diesel vehicles that are in the United States that have rigged emissions," LeBeau said.
The settlement will be negotiated for submission in a California court next week, LeBeau noted that he did not have all the details and Volkswagen has not commented on the issue.
Per the settlement, Volkswagen will have to pay diesel car owners between $1,000 and $7,000 in cash, depending on details that have not yet been released, he continued.
"And that is the final price tag for settling the claims with the diesel vehicles here in the United States," LeBeau commented.
The settlement also requires Volkswagen to fund a grant program to offset pollution, according to Bloomberg.
The lawsuit claimed that the German-based automaker sold 482,000 diesel cars that emit 40 times the allowed amount of smog-forming nitrogen oxides.
Shares of Volkswagen are up by 5.14% to $30.70 this afternoon.