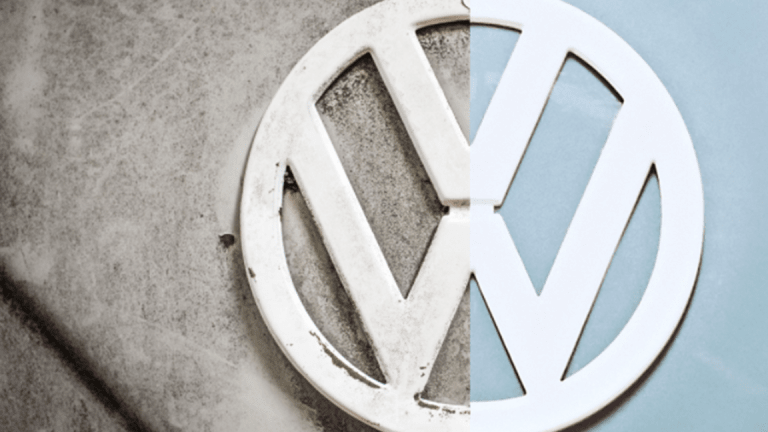 Volkswagen Shares Rise as World's Second-Largest Carmaker Details New Investment
VW shares surged in Frankfurt Monday after the group revealed main brand investment details after vowing a push to electric vehicle sales in China last week.
VW shares surged in Frankfurt Monday after the group revealed main brand investment details after vowing a push to electric vehicle sales in China last week.
Volkswagen AG (VLKAY) shares were one of the top gainers in Frankfurt Monday after the world's second-largest automaker said it would pump more than $25 billion in new investment cash into its main car brand over the next five years and lifted its near-term sales guidance.
The moves come as part of the German group's broader €72 billion ($84.7 billion) investment overhaul designed to enhance its post emissions-cheating scandal recovery and position itself in key markets in Europe and around the world. Last week, VW said it had earmarked €10 billion for investment in electric car production in China in order to fund the launch of 40 new hybrid and all-electric vehicles, including 15 new models over the next two to three years.
"The investment package which has now been adopted will give a decisive boost to the largest product and technology offensive in the history of the brand," said VW brand CEO Herbert Diess Saturday when the new plans were unveiled. 
VW said it sees group revenues rising at least 25% from last year's record of €217 billion by 2020, a 5 percentage point improvement from its previous forecast. Operating profits, the company said, will rise by more than 25% over the same period.  
VW's ordinary shares were marked 3.15% higher in Frankfurt and changing hands at €165.55 each, the highest since Nov. 1 and extending their year-to-date advance to around 17.8%. 
The Wolfsburg, Germany-based carmaker said most of the cash -- €14 billion -- would be invested in its domestic market.
VW expects to sell 400,000 so-called new energy vehicles, or NEV's, in China by 2020 and was targeting 1.5 million per year by 2025, said Heizman. The company, which operates in China through a partnership with state-owned Anhui Jianghuai Automobile Group, will start electric vehicle production in China the first half of 2018.
China's government, in September, detailed a concerted push to reduce the number of petrol driven vehicles on its road and set out penalties for manufacturers whose NEV output is less than 10% of their total in China by 2019, rising to 12% by 2020.
The moves follow sustained pressure for European automakers over the summer and autumn months after the European Commission confirmed it will study a report that linked several of the country's biggest brands to a decades-long program of collusion on technology costs and emissions controls.
The Commission said it had "received information on this matter", along with Germany's Federal Cartel Office, but noted it was "premature at this stage to speculate further."
The statement followed a report from Germany's Der Speigel magazine which said that carmakers including Volkswagen, Daimler AG (DDAIY) and BMW AG (BMWYY) , may have met and colluded for as many as two decades on issues such as technology costs, strategy and diesel engine emissions controls. If proven true, the EU could fine the automakers as much as 10% of their collective annual sales, a figure which could result in a penalty of as much as €50 billion ($58.3 billion).
Germany's Cartel Office said it had looked into the industry last year as part of an investigation into possible collusion in steel use but didn't mention any ongoing probes related to the Spiegel allegations.
More of What's Trending on TheStreet: