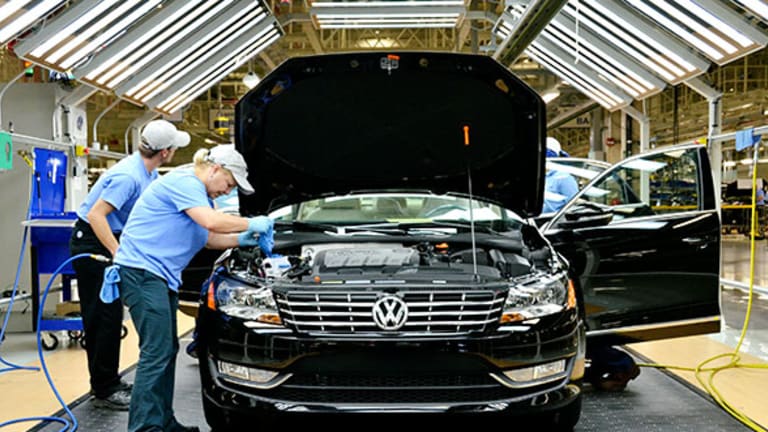 Volkswagen Sees 'Challenging' Conditions as the Car Industry Gets More Intense
Volkswagen sees ROS of between 6% and 7% in 2017.
Volkswagen AG (VLKAY) posted first half earnings that were largely in-line with expectations and said it sees "challenging" conditions ahead owing to intense competition and its ongoing issues with authorities over diesel emissions.
The world's biggest carmaker said operating profit for the three months ending in June came in at €4.549 billion, in-line with the FactSet consensus but up 3.2% from the same period last year. Group deliveries rose 2% to 2.66 million, the company said, while total sales revenue rose 4.7% to €59.66 billion, modestly shy of the €59.85 billion forecast
"The Volkswagen Group expects that deliveries to customers will moderately exceed the prior-year volume amid persistently challenging market conditions," the company said. "We anticipate particular challenges resulting from the economic situation, intense competition in the market, exchange rate volatility and the diesel issue."
Ford Let Us Drive Its Tough New Pickup Truck and We Couldn't Believe the Rip Your Face Off Power
"The sales revenues of the Volkswagen Group, the Passenger Car Business Area and Commercial Vehicles Business Area are expected to grow by more than 4% year-on-year in 2017," the statement added. "In terms of the Group's operating profit, Volkswagen anticipates an operating return on sales of between 6.0% and 7.0% for the current fiscal year."
Volkswagen shares were marked 0.4% lower in early Frankfurt trading and changing hands at €137.45 each, erasing all of the stock's year-to-date gains. 
German automakers have been under sustained pressure of late after the European Commission confirmed it will study a report that linked several of the country's biggest brands to a decades-long program of collusion on technology costs and emissions controls.
The Commission said earlier this week it had "received information on this matter", along with Germany's Federal Cartel Office, but noted it was "premature at this stage to speculate further." 
The statement followed a report from Germany's Der Speigel magazine Friday which said that carmakers including Volkswagen, Daimler AG (DDAIY) and BMW AG (BMWYY) , may have met and colluded for as many as two decades on issues such as technology costs, strategy and diesel engine emissions controls. If proven true, the EU could fine the automakers as much as 10% of their collective annual sales, a figure which could result in a penalty of as much as €50 billion ($58.3 billion).
Germany's Cartel Office said Friday that it had looked into the industry last year as part of an investigation into possible collusion in steel use but didn't mention any ongoing probes related to the Spiegel allegations.
Watch More with TheStreet: