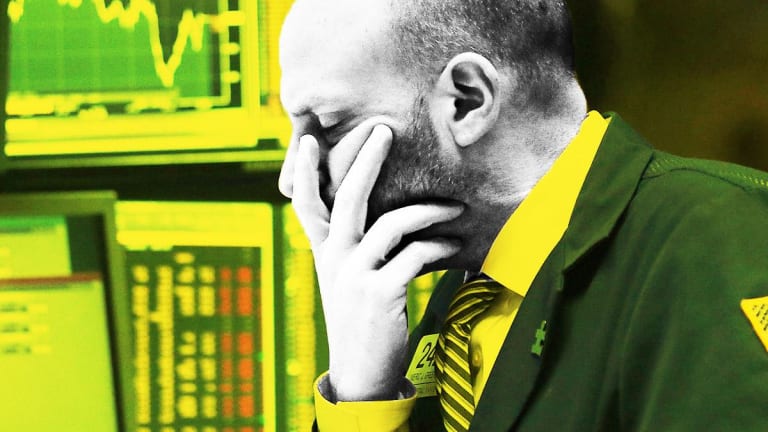 Record Market Highs May Herald Volatility and Uncertainty
See why volatility could be upon us.
Hold your horses, say some on Wall Street. 
The S&P 500 undefined and Dow Jones Industrial Average I:DJI both hit record highs Thursday Sept. 20, as U.S. jobless claims fell to a 49-year low of 201,000 in the week that ended September 15. The S&P 500 is up 0.6% Thursday, with the Dow up .82%. 
But with the S&P 500 up 9.47% year-to-date, the Dow up 7.69% this year, the closely watched ten-year treasury yield above 3% and close to its post-financial crisis high, and several potential headwinds emerging as real possibilities, some market participants are warning of what might be coming. 
"It's impressive to see the labor market besting last week's historic law," Mike Loewengart, Vice President of Investment Strategy at E*Trade told TheStreet. "That said, a big question is how much lower these numbers can go given there are only so many jobs and people participating in the economy."
Loewengart, like others on Wall Street, believes the economy is nearing its cyclical peak. "Amid a late stage economy, what 2019 may bring is very much up in the air."
Besides cyclical forces, investors may see difficulties ahead as President Trump shows little indication to take his foot off the pedal when it comes to trade. The White House announced 10% tariffs on Chinese-made goods on  Monday, Sept. 17, taking the total amount of goods subject to new U.S. levies to $250 billion, with a further $267 billion worth of goods poised for inclusion.
"Although investors have largely shaken off tariff tensions this week, there are still a lot of unknowns and many different directions the trade talks can go, which will likely drive additional volatility," Loewengart said. 
The VIX index, which measures volatilty, fell about 1.5% Thursday, to 11.57, below its historical average of just above 19, as stocks extend the longest bull run in American history. Generally speaking when stocks goes up, volatility goes down and vice versa.
The political cycle may also create volatility. As mid-term elections near, questions over future tax policy, could get priced into and out of the market, as candidates campaign. "Policy uncertainty surrounding the upcoming midterm elections may lead to an increase in near-term market volatility," John Lynch, Chief Investment Strategist for LPL Financial, wrote in a note.
Tax policy will likely change after the elections, in one direction or the other, regardless of which party takes control. "If Republicans maintain control of the House and Senate, they would likely soon pursue what is being referred to as tax reform 2.0, which would make the individual tax cuts passed in December 2017 permanent," Lynch said. "They may also pursue indexing capital gains taxes to inflation, improving any potential after-tax returns for stock investors." These changes would be expected to boost the stock market. 
Democrats would have different plans. "Should Democrats take control of one or both chambers, they may try to increase taxes, bolstered by a growing deficit that they may blame on Republican tax cut," Lynch said. "We may see market volatility ahead of the results due to the policy uncertainty." 
Start, and end, your trading day right with TheStreet's 'Daily Snapshot' on your favorite smart-speaker. Learn more about TheStreet's market coverage for your trusted smart-speaker here.
To be a profitable investor and build long-term wealth, you need the right information and techniques. Join TheStreet Oct. 13, 2018, for a special investing event for sophisticated and active traders. Register for "Invest Like the Pros: Jim Cramer's Boot Camp for Investors" here