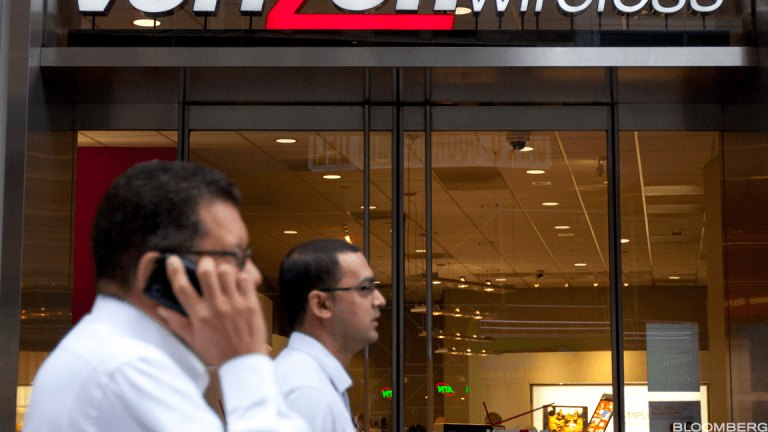 Verizon Misses Earnings Estimates but Postpaid Subscriber Growth Impresses
Verizon gains 647,000 postpaid smartphone subscribers in the fourth quarter and vows to use proceeds from the corporate tax overhaul to allow employees to 'share in the company's success.'
Verizon Communications Inc. (VZ) - Get Report posted modestly weaker-than-expected fourth-quarter earnings Tuesday, Jan. 23, but ended its year with robust postpaid subscriber growth and said it will use some of the proceeds from recent tax cuts to allow employees to "share in the company's success." 
Verizon said adjusted earnings for the three months ended in December came in at 86 cents a share, slightly below analysts' forecasts of 88 cents and flat compared with the fourth quarter of 2016, while revenue was pegged at $33.95 billion, modestly ahead of Wall Street forecasts of $33.26 billion. The company said it gained 647,000 postpaid smartphone additions in the quarter, firmly ahead of the 627,000 consensus, and recorded a postpaid phone churn of 0.77%.
"Verizon finished 2017 with great momentum, led by some of the best customer growth and loyalty results Verizon Wireless has delivered in recent years," said Chairman and CEO Lowell McAdam. "In 2018 we look to drive long-term shareholder value by deploying next-generation network services, leveraging global platforms such as Oath, and using our strategic Humanability approach to turn innovative ideas into realities."
Unadjusted earnings for the quarter came in at $4.56 a share, the company said, up from $1.10 in the final three months of 2016. Last week, Verizon said the newly passed Tax Cuts and Jobs Act would give it a one-time reduction in its tax liability that would be worth around $16.8 billion, a boost it said would lift fourth-quarter earnings by $4.10 a share. The group also said a separate accounting change will boost pretax retained earnings by $4 billion to $4.6 billion in 2018.
"Tax-reform legislation will have a positive impact to cash flow from operations in 2018 of approximately $3.5 billion to $4 billion. The incremental cash flow will be used primarily to strengthen Verizon's balance sheet," the company said. "Additionally, Verizon will announce later (Tuesday) how employees will further share in the company's success, and the company will also be increasing contributions to the Verizon Foundation by $200 million to $300 million over the next two years. These two initiatives have a projected EPS impact of 5 to 6 cents for each of the next two years."
Verizon shares rose 1.48% in premarket trading, indicating an opening bell price of $54.25, a move that would take its three-month gain to around 9.5%.
More of What's Trending on TheStreet: