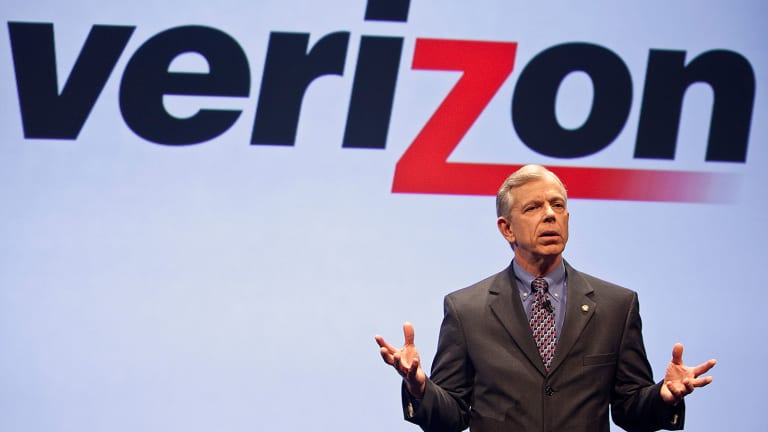 Verizon Beats Forecasts in Lowell McAdam's Swan Song as CEO
As Hans Vestberg prepares to take over for CEO Lowell McAdam, Verizon continues to focus on its network and the launch of 5G. Don't expect a splashy media deal, or an Oath spin off.
Verizon's  (VZ)  core wireless business is finally growing again.
Outgoing Chairman and CEO Lowell McAdam touted the strength of Verizon's networks in his last earnings call as the top executive, while shooting down recent speculation that the company will spin off its Oath digital media unit into a separate company.
Verizon earned $1.20 per share in the second quarter, beating forecasts of $1.14 per share. Revenue of $32.2 billion exceeded a consensus of $31.75 billion.
More importantly, revenue from Verizon's wireless services business grew nearly 1% to $15.75 billion, topping expectations of $15.3 billion. Not counting new rules on accounting for revenues, the sales grew 2.5%. Verizon had a net gain of 531,000 postpaid accounts, including 398,000 postpaid smartphones.
Shares of the telecom gained 0.6% to $51.07 on Tuesday morning as the company reported earnings from Houston, one of four cities in which Verizon will launch commercial 5G residential broadband service this year. Over the last year, Verizon shares are up about 16%
"I believe the impact of 5G on consumers will be much bigger than any previous generation," McAdam said, who shared the stage with Chief Technology Officer Hans Vestberg, who becomes CEO next week, and CFO Matthew Ellis. McAdam will remain Verizon's Chairman.
Verizon plans to roll out 5G wireless service in Houston, Los Angeles, Sacramento and an unnamed fourth city later this year. 
While rival AT&T (T) has jumped into media with the blockbuster acquisitions of Time Warner and DirecTV, McAdam defended Verizon's focus on its wireless network. 
"I'm glad we didn't follow a lot of the things the analysts and the bankers told us we had to do," said McAdam, whose signature deal was the $130-billion purchase of Vodafone's minority stake in Verizon Wireless in 2014. The appointment of technology boss Vestberg as CEO underscores the telecom's commitment to its network over vertical integration of media assets.
Though Verizon pulled the plug on its go90 wireless media service during the second quarter, McAdam expressed his commitment to Oath, the digital media unit that includes AOL and Yahoo!.
"The questions around Oath, I don't know where they are coming from," McAdam said, regarding reports that the telecom would break off the digital business. "There is no intention of spinning out Oath."
Oath generated $1.9 billion in sales in the second quarter, which Verizon said was in line with the prior quarter. The digital media group plans to complete integration of its advertising operations in the second half of the year, allowing advertisers and media companies to use a single platform to buy and sell ads.
Verizon has avoided the "vertical integration fever" that has spread through cable and telecom, Craig Moffett of MoffettNathanson LLC noted in a Tuesday report. "For all the world, it looks like Verizon's strategy really is to be a best-in-class wireless operator," the analyst wrote. "Today's strong results suggest that sticking to wireless might not be a bad idea."
McAdam reiterated Tuesday that Verizon still does not plan to buy content,  but will be the "best partner" for companies to distribute their programming. "I was very heartened by our time in Sun Valley," McAdam said, explaining that the company's networking plans got a strong reception at the annual gathering in Idaho of media and technology moguls several weeks ago. 
While distancing Verizon from traditional, linear television, McAdam said he is "not trying to criticize anybody's strategy."
Investors won't have to wait long for an opposing view on vertical integration of media and pay-TV networks; Time Warner and DirecTV parent AT&T reports its earnings after the close today.