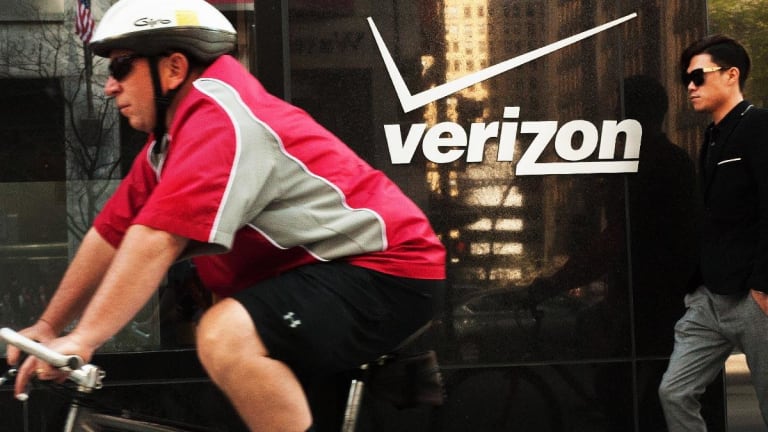 Verizon Beats Q3 Earnings Estimate, Postpaid Phone Additions Top Forecasts
Verizon shares rose Tuesday after it posted stronger-than-expected third quarter earnings and said it added more telephone users to its network than analysts had anticipated.
Verizon Communications (VZ) - Get Report  shares rose Tuesday after it posted stronger-than-expected third quarter earnings and said it added more telephone users to its network than analysts had anticipated.  
Verizon said earnings for the three months ending in September came in at $1.22 per share, well ahead of the $1.19 forecast and up 24.5% from the same period last year. Group venues were pegged at $32.6 billion, topping the consensus forecast of $32.5 billion. However, retail post-paid wireless subscriber additions hit 515,000, shy of the FactSet forecast 545,000 and down from 531,000 over the second quarter. Postpaid phone additions, however, came in at 295,000, ahead of the 161,000 consensus estimate as the company took advantage of promotional offers for the new Apple (AAPL) - Get Report iPhones.
"Verizon has posted a third quarter of strong operational and financial performance," said CEO Hans Vestberg. "With the beginning of the 5G era in this fourth quarter, we expect that trend to continue. We are investing in networks, creating platforms to add value for customers and maintaining a focused, disciplined strategy."
"Verizon is best positioned to take full advantage of the opportunities offered by the new game-changing generation of technology," Vestberg.
During Verizon's investor call, CFO Matthew Ellis outlined the positive trends in smart phones,  revenue declines at the Oath digital media group and plans for 5G, among other topics.
The gains in phone accounts included a 510,000 net increase in post-paid smartphones. Ellis said demand is "very strong" for Apple's (AAPL) - Get Report new iPhones and the Pixel devices from Alphabet's (GOOGL) - Get Report Google.
Revenues at Oath, the digital media business that includes AOL and Yahoo!, slipped nearly 7% year over year, however.
"We are seeing revenue pressure from search and desktop usage, which is more than offsetting positive growth in mobile usage and video products, including our distribution partnership with the NFL," Ellis told investors. "Because search and desktop products make up the majority of the Oath business and we believe pressure in those sectors is likely to continue, we do not expect to meet our previous target of $10 billion of revenue [for Oath] by 2020."
In the third quarter, the telecom introduced its 5G Home product, which provides wireless broadband services to residences in Houston, Indianapolis, Los Angeles and Sacramento. The company plans a larger rollout next year, Ellis said.
Ellis would not specifically discuss Verizon's appetite for acquiring wireless spectrum but focused on the carrier's ability to finance transactions. Leverage has dropped from 2.6 times Ebitda at the start of the year to 2.4 times now, he noted. "The key for us is making sure that we have a balance sheet that gives us the flexible structure to take advantage of whatever comes up," he noted.
Verizon shares gained 2.93% to $56.59 on Tuesday early afternoon, a move that extends the stock's year-to-date advance to almost 8% and values the New York, NY-based telecoms firm at around $230 billion. 
The group said it sees "low to single-digit" percentage growth in 2018 earnings per share, adding that revenue recognition changes would impact earnings by between 27 cents and 31 cents a share over the whole of 2018.
Revenues from Verizon's Oath division, which includes digital companies Yahoo and AOL, are expected to remain flat for the year, the company said, and management doesn't expect to meet its previous target of $10 billion in sales by 2020.
TK AAP