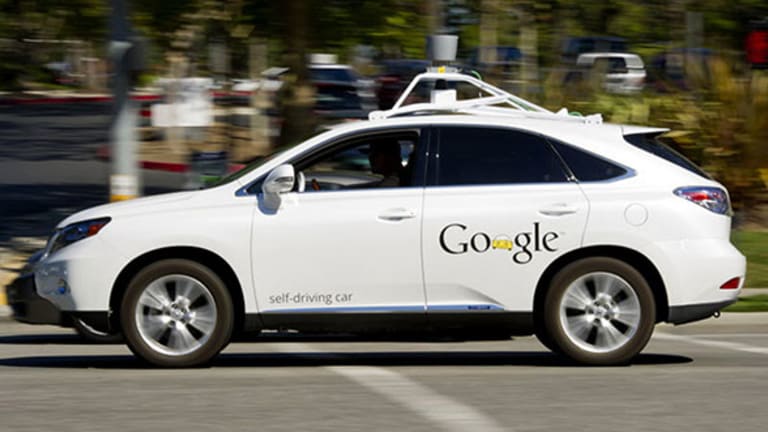 Velodyne President Jellen Sees Bright Future for Self-Driving Cars
Velodyne LiDAR President Mike Jellen expects his company's laser sensor products to be be heavily adopted in both autonomous and human-operated vehicles in the near future.
NEW YORK (TheStreet) -- Self-driving taxis hit the street for the first time on Thursday as startup nuTonomy rolled out a small fleet of cars in Singapore.
The launch is the culmination of years of research and development in all aspects of the technology that has turned what used to be a science-fiction fantasy into a reality.
Velodyne LiDAR President Mike Jellen, a supplier of laser sensors for self-driving cars, appeared on CNBC's "Squawk Alley" Thursday to discuss the future of his company's product, as the market for the vehicles grows.
"We're going to see thousands to tens of thousands [of] vehicles across the next couple of years [adopt the technology]," Jellen told the network's Jon Fortt Thursday. "And then [move] to hundreds of thousands and millions in the next four or five years, particularly when people take the software that they develop for full autonomy and apply it to driven cars and make those cars much safer."
Velodyne announced on Aug. 16 that it had raised $150 million from Ford (F) and Chinese web service company Baidu in funding for its light detection and ranging (LiDAR) technology.
The Chinese investment comes even as the nation has expressed some skepticism towards autonomous vehicles, according to Fortt.
"From what I hear, actually China [is] not as excited about autonomous driving in some cases because they want people driving cars," Fortt said. "It gives people work to do."
"We've heard of positive feedback from the Chinese government even to the extent where they're allocating portions of cities for autonomous trials, similar to what we're hearing about in Singapore" Jellen responded. "We're hearing strong governmental support for this in China."
For now, the industry's eyes will remain on Singapore.
(Separately, Ford is a part of the Dividend Stock Advisor portfolio. See all of the holdings with a free trial).