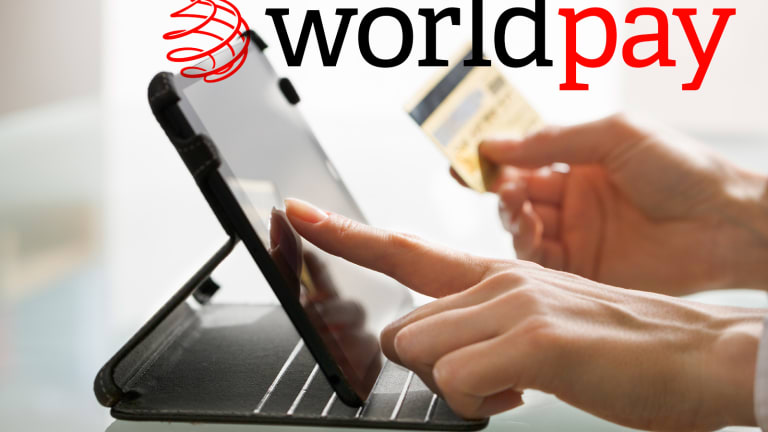 Vantiv Agrees Terms for $12.1 Billion Takeover of Britain's Worldpay Group
Vantiv sweetens Worldpay offer with 55 pence in cash
Vantiv Inc. (VNTV) and Worldpay Group plc (WPYGY) have agreed terms to a merger that values Britain's biggest payments processor at more than $12 billion, the two groups said Wednesday.
Vantiv said it will add 55 pence in cash for each Worldpay share, alongside its previous offer of 0.0672 "new Vantiv" shares, for the company as well as a special 5 pence per share dividend. The collective offer values Worldpay at 397 per share, or £9.3 billion ($12.1 billion) the companies said, a 3.5% premium to their Tuesday closing price but a 24.5% gain over their late June levels.
"This is a powerful combination that is strategically compelling for both companies," said Vantiv CEO Charles Drucker. "It joins two highly complementary businesses, and will allow us to achieve even more together than either organisation could accomplish on its own."
"Our business will have multiple opportunities to enhance its leading growth profile, driven by our global eCommerce capabilities, the strength of our people and their consistent focus on execution," he said. "Our combined company will have unparalleled scale, a comprehensive suite of solutions, and the worldwide reach to make us the payments industry global partner of choice."
Once the deal is completed, Vantiv said it will list the new combined company on both the New York Stock Exchange and the London Stock Exchange, with Worldpay shareholders owing around 43% of the listed group and Vantiv shareholders owning 57%.
Earlier this week, Cincinnati-based Vantiv received a further extension from the U.K.'s Panel on Takeovers to make a firm offer for Worldpay after reaching a preliminary agreement that could value the British payments processor at around £9.1 billion. The company originally had until Aug. 1 to make a firm offer or walk away. The deal came after JP Morgan Chase said that it would not make an offer after preliminary talks.
That extension followed Blackstone Capital Partners LP and CVC Capital Partners Group move to recommended cash offer for Paysafe Group plc that values the rival British payments company at around £2.96 billion. 
Vantiv shares closed at $65.06 each in New York Tuesday after rising 0.32% on the session to take their year-to-date gain to 9.12%. Worldpay shares closed at 383.6 pence each in London and have risen more that 42% so far this year amid persistent takeover speculation. 
More of What's Trending on TheStreet:
Why Bitcoin Cash Prices Are Likely to Dive Again
Amazon Is at This Critical Juncture