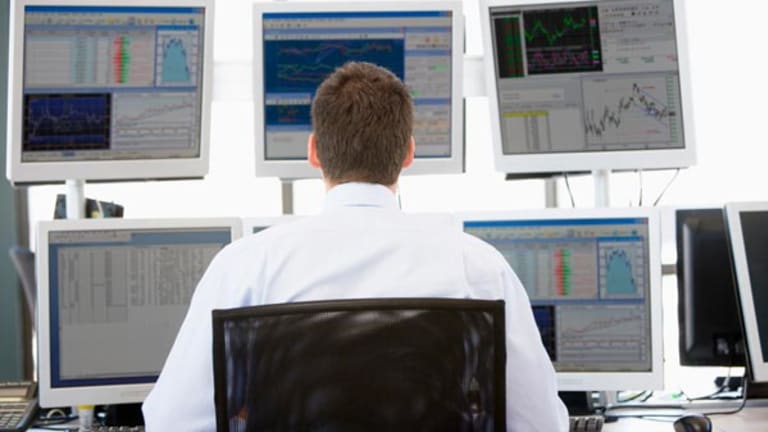 Utilities May Prove a Risky Shelter
These interest rate-sensitive stocks could tank if the Fed raises rates to 6%.
This column was originally published on RealMoney on June 26 at 1:04 p.m. EDT. It's being republished as a bonus for TheStreet.com readers.
Many Wall Street strategists are telling investors that utilities are a safe haven. Investors should keep in mind that these stocks are interest-rate sensitive.
By the end of the week, the
Federal Reserve
will have raised the federal funds rate to 5.25% and will likely signal additional rate hikes ahead. An increasing number of Wall Street strategists and economists now expect a 6% federal funds rate by the end of the year.
In my judgment, this risk is not reflected in the Dow Jones Utility Average.
My model shows that the electric utilities are 12.7% overvalued, and there are five components of the Dow Utility Average that are more than 20% overvalued. The rising yield on the U.S. Treasury 30-year bond could be troublesome for the utilities -- it appears to be headed for a test of its May 2004 high of 5.588%. That was the yield before the Federal Reserve embarked on its rate-hike campaign two years ago.
The monthly chart profile for the Dow utilities will shift to negative on a close in June below the five-month modified moving average of 399.78.
As the first chart below shows, the 12x3 monthly slow stochastic reading is already sliding below 80 (on a scale of zero to 100); this divergence began in March. Note also that the utility average peaked at an all-time high of 438.74 in October. The initial downside risk is to my annual value level of 377.80 in the second half.
Only three components in the Dow utilities are undervalued, but not by enough to consider adding to portfolios at this time. Investors should sell the five most overvalued components.
AES
(AES) - Get The AES Corporation Report
,
Northeast Utilities
(NU)
and
PG&E Corp.
(PCG) - Get Pacific Gas & Electric Co. Report
should be removed from portfolios now.
First Energy
(FE) - Get FirstEnergy Corp. Report
is 33.5% over its fair value of $39.63. With it trading between my monthly and quarterly pivots of $49.94 and $53.05, investors should reduce holdings. I'd liquidate any remaining positions with a sell stop on a weekly close below its five-week MMA of $52.33.
Public Service Enterprise Group
(PEG) - Get Public Service Enterprise Group Incorporated Report
is trading 45.1% over its fair value of $45.91. Investors should reduce holdings now due to its overvaluation. Close out any remaining positions with a sell stop on a weekly close below the five-week MMA of $65.18.
Divergence In The Dow Utilities
The 12x3 monthly slow stochastic reading has dipped below 80
Source: Athena Graphics
P.S. from TheStreet.com Editor-in-Chief, Dave Morrow:
It's always been my opinion that it pays to have more -- not fewer -- expert market views and analyses when you're making investing or trading decisions. That's why I recommend you take advantage of our
to TheStreet.com's
RealMoney
premium Web site, where you'll get in-depth commentary
and
money-making strategies from over 50 Wall Street pros, including Jim Cramer. Take my advice --
Richard Suttmeier is president of Global Market Consultants, Ltd., and chief market strategist for Joseph Stevens & co., a full service brokerage firm located in lower Manhattan. Early in his career, Suttmeier became the first U.S. Treasury Bond Trader at Bache. He later began the government bond division at L. F. Rothschild. Suttmeier went on to form Global Market Consultants as an independent third-party research provider, producing reports covering the technicals of the U.S. capital markets. He also has been U.S. Treasury Strategist for Smith Barney and chief financial strategist for William R. Hough. Suttmeier holds a bachelor's degree from the Georgia Institute of Technology and a master's degree from Polytechnic University.