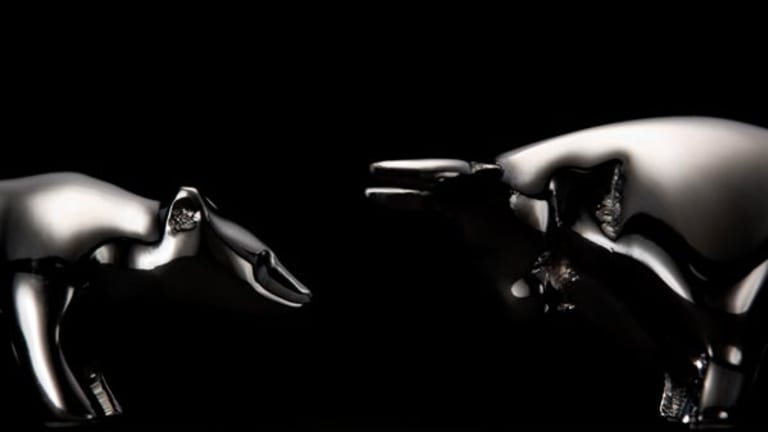 U.S. Stocks Work Higher in Rebound Move
Stocks on Wall Street were up solidly after the previous session's steep decline and as traders weighed GE's lowered earnings and the Big Three automakers' return to Congress.
Stocks on Wall Street were up solidly after the previous session's steep decline and as traders weighed GE's lowered earnings and the Big Three automakers' return to Congress.
Updated from 10:54 a.m. EST
Stocks in the U.S. were building on an opening bounce Tuesday, as
General Electric
(GE) - Get Report
narrowed its earnings forecast and the Big Three automakers returned to Capitol Hill hoping to secure a bailout.
The
Dow Jones Industrial Average
was gaining 226 points to 8375, and the
S&P 500
was better by 27 points to 843. The
Nasdaq
added 45 points to 1443.
During the previous outing, stocks sold off sharply as traders took profits from a sharp five-day rally in the blue-chip indices. The National Bureau of Economic Research also said that the economy has been in a recession since December 2007. At Monday's close, the Dow had lost 679.95 points, or 7.7% to 8149.09; the S&P 500 fell 80.03 points, or 8.9%, to 816.21; and the Nasdaq sank 137.50, or 9%, to 1398.07.
Paul Nolte, director of investments at Hinsdale Associates, said that today's rebound is not surprising given the broad selloff from the previous session. Trading in the S&P 500 has been tied to a 20% range since October as the economy attempts to determine how much longer the U.S. recession will continue, he said.
"The news is going to be bad for the next three or four months," said Nolte, who foresees unemployment, retail sales and home sales numbers continuing to worsen in the short term. "Welcome to the worst part, probably, of the current downturn."
The market is currently wrangling with a push and pull between deflation and inflation, said Michael Pento, senior market strategist at Delta Global advisors. The Treasury and
Federal Reserve
continue to pump money into the market, but the move is ultimately inflationary, he said.
The effect, said Pento, will be debt forgiveness for the consumer at the expense of the Fed's and Treasury's balance sheets. Such actions will hamper the government's ability to act to control inflation later, and the next time the economy faces crisis, there will just be more leverage to unwind, he said.
The alternative, said Pento, is to endure a severe downturn recession to bring home prices and consumer debt to historical norms. "A massive deleveraging has to occur -- not only on the consumer level, but on the government level," he said.
Ahead Monday's trading, industrial titan
narrowed its fourth-quarter earnings-per-share projection to between 50 cents and 52 cents from a previous target of 50 cents to 65 cents. The company also affirmed its intention to maintain its $1.24 per share dividend in 2009.
Investors were also closely watching
General Motors
(GM) - Get Report
,
Ford
(F) - Get Report
and
Chrysler
. Chief executives from the automakers are slated to appear before Congress with detailed plans that show their businesses still warrant a federal bailout.
Last time the Big Three's CEOs traveled to Washington, lawmakers refused them the
they sought and berated them for, among other things, flying to the hearing on private jets.
GM announced that its CEO, Rick Wagoner, would this time be driving a Chevrolet Malibu hybrid sedan from Detroit to Washington. Neither of the other two companies' chiefs is flying by corporate jet, according to reports.
"My personal preference would be to force a merger between all or two of them," Hinsdale's Nolte said of the automakers. "They're going to have to get smaller. They're not selling that many cars anymore." Nolte said that the $25 billion bailout the automakers are after is not an adequate solution. Worries that consumers would cease buying cars from a bankrupt company are overstated, he said.
While the automakers petition the government, the
United Auto Workers
union is reportedly planning an emergency meeting to discuss ways to help their employers secure emergency funds. Automakers also are expected to roll out their
November sales figures
later in the day.
Elsewhere, a union of engineers for aerospace firm
Boeing
(BA) - Get Report
ratified new contracts with the company. The deal covers more than 20,000 workers. Earlier this year, Boeing faced production delays and reduced earnings when its machinists union elected to strike.
Meanwhile,
Delta Airlines
(DAL) - Get Report
announced systemwide capacity cuts of 6% to 8% and said it was assessing the reductions' impact on its employees.
Among financial companies,
The Wall Street Journal
reported that
(GS) - Get Report
would post a $2 billion loss for the most recent quarter.
Several big technology names were also making headlines.
Intel
(INTC) - Get Report
and
Hitachi
(HIT)
announced plans to collaborate on development of solid-state drives for servers.
Taiwan Semiconductor
(TSM) - Get Report
reduced its fourth-quarter revenue forecast, citing a weakening global economy and slackening demand.
In earnings news,
(BZH) - Get Report
posted a fourth-quarter loss that tripled from a year ago. Similarly, department-store operator
Sears Holdings
(SHLD)
announced a wider-than-expected third-quarter loss.
Office supplier
Staples
(SPLS)
said its third-quarter earnings declined 43% on restructuring charges.
Some of the day's
were looking to set certain stocks in motion. Morgan Stanley cut its earnings estimates for credit-card company
Visa
(V) - Get Report
, and Barclays reduced its profit forecast for defense firm
General Dynamics
(GD) - Get Report
.
In the commodities arena, crude oil was losing 64 cents to $48.64 a barrel. Gold was gaining $4.20 to $781 an ounce.
Longer-dated U.S. Treasury securities were mixed. The 10-year was up 8/32 to yield 2.70%, and the 30-year was lower by 22/32, yielding 3.24%. The dollar was falling vs. the euro and pound but rising against the yen.
Overseas, European markets, such as the FTSE in London and the DAX in Frankfurt, were marking gains. In Asia, both Japan's Nikkei and Hong Kong's Hang Seng finished with losses.