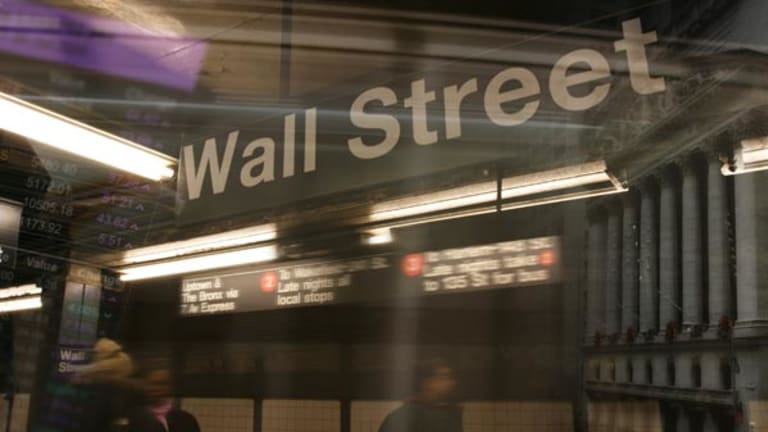 US Stocks to Open Down as Fears Spread
Ahead of trading Wednesday, conditions worldwide appear to have worsened.
Premarket futures were indicating stocks would open sharply lower Wednesday as a global recession and blocked credit markets left investors with little room for optimism.
Futures for the
S&P 500
were down 28 points at 977 and were 22 short of fair value.
Nasdaq
futures were lower by 42 points and were 45 below fair value.
On Tuesday, stocks fell hard as credit markets remained tight after an unprecedented
Federal Reserve
decision to begin buying commercial paper from U.S. businesses. Speaking in the afternoon before the National Association of Business Economists, Fed Chairman Ben Bernanke said the economy was at risk for a painful slowdown and hinted that he may soon reduce the fed funds rate.
After Bernanke's comments, the
Dow Jones Industrial Average
sloughed off 508 points, and the S&P 500 dropped 5.7%, reaching a five-year low. The
Nasdaq
dropped 5.8%.
Ahead of the new day's trading, conditions appeared to worsen. As evidence of a worldwide slowdown piled up, European governments struggled to put together their own rescue plans. The U.K. government set up an $87 billion rescue package for U.K. banks.
Indices abroad were hurting. In Europe, London's FTSE and Frankfurt's DAX were each down at least 4.3%. Asia fared worse; Japan's Nikkei closed down 9.4%, and Hong Kong's Hang Seng dropped 8.2%.
Stateside, investors faced the final day of trading with the
Securities and Exchange Commission's
temporary ban on short-selling of more than 900 financial stocks. The moratorium, implemented in mid-September, is set to expire at midnight, and the SEC gave no sign it would extend the ban.
As for company news,
The Wall Street Journal
reported
Citigroup
(C) - Get Report
is looking for partners in its buyout of
Wachovia
(WB) - Get Report
. Citi and
Wells Fargo
(WFC) - Get Report
had earlier agreed to cease their buyout battle for Wachovia until noon Wednesday.
To kick off earnings season, aluminum processor and Dow component
Alcoa
(AA) - Get Report
reported a decline in third-quarter profit thanks to rising costs and softening demand.
Bulk retailer
Costco
(COST) - Get Report
said its fourth-quarter profit rose year over year, but nevertheless fell short of Wall Street estimates.
Earnings from agricultural-goods producer
Monsanto
(MON)
are expected before the start of the new session.
Looking at the day's economic data, pending home sales figures from the National Association of Realtors are due out Wednesday, as are weekly oil inventories from the Energy Information Administration.
Over in the commodities arena, crude oil was declining $2.83 to $87.23 a barrel. Gold was advancing $36.10 to $918.10 an ounce.
Longer-dated U.S. Treasuries were climbing. The 10-year was up 14/32 to yield 3.45%, and the 30-year was gaining 1-20/32, yielding 3.94%. The dollar was declining sharply vs. the yen, but inching upward against the euro and pound.