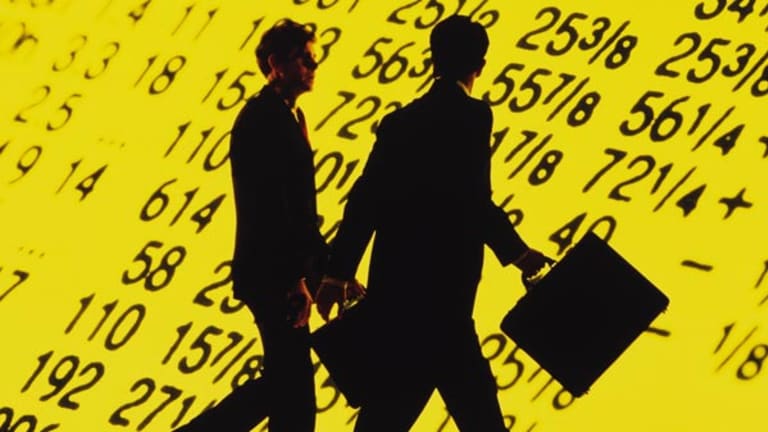 U.S. Stocks Take Early Hits
The market again opens in the red Tuesday as investors await a Fed interest-rate decision and digest news of a capital infusion and earnings from Goldman.
Updated from 8:43 a.m. EDT
Stocks in New York followed Monday's nose-dive with opening losses Tuesday after a slew of credit ratings downgrades for trod-upon investment firm
AIG
(AIG) - Get Free Report
brought out the sellers.
The
Dow Jones Industrial Average
was down 55 points to 10,862, and the
lost 13 points to 1179. The
Nasdaq
gave back 18 points to 2161.
During trading on Monday, bad news from
Lehman Brothers
undefined
,
Merrill Lynch
(MER)
and
AIG
(AIG) - Get Free Report
sent the market plunging. The three major indices each lost at least 3%, and the
Dow Jones Industrial Average
staged its worst one-day drop in seven years.
On Monday, Lehman filed for bankruptcy protection after failing to find a partner willing to take on its subprime exposure. Lehman's bankruptcy is the largest in U.S. history in terms of assets held before the filing. Also struggling with bad assets and fears that it may go the way of Lehman, Merrill agreed to be bought by
Bank of America
(BAC) - Get Free Report
for $50 billion.
AIG
, whose balance sheet is crippled by its sale of insurance on subprime-related securities, late Monday suffered a downgrade of its credit ratings by S&P, Moodys and Fitch.
Ahead of the new day's trading, investment bank
reported a 71% drop in third-quarter profit but it still beat Wall Street earnings estimates. During its earnings call, Goldman said that AIG's precarious situation is making it more cautious. The company also said it did not intend to merge with a commercial bank.
Barclays
(BCS) - Get Free Report
, meanwhile, said it may buy certain of Lehman's assets after having backed away from an outright acquisition.
To help cope with the buckling financial system, the
allocated
to an overnight repurchasing agreement for the money markets. The liquidity injection comes on top of a $20 billion boost already scheduled and is designed to prop up firms as they deal with mounting credit woes.
Outside the financials space, news wasn't much sunnier. Electronics retailer
Best Buy
(BBY) - Get Free Report
, however, fell short of Wall Street's projections as its fiscal
second-quarter profit declined
19% from a year ago.
Further reflecting a souring tech market, PC maker
Dell
(DELL) - Get Free Report
that it foresees decreased demand for the current quarter and expects to incur costs as it adjusts to the tough environment.
In the realm of economic data, the Federal Reserve is expected to decide whether it will cut its target interest rate. In the wake of recent turmoil, Fed funds futures are priced for 100% odds of a 25 basis-point cut and 20% odds of a 50 basis-point cut.
The Bureau of Labor Statistics reported that consumer prices fell 0.1% for August, down from a 0.8% increase in July and in line with economists' expectations. The core rate of price increases came in at 0.2%, down slightly from the previous month.
Shifting to commodities, crude oil was losing $4.27 to $91.44 a barrel. Gold was falling $5.20 to $781.80 an ounce.
Longer-dated U.S. Treasury securities were climbing in price. The 10-year note was up 1-2/32 to yield 3.26%, and the 30-year was up 2-3/32, yielding 3.91%. The dollar was falling vs. the yen and up slightly against the euro and pound.
Abroad, markets such as the FTSE in London and the Dax in Frankfurt were trading lower. The Nikkei in Japan and the Hang Seng in Hong Kong closed with losses.