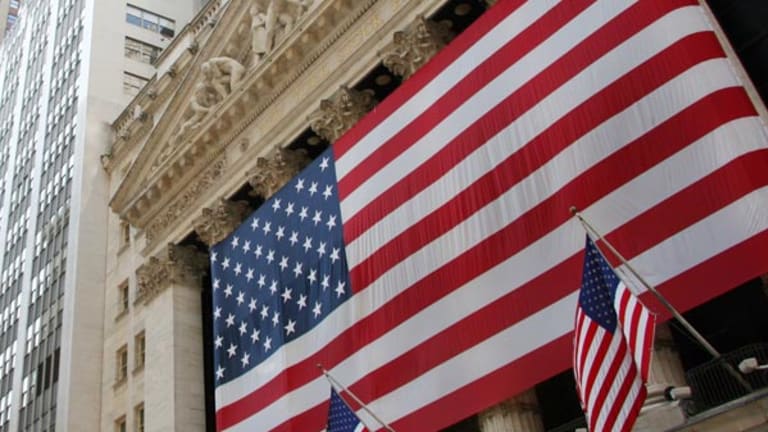 U.S. Stocks Set for Major Declines Friday
Futures on the S&P 500 were limited to prevent further declines as the global economic slowdown intensifies.
Updated from 7 a.m. EDT
Premarket futures were forecasting a sharply lower open for stocks on Wall Street Friday, as fear of a global economic slowdown intensified and world indices fell dramatically.
Futures for the
S&P 500
were down 60 points at 855 and were 52 short of fair value.
Nasdaq
futures were down 85 at 1169 and were 73 below fair value.
Dow Jones Industrial Average
futures were down 550 points at 8224.
Premarket futures are limit-down, meaning that they cannot exceed a given loss. In a sign of deep investor trepidation, futures for the S&P 500, the Dow and the Nasdaq were all trading with their maximum permissible losses.
"Right now it's panic selling. Where it will end, nobody knows," said Doug Roberts, chief investment officer at ChannelCapitalResearch.com. He said that funds are continuing to liquidate, and broad selloffs in overseas markets are stoking investor fear. As a result, it's too soon to tell whether the market is reaching capitulation levels.
On Thursday, stocks ended a volatile session with mixed results as energy stocks rallied and traders assessed a series of gloomy corporate earnings forecasts.
Meanwhile, U.S. equities weren't the only asset class in deep trouble during the final session of the week. Crude oil was dropping $3.30 to $64.54 a barrel. OPEC announced that it would reduce production by 1.5 million barrels a day in an effort to support falling prices. Gold was losing $25.30 to $689.40 an ounce.
In a sign that investors were looking for safety, longer-dated U.S Treasury securities were skyrocketing in price. The 10-year note was up 1-9/32, yielding 3.52%. The 30-year was up 3-4/32 to yield 3.88%.
Overseas, European indices were falling sharply, as London's FTSE and Frankfurt's DAX were each down nearly 9%. In Asia, the Nikkei in Japan and the Hang Seng in Hong Kong closed with significant losses.
The foreign exchange market was seeing monumental moves in some cases, with the dollar registering significant changes against its major counterparts. The euro was losing 1.6% to $1.26, and the pound was sinking 3% to $1.56. The Australian dollar was off nearly 6% against the greenback.
However, the dollar was surrendering 3.6% to the yen and 0.5% to the Swiss franc.
The credit crunch was once again in focus as the new session took shape.
Bloomberg
reported that the
Treasury Department
was ready to invest in regional banks as part of a $250 billion effort to capitalize banks. The Treasury already spent $125 billion on nine of the biggest U.S. banks.
Separately, U.K. insurance firm
Prudential
(PUK) - Get Report
was considering the purchase of segments of struggling U.S. insurer
AIG
(AIG) - Get Report
. AIG has been attempting to sell parts of its asset portfolio to avoid going bankrupt.
As for corporate earnings, following Thursday's close software titan
Microsoft
(MSFT) - Get Report
reported results that beat estimates but issued a cautious revenue forecast for the coming quarter.
Looking at the day's economic data, the National Association of Realtors is slated to release its October existing-home sales figures.
(
)