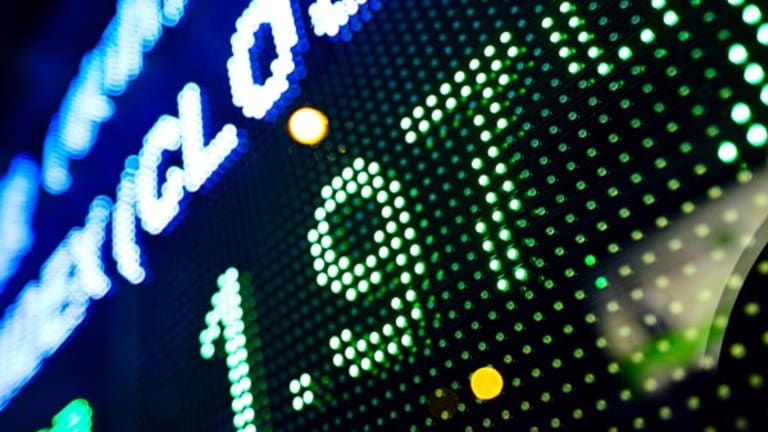 U.S. Stocks Finish Black Friday in the Green
The Dow and S&P 500 hammer out a fifth straight day of gains in Friday's abbreviated trading session.
Updated from 1:08 p.m. EST
Blue-chip stocks on Wall Street surged into the close to end Friday's choppy, abbreviated trading session with gains.
When the closing bell sounded at 1 p.m. EST, the
Dow Jones Industrial Average
gained 102.43 points, or 1.2%, to 8829.04, and the
S&P 500
added 8.56 points, or 1%, to 896.24. The
Nasdaq
edged up 3.47 points, or 0.2%, to 1,535.57.
The final results marked the fifth straight winning session for both the Dow and S&P 500. Since last Friday's close, the Dow gained 9.7%, the S&P 500 rose 12% and the Nasdaq added 11%.
During Friday's session, traders kept a close eye on the retailers as shoppers flocked to stores to kick off the winter shopping season. In an annual ritual known as "
Black Friday
," stores attempt to lure customers, many of whom have the day off for Thanksgiving weekend, into their stores with preliminary holiday sales.
"Basically the Thanksgiving holiday allowed the market to hit the pause button for a little bit, which I think was much needed," said Kenneth Roberts, CFP, principal at Harbor Lights Financial in New Jersey. He said that Friday's trading will be marked by light volume as many traders take the day off.
Roberts also said that analysts will be looking for the impact of Black Friday sales on the retailers. On whether the recent gains in the major averages could be the beginning of a year-end rally, Roberts said that as unemployment takes hold, consumers are going to continue to cut back on purchases.
"This is just one of those days that you don't pay much attention to in terms of the directionality," said Christopher Orndorff, managing principal at Payden & Rygel. He said he expects consumer spending to continue to decrease in the fourth quarter. "It's going to be a very subdued Black Friday. It will also be a very subdued general shopping season."
Ahead of Friday's session, the
Royal Bank of Scotland
(RBS) - Get Royal Bank of Scotland Group Plc Report
said the British government would take a 58% stake in the bank following tepid reception of a stock offering by the company. Shares added 5.1% to $17.58.
Meanwhile,
General Motors
(GM) - Get General Motors Company Report
has hired a real estate company to help it raise up to $257 million in sales and other deals related to its European offices and assets, according to a report by the
Financial Times
. GM shares gained 8.9% to $5.24.
Chesapeake Energy
(CHK) - Get Chesapeake Energy Corporation Report
shares dropped 15% to $17.18 after the company said in a filing with the
Securities and Exchange Commission
that it would sell 50 million shares of its stock at a discount to the previous session's closing price.
On the pharmaceutical front, antitrust investigators from the European Union said that
Pfizer
(PFE) - Get Pfizer Inc. Report
,
GlaxoSmithKline
(GSK) - Get GSK plc American Depositary Shares (Each representing two) Report
and
Sanofi-Aventis
(SNY) - Get Sanofi Report
blocked generic drugs from the market, costing European patients as much as $3.87 billion.
Pfizer gained 2.2% to $16.43, GlaxoSmithKline added 2.8% to $34.44, and Sanofi-Aventis edged up fractionally at $27.66.
Elsewhere among pharma firms,
AstraZeneca
(AZN) - Get AstraZeneca PLC Report
faces delays for its infant lung drug Motavizumab thanks to inquiries by the Food and Drug Administration. Shares ticked up 1.6% to $37.73.
Eli Lilly
(LLY) - Get Eli Lilly and Company Report
, meanwhile, said it has withdrawn a new-drug application with the FDA for its pain medication Cymbalta. The stock edged up 3.9% to $34.15.
Among technology shares, billionaire investor Carl Icahn bought $66.9 million in shares of Web portal
Yahoo!
>
(YHOO)
, bringing his stake in the company up to 5.5%. Shares rocketed 8.8% to $11.51. P/>As for analyst actions, online auctioneer
eBay
caught an Argus downgrade to hold from buy. The stock edged down 2.6% to $13.13.
Although the day was light on domestic economic data, there were additional signs of trouble abroad Friday. The European Union's statistics office said that inflation in the Eurozone for November came in at 2.1%, down from 3.2% in October. The EU also said that unemployment in the region had reached 7. 7% in October, a 0.1% increase from September.
Looking at commodities, crude oil was lately shedding $2.45 to $51.99 a barrel. Gold was edging down $1.70 to $817.30 an ounce.
Longer-dated U.S. Treasury securities were rising in price. The 10-year note was up 8/32, yielding 2.94%, and the 30-year was climbing 26/32, yielding 3.48%. The dollar was gaining on the euro, yen and pound.
Overseas, European exchanges, such as the FTSE in London and the DAX in Frankfurt, were trading higher. In
, Japan's Nikkei and Hong Kong's Hang Seng finished on the upside.