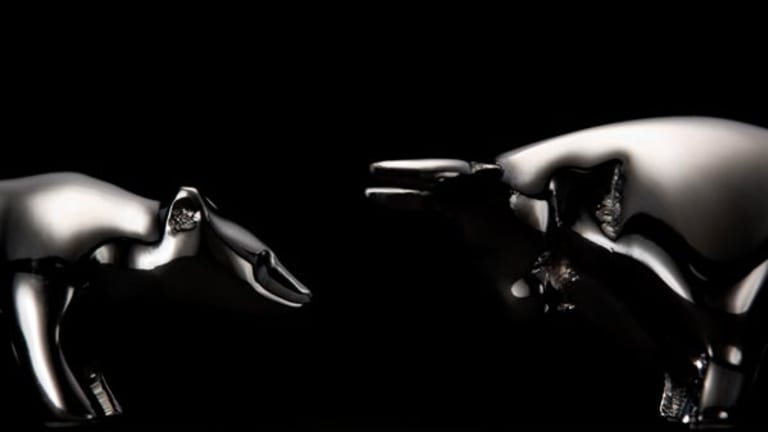 U.S. Stocks Fight Their Way Into the Green
Stocks in New York are trading in the green after a downside start as traders sort through more earnings releases and a fresh set of economic data.
Updated from 11:02 a.m. EDT
After an erratic start, stocks turned positive Friday, as traders tackled another round of earnings releases and a fresh set of economic data.
The
Dow Jones Industrial Average
was gaining 69 points at 9250, and the
was up 7.7 points to 961. The
Nasdaq
was climbing 12 points to 1711.
On Thursday, the major averages ended a choppy day with gains following the release of a better-than-expected third-quarter GDP number.
releases were again in focus.
(NYX)
reported a 33% year-over-year decrease in profits for the third quarter, but met the Street's expectations.
Elsewhere in the financial sector, British bank
(BCS)
announced plans to raise $11.8 billion from the private sector, thus avoiding participation in the U.K.'s bank-bailout plan.
As for the automakers,
Ford
(F)
announced it would bring 1,000 workers back to a truck plant in anticipation of high demand for one of its new trucks.
Back in earnings news, energy company
Chevron
(CVX)
reported rising profit thanks to high oil prices.
Meanwhile, fast-food restaurant operator
Burger King
(BKC)
announced income that rose slightly year over year and reaffirmed its forward outlook. Cleaning-products maker
Clorox
(CLX)
likewise saw a slight rise in earnings for the quarter and affirmed its profit guidance, although it tempered its revenue expectations.
In other automotive news,
(NSANY)
reported a decline in quarterly profit and guided lower for the remainder of the year.
Reuters
also reported that talks of a merger between
(GM)
and
Chrysler
are being pushed back as the Bush administration refused to fund a deal.
Looking at the day's economic data, the Department of Commerce reported that consumer spending declined 0.3% in September after holding steady in July and August. Economists were expecting a 0.2% contraction in spending. Personal income growth registered at 0.2%, ahead of consensus estimates of 0.1% but less than a 0.5% increase in August.
The Department of Labor also said its employment cost index rose 0.7% for the third quarter, a rise that was in line with expectations.
The Chicago Purchasing Managers Association's manufacturing index for October registered at 37.8, down from 56.7 in September and below the consensus forecast of 48. The University of Michigan's revised consumer sentiment index came in at 57.6, slightly above the 57.5 expected by analysts.
Shifting to commodities, crude oil was losing $1.44 to $64.52 a barrel, and gold was down $8.50 to $730 an ounce.
Longer-dated U.S. Treasury securities were rising in price. The 10-year note was up 6/32 to yield 3.94%, and the 30-year was gaining 15/32, yielding 4.3%. The dollar was rising vs. the euro, yen and pound.
Credit markets continued to improve, as three-month dollar Libor, a measure of the rate banks charge one another for large loans, declined 16 basis points to 3.03%. Overnight Libor dropped 33 basis points to 0.41%.
Across the seas, European exchanges were gaining ground, as the FTSE in London and the Dax in Frankfurt were logging gains. As for
, Japan's Nikkei and Hong Kong's Hang Seng closed on the downside.
(
)