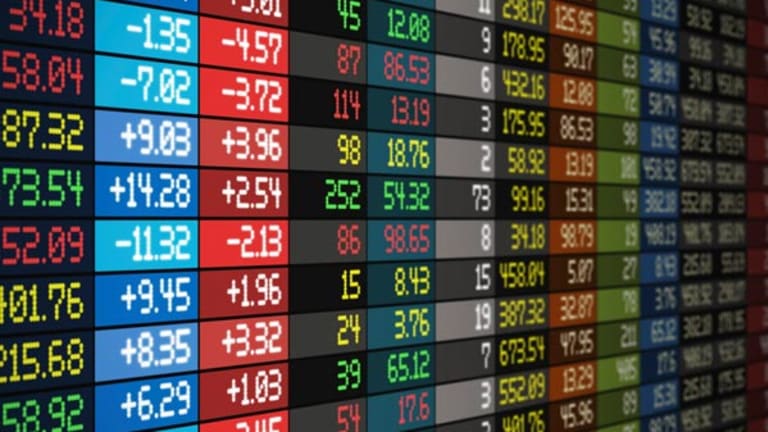 U.S. Stocks Climb Higher Out of the Gate
The stock market in the U.S. opens higher after the government's report on jobs isn't as bad as expected. The Labor Department says 20,000 workers were shed in April, and the unemployment rate improved.
Updated from 8:45 a.m. EDT
Wall Street got a lift at the open Friday as investors cheered the Labor Department's official April employment numbers which, while revealing a slide, weren't nearly as bad as economists had feared.
The
Dow Jones Industrial Average
was climbing 92 points to 13,102, and the
S&P 500
rose 12 points at 1421. The
Nasdaq Composite
tacked on 16 points to 2497.
Nonfarm payrolls data for last month showed that the U.S. economy shed 20,000 workers, whereas a Bloomberg survey predicted the number would be more around 75,000. Earlier this week, the ADP's figures showed a better-than-expected climb of 10,000 jobs last month.
The unemployment rate unexpectedly improved slightly, falling to 5% from 5.1% the prior month. Meanwhile, revisions were minor for February and March, with only an additional 1,000 jobs lost. Hourly earnings picked up 0.1% sequentially, compared with a 0.3% uptick in the prior month.
Following the data, the distraught U.S. dollar resumed its recovery, adding another 0.4% against the euro at $1.5393. Against the yen, the greenback leapt 1.1% at 105.46.
Investors were also pulling their funds out of Treasury securities. The 10-year note lost 20/32 in price to yield 3.85%, and the 30-year bond tumbled 25/32 in price, yielding 4.55%.
Also lending support to stocks was word that the
Federal Reserve
would boost its term auction facility to $150 billion from $100 billion previously, a move that makes more funding available for financial institutions.
On the corporate front,
Sun Microsystems
( JAVA) plunged 16.1% after the server maker
swung to a $34 million loss
in the fiscal third quarter and issued soft sales guidance for the current one, blaming tough economic conditions.
Staying in the tech space,
The Wall Street Journal
reported that
Microsoft
(MSFT) - Get Microsoft Corporation (MSFT) Report
, which for three months has been attempting to pressure
Yahoo!
(YHOO)
to accept its stock-and-cash takeout bid, may go hostile and appeal directly to Yahoo! shareholders as early as today, citing people familiar with the matter. The paper also said, however, that Microsoft could well change its tune before making its announcement.
Microsoft shares were ticking 0.5% higher as Yahoo! rose 2.7%.
Back in earnings,
Viacom
(VIA.B)
, which owns MTV and other media properties, said first-quarter revenue was up 15% to $3.12 billion, partly thanks to strong sales of the Rock Band music-video game. The company's adjusted profit of 44 cents a share topped analyst predictions. Shares traded up 1.9%.
Insurer
MetLife
(MET) - Get MetLife, Inc. (MET) Report
said shriveling investments dragged its first-quarter profit down 37%, even as operating earnings topped the consensus.
Also,
Automatic Data Processing
(ADP) - Get Automatic Data Processing, Inc. Report
came in ahead of estimates as income climbed 6% to $413.6 million, but its 2008 profit-growth outlook strayed to the lower end of analyst targets.
Elsewhere, engineering-and-construction concern
KBR
more than tripled its first-quarter earnings to $98 million, or 58 cents a share, handily beating the 34-cent analyst consensus from Thomson Financial. Revenue surged to a better-than-anticipated $2.52 billion. The stock soared 13.2%.
Casino-resort operator
Wynn Resorts
(WYNN) - Get Wynn Resorts, Limited (WYNN) Report
posted a 20% profit drop, falling
a penny short
of per-share analyst projections. Revenue was better than expected, but the stock still shed 0.6%.
Last time out, stocks soared, with the Dow leaping 190 points to 13,010 and the S&P 500 up 24 points to 1409. The Nasdaq climbed 68 points at 2481.
Among commodities, crude oil was up $1 to $113.52 a barrel, and gold futures climbed $4.40 to $853.30 an ounce.
Markets abroad were tracking higher. In Asia, Tokyo's Nikkei 225 climbed 2.1%, and the Hang Seng in Hong Kong tacked on 1.9%. As for Europe, the FTSE 100 in London, Germany's Xetra Dax and the Paris Cac were all jumping 1.6% or more.