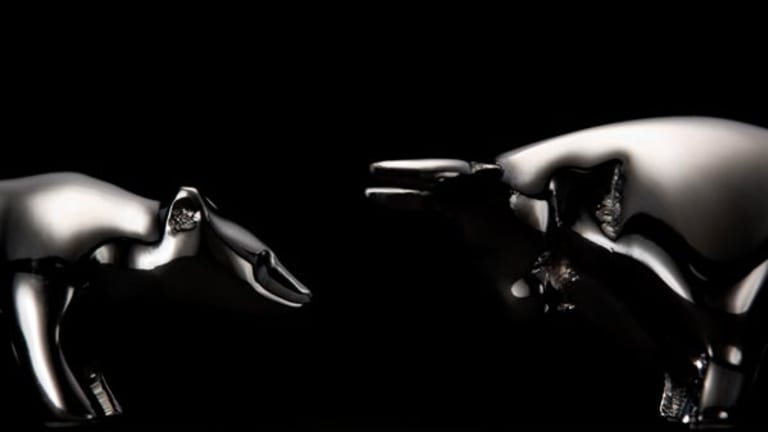 U.S. Stocks Charge Higher in Pre-Thanksgiving Day Rally
U.S. stocks are rallying as traders absorb a slew of fresh economic data and Obama's appointment of Paul Volcker to his economic team.
Updated from 1:38 p.m. EST
Stocks in the U.S. had earlier been hit by a series of gloomy economic reports, but were lately staging an upswing as traders looked ahead to the Thanksgiving holiday and digested President-elect Barack Obama's nomination of former
Federal Reserve
Chairman Paul Volcker to his economic team.
The
Dow Jones Industrial Average
, down some 168 points earlier, was lately up 212 points at 8692, and the
S&P 500
was adding 27 points at 885. The
Nasdaq
was leading the move higher with a gain of 62 points at 1526.
"In the period pre-Thanksgiving and after Thanksgiving, the market generally acts pretty well," said Bruce Zaro, chief technical strategist at Delta Global Advisors. He said that the market rallied about 20% from its Oct. 10 low into Election Day, and he sees the recent upward movement in stocks as a second iteration of that event.
"The net result will probably be a sideways pattern until we get some concrete evidence that there is some life in the economy," said Zaro. He said that there is additional bad news on what is shaping up to be an ugly Christmas season. "The fourth quarter is going to fall off a cliff, and those numbers start coming out in January." He said he foresees a February rally, as the market begins to look past the economic downturn.
For the moment, economic releases remained tinged with bearish sentiment.
The Census Bureau reported that durable-goods orders declined 6.2% in October, a bigger drop than the 2.5% expected by economists. The September figure was revised down to a 0.2% decline from a 0.8% increase.
The Chicago Purchasing Managers Association's index of manufacturing activity came in at 33.8, well below the consensus estimate of 38.5 and down sharply from October's read of 37.8.
October new-home sales data from the Department of Commerce showed a bigger-than-expected decline to an annual rate of 433,000 homes, the slowest rate of sale since January 1991.
The Commerce Department's read on personal income showed a 0.3% uptick for October. Analysts had forecast a income growth of 0.1%. Spending slowed by 1%, its broadest decline since September 2001.
A consumer-sentiment survey from the University of Michigan yielded a read of 55.3, another sharp decline from the previous month.
In one positive development, weekly initial jobless claims data from the Census Bureau showed claims were down 14,000 to 529,000 for the week ended Nov. 22. The previous claims figures were revised up by 1,000 to 543,000.
"I think most of these bad numbers are baked in," said Larry Adam, chief investment strategist at Deutsche Bank. He said that although many of the data releases were weaker than analysts had expected, they are consistent with what the market has seen since October. "When the numbers get a little bit less bad ... I think that'll actually help the market."
Outside of domestic indicators,
China's central bank
announced it cut its benchmark interest rate by 1.08%, a move that reflects increasing concern that one of the world's fastest-growing economies has slowed considerably.
Troubles weren't confined to Asia. The
European Commission
on Wednesday called for a $256 billion economic stimulus plan to help the continent alleviate its own recessionary woes.
The major averages had earlier been trading with losses following the release of numerous economic reports, many of which accentuated investor pessimism about the future of U.S. companies, but optimism appeared to pick up following Obama's appearance.
As data releases painted a picture of the downturn, President-elect Barack Obama staged a press conference to name former Fed Chair Paul Volcker to head a White House advisory board geared at steering the U.S. through the current financial turmoil.
"You've had a leadership vacuum taking place, and I think he's basically appointed high-visibility people who have pretty good track records," said Adam of Deutsche Bank. He said the market had been facing some uncertainty about who would head the new economic team. "Will it be Geithner? Will it be Summers? Or will it be Volcker? Well, now you've got all three, all probably working in a coordinated fashion."
The
Federal Deposit Insurance Corp.
also announced it would create a process by which qualified, non-bank firms can bid for deposits and assets of failing banks. The plan is designed to reduce costs to the FDIC as banks fail as well as to minimize jolts to the financial system, the agency said.
As for the day's corporate earnings, equipment maker
Deere
(DE) - Get Deere & Company Report
announced an 18% decline in fourth-quarter profit.
Jeweler
Tiffany
(TIF) - Get Tiffany & Co. Report
, meanwhile, announced a 57% decline in earnings on flagging U.S. sales.
In other company news, Fitch Ratings cut its debt rating on
Toyota
(TM) - Get Toyota Motor Corporation Report
, putting a negative outlook on the company. Both domestic and foreign automakers have had a rough go of it thanks to flagging demand.
Canadian telecom company
BCE
, announced that its leveraged buyout may not take place by its scheduled date of Dec. 11.
Among financial firms,
Goldman Sachs
(GS) - Get Goldman Sachs Group Inc. (The) Report
ended discussions with
Panasonic
( PC) about a potential sale of Goldman's stake in
Sanyo
. Goldman cited concerns about the price and deal structure as it walked away.
Staying with the financials,
Bloomberg
reported that Oppenheimer analyst
cut her earnings estimates for financial firms including
Citigroup
(C) - Get Citigroup Inc. Report
,
JPMorgan Chase
(JPM) - Get JP Morgan Chase & Co. Report
and
Bank of America
(BAC) - Get Bank of America Corporation Report
as she predicted additional writedowns of bad loans in the coming year.
In the commodities space, crude oil was climbing $3.33 to $54.10 a barrel. Gold was gaining $4.10 to $815.40 an ounce.
Longer-dated U.S. Treasury securities were rising in price. The 10-year was adding 1-4/32 to yield 2.98%, and the 30-year was up 1-30/32, yielding 3.52%. The dollar was higher vs. the euro, yen and pound.
Globally speaking, European exchanges were mixed, as the FTSE in London took losses but the DAX in Frankfurt was flat. In Asia, Japan's Nikkei closed with losses, and Hong Kong's Hang Seng ended with gains.