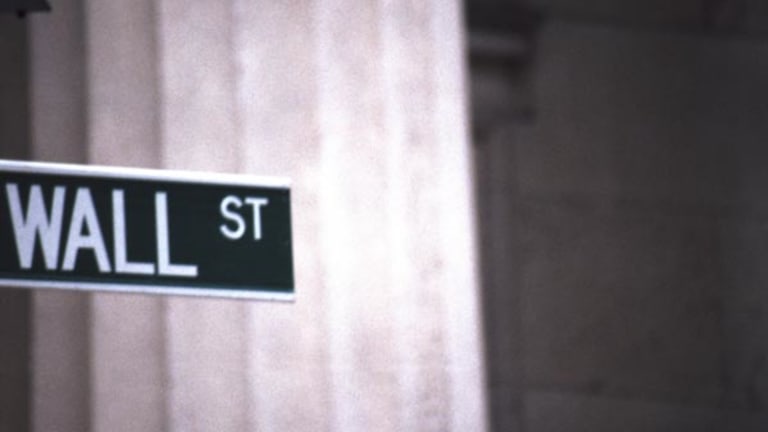 U.S. Stocks Build on Gains Out of the Gate
The major indices are climbing in early trading Tuesday as investors weigh a new $600 billion mortgage aid package from the Fed.
Updated from 9:26 a.m. EST
Stocks on Wall Street were building on a recent two-day rally at Tuesday's open, after the
Federal Reserve
announced a $600 billion program to aid government-backed mortgage firms and a $200 billion program to aid consumers hurt by the credit crisis.
The
Dow Jones Industrial Average
was gaining 109 points to 8552, and the
S&P 500
was adding 12 points to 864. The
Nasdaq
tacked on 7.7 points to 1480.
Futures had earlier suggested that investors would be taking profits from the previous two sessions' impressive gains. However, following the Fed's announcement that it would buy direct obligations and mortgage-backed securities tied to the Federal Home Loan Banks and
Fannie Mae
(FNM)
,
Freddie Mac
(FRE)
and
Ginnie Mae
, premarket trading took a more bullish tone.
The Fed also announced the creation of a $200 billion facility for holders of triple-A rated asset-backed securities tied to loans related to education, autos, credit cards and small businesses.
On Monday, stocks rallied sharply on news of a government bailout for
Citigroup
(C) - Get Report
, whose subprime exposure and off-balance-sheet assets had left investors uncertain about its future. The government's guarantee of more than $300 billion in Citi debt and $20 billion equity investment in the firm sent the company's shares, along with the major indices, rocketing higher.
Ahead of the new day's trading, other financial firms were looking to get government help of a different sort.
Goldman Sachs
(GS) - Get Report
garnered strong interest in a government-backed issuance of $2 billion to $3 billion in bonds, according to a report by
The Wall Street Journal
. The sale is expected to conclude Tuesday, and Citi and
General Electric
(GE) - Get Report
are expected to stage similar government-assisted bond sales.
In earnings news, computer systems maker and Dow component
Hewlett-Packard
(HPQ) - Get Report
delivered earnings that beat estimates on the top line but saw profit decline slightly year over year.
Mining concern
BHP Billiton
(BHP) - Get Report
dropped a hostile takeover bid for
Rio Tinto
(RTP)
on a sharp decline in commodity prices and tough credit conditions.
The day's economic data, however, was less than rosy. The Bureau of Economic Analysis revised its read of the third-quarter decline in GDP to 0.5% from 0.3%. The Conference Board's November consumer confidence survey is due out a bit later today.
The Standard & Poor's Case Shiller home price index, meanwhile, showed a third-quarter decline of 16.6% year over year, the worst decline on record.
In Europe, the
Organization for Economic Cooperation and Development
said that the developed world may face the worst recession it has seen since the early 1980s.
Moving on to commodities, crude oil was losing $1.01 to $53.49 a barrel. Gold was climbing $8.60 to $829 an ounce.
Longer-dated U.S. Treasury securities were rising in price. The 10-year was up 1-22/32, yielding 3.13%. The 30-year was gaining 3-20/32 to yield 3.60%. The dollar was falling vs. its major foreign competitors.
Overseas, European exchanges, such as the FTSE in London and the Dax in Frankfurt, were edging higher. Asian markets, including Japan's Nikkei and Hong Kong's Hang Seng, finished on the upside.