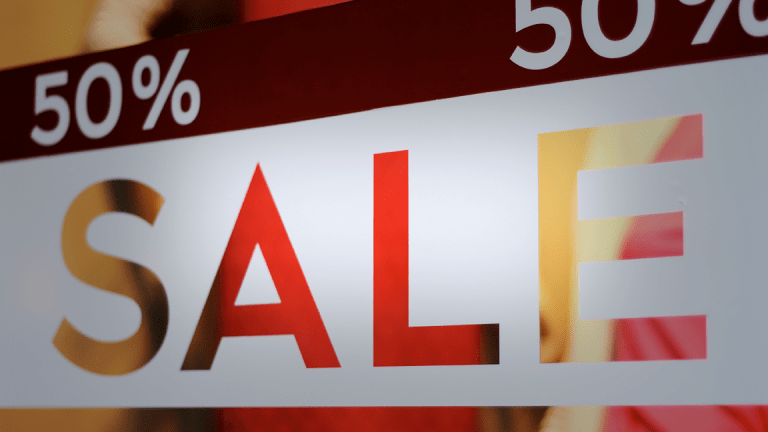 U.S. Retail Sales Rise More Than Forecast as Amazon Shoppers Defy Slowdown
Retail sales rise by 0.7% in July, accelerating from June's revised growth rate of 0.3%, a government report shows. Economists had projected an increase of 0.3% from the prior month.
U.S. retail sales rose in July at the fastest clip in in five months, data indicated Thursday, showing that consumers are accelerating purchases even as financial markets flash warning signs of a looming recession.
According to at least one top U.S. economist, the surge was partly due to the resounding success of Amazon.com's (AMZN) - Get Free Report Prime Day that started on July 15, billed by the e-commerce giant as a "two-day epic parade of deals."  
Retail sales rose by 0.7% during the month, the most since March, accelerating from a revised 0.3% growth rate in June, the Census Bureau said in a statement. Economists had estimated a 0.3% gain for July.
The report showed that consumers remain buoyant, a positive sign for President Donald Trump's economy as the U.S. Treasury-bond market emanates signals that a recession might be brewing. The latest data also suggests that a recent uptick in inflation isn't deterring consumers from new purchases.   
The U.S. economy has now been expanding for more than 10 years, the longest such stretch in history, with unemployment at a half-century low and inflation still well below the Federal Reserve's target.
The July surge in retail sales was led by purchases at nonstore retailers like Amazon, where sales jumped 2.8%.
Spending rose by 1.8% at gasoline stations and 1.1% at food and drinking places.
Excluding motor vehicles, auto parts and gasoline-station purchases, which can vary widely from month to month, retail sales increased by 0.9%, still well ahead of economists' forecasts for a 0.4% increase.
Ian Shepherdson, chief U.S. economist at the highly respected forecasting firm Pantheon, wrote in a note to clients that the sales jump was "spectacular, thanks in large part to the Amazon Prime event." 
"The core was propelled by Amazon's two-day prime event, which lifted nonstore sales by a huge 2.8%, even better than the 2.5% we had expected," he wrote. "Amazon Prime has become a progressively bigger event in recent years."
The pace of retail sales is likely unsustainable, because purchases over the past three months have registered double the average estimated increase in income growth, according to Shepherdson.
Even so, consumers don't appear fazed by a recent contraction in the U.S. industrial sector, a big source of high-paying blue-collar jobs, he wrote. And that bodes well for economic growth, since consumption accounts for almost 70% of gross domestic product. 
"We see zero evidence that the consumer is being dragged down by the troubles in manufacturing," Shepherdson wrote.